font-family: Arial, Helvetica, sans-serif;
Beauties in Bondage Customs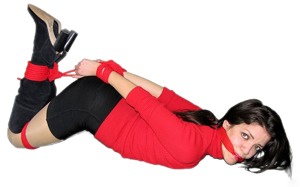 Contact: natalie@beauties-in-bondage.com
We are not accepting custom requests until further notice.
How To Proceed
Please supply a 1,000-word summary to find out if we are able to film your custom for you. Send your script, together with the name of the model(s) you require, via email to Natalie.
Restrictions
Banks/credit card companies have recently introduced new, tighter restrictions on the content of adult videos. Please be advised that we can no longer include the following in customs: chloroforming, knock out/unconsciousness, guns, knives, or explosives. If you desperately want a video including any of these things, we will need to record two versions of the these sequences, one for you plus a version that can be used when the video is released for general consumption. There will be a surcharge of $100 per model per restricted sequence, with each sequence being a maximum length of 5 minutes.
How much do custom videos cost?
Every video is different so the prices vary. We use the information you provided to assess the cost of your desired video. There are a few standard costs that are built into this process. In particular, there is a minimum charge. Because your video can take some time to shoot and all of our models have a minimum rate for their time, we make sure they are paid appropriately by having a minimum rate of $200 per model per video. The actual cost depends on the length of the finished product, the number of models and supporting actors (bad guys) involved, any specific clothing you require, and the complexity of your script. Situations that are complex and require a significant amount of time to create will cost more.
How Long Can My Video Be?
That depends on your budget and the details of the script. Most finished videos are around 20 minutes but can be as long as 40 minutes. Filming can easily take 3 - 4 times longer than the final run time, and this will be reflected in the price we quote you.
How Detailed Can A Scene Be?
As detailed as you want, but please understand that the more detail you include the more expensive the video will become because of the additional production time required.
How Quickly Can My Custom Be Filmed?
Usually within a month to six weeks for models we use often, but with touring models that we may only see once or twice per year, it will obviously be a lot longer. Once the custom has been filmed, editing and delivery (via download only) will usually take place within 48 hours.