font-family: Arial, Helvetica, sans-serif
Beauties in Bondage: Compilations
Compilation

Girls in Handcuffs: Volume 9 (MP4)
Time: 62 minutes 50 seconds



Includes 13 different girls locked in handcuffs. Each excerpt is approximately 4 minutes in length. The movies from which these derive are as follows:

Cadence Lux & Juliette March: Why Am I Being Arrested?
Madison Swan: Resigned To Her Fate
Vonka Romanov: After The Escape
Lydia Lael: Waiting For The Judge
Violet: Kept As A Hostage
Vika: Metal Games
Amanda Foxx: On The Run
Becca: I Will Be The Judge Of That
Claire Irons: Chained Up Hostage
Madison Swan: Resigned To Her Fate continued
Cadence Lux & Sinthia Bee: Abusing Her Power
Bella Ink: I'm Keeping You Here
Lydia Lael: Can You Help Me?
Violet: You'll Be Here Another Day
Sarah Brooke: Self-Made Predicament
Madison Swan: Arraignment Day

1920x1080 pixels - MP4: 2,899.3 MB

$16.99


Compilation

Beauties in Bondage Compilation 17 (MP4)
Time: 52 minutes 46 seconds



A collection of excerpts from 12 different Beauties in Bondage movies. Each excerpt is approximately four minutes in length. It's a great way to sample our models and our style.

Jasmine: Occupational Hazard
Rachel Adams: What Were You Looking For?
Vika: Cover Girl
Claire Irons: Captured Claire
Madison Swan: Waiting For The Buyer
Becca: Becca Bound & Gagged
Nikki Brooks: Jack The Stripper Returns
Jessica: Kept In A Closet
Violet: Helplessly Watching
Vonka Romanov: The Widow
Sarah Brooke: The French Tourist
Cadence Lux & Juliette March: A Dangerous Trespass

1920x1080 pixels - MP4: 2,237.5 MB

$14.99


Compilation

Girls in Handcuffs 8 (MP4)
Time: 54 minutes 02 seconds



This handcuffs compilation contains 14 excerpts from our video library, each lasting approximately four minutes. Eleven different girls are featured.

Cadence Lux: Hostile Witness
Jasmine St James: Jasmine Cuffed In Bra & Panties
Rachel Adams: Give Me Your Password
Kendra James: Captured, Stripped & Secured
Dakkota Grey: You Can't Keep Me Here Like This
Vonka Romanov: Daily Exercise
Jessica: I've Got You Now
Carissa Montgomery: I Must Try To Escape
Tara: Bogus Arrest - Part 1
Jamie Knotts: Jamie Knotts Hogcuffed
Cadence Lux: Waiting For A Colleague
Jennifer: The Other Woman
Jasmine St James: Her Last Story
Tara: Bogus Arrest - Part 2

1920x1080 pixels - MP4: 2,060.7 MB

$13.99


center>
Compilation

Handcuffed Naked Compilation (MP4)
Total Time: 69 minutes 6 seconds



Excerpts from 12 different movies with 13 different women are included in this compilation. Each excerpt is between 5 and 6 minutes long.

Cali Logan & Cadence Lux - Naked & Handcuffed
Sara Liz & Becky LeSabre - Abuse Of Authority
Candle Boxxx & Autumn Bodell - Perks Of The Job
Carissa Montgomery - Naked & Restrained
Kendra James - Lost in the Woods
Tilly McReese - Speeding
Maci Wilde - Too Curious
Alina Long - The Debt Collector
Lana Luxor - Anything To Save Her Sister
Jade Indica - Naked Arrest
Cadence Lux - Risky Business
Kendra James - Captured & Secured

1920x1080 pixels - MP4: 2,064.2 MB

$14.99


Compilation

Girls in Handcuffs 7 (MP4)
Total Time: 65 minutes 11 seconds



This compilation contains 13 excerpts from our video library, each lasting approximately five minutes.

Lost in the Woods - Kendra James
Shackled Walk - Cadence Lux
Moment of Crisis - Vivian & Veronica Pierce
Stopover - Jasmine St James
Please Let Me Out - Vonka Romanov
Shoplifter - Rachel Adams
You Should Not Have Come Here - Jamie Daniels
Prisoner Transporter - Dakkota Grey
ICE - Monica Jade
The Perverted Cop's Next Victim - TerraMizu
Hit & Run - Autumn Bodell
Jasmine Needs To Be Punished - Jasmine St James
Anything To Save Her Sister - Lana Luxor

(1920x1080 pixels - MP4: 1,924.1 MB)

$16.99


Compilation

Hogtied With Ropes Volume 1 (MP4)
Total Time: 60 minutes 46 seconds



A compilation featuring twelve different girls, all hogited with roped, all gagged with cleave gags or duct tape, and one or two with a ball gag. Each clip is approximately 5 minutes in length. All clips are 1920x1080 pixels. Playing time: 1 hour.

Jasmine St James: I Hope It Was Worth It
Cali Logan: Don't Tape My Mouth, I Won't Scream
Cadence Lux: On The Run
Dakkota Grey: Experimental Hogtie
Candle Boxxx: Sniper
Carissa Montgomery: No Permit
Hannah Perez: Codes Of Misconduct (Part 1)
Amanda Foxx: Now I Have You
Jennifer: Unwitting Victim
Misty Lovelace: Reneging On The Deal
Kendra James: Cold Case
Niki Lee Young: Bound & Helpless

(1920x1080 pixels - MP4: 1,993.0 MB)

$14.99


center>
Compilation

Beauties in Bondage 16
Total Time: 50 minutes 35 seconds


These excerpts from 10 different movies, each one lasting about 5 minutes. Content is mostly rope bondage, with some zipties.

Becca & Tilly McReese: Please Tie Us Both Up
Maci Wilde: Cancelled Flight
Lea Hart & Vonka Romanov: The Pokemon Hunters
Kate Winters: The Lousy Lawyer
Nikki Brooks: Nikki Can't Escape
Misty Lovelace: Reneging On The Deal
Rachel Adams: Rachel Tries To Get Free
Katelyn: Con Gone Wrong
Paisley Prince & Tilly McReese: Dangerous Misdeed
Amanda Foxx: I Will Make You Talk

1920x1080 pixels - MP4: 1,941.0 MB

$14.99


Compilation

Girls in Handcuffs 6 (MP4)
Total Time: 60 minutes 04 seconds


This compilation features 12 different women in handcuffs coupled with other restraints. Each clip is approximately five minutes long. In some cases, the clips are edited versions of the full length movie which capture the highlights of the originals. Total playing time is 60 minutes.

Amanda Foxx: She Tried To Call For Help
Nikki Brooks: A Hopeless Situation
Jasmine St James: A Costly Promotion
Jennifer: The Sentence
Maci Wilde: Cancelled Flight
Lea Hart: In Trouble With the Law
Sarah Brooke: You're Not Going To Let Me Go, Are You - Part 1
Dakkota Grey: Dakkota Restrained
Hannah Perez: Perils Of Hitchhiking
Kate Winters: I Don't Understand What's Happening
Paisley Prince (with Tilly McReese): Entrapment
Carissa Montgomery: Naked & Restrained

1920x1080 pixels - MP4:1,868.1 MB

$14.99


Compilation

Girls in Handcuffs: Volume 5 (MP4)
Total Time: 58 minutes 05 seconds


TerraMizu: Failed Escape
Hannah Perez: Psychopath
Jessica: Stripped & Handcuffed
Linh & Tilly McReese: At My Mercy
Tara: Mistaken Identity
Becky LeSabre & Sara Liz: Last Day On the Job
Jasmine: Scoop
Tilly McReese: Speeding
Gianna: She Locked Herself in Handcuffs & Chains
Carissa Montgomery: Naked & Restrained
Jennifer: In Transit
Sarah Brooke: Sarah Restrained
Dakkota Grey: Happy To Be Handcuffed
Jasmine: Jasmine Restrained
Hannah Perez: Lock Me to a Bed

1920x1080 pixels pixels - MP4: 2,019.5 MB

$14.99


center>
Compilation

Beauties in Bondage 15
Time: 45 minutes 36 seconds


The fifteenth compilation of scenes from Beauties in Bondage movies, all presented at 1920x1080 pixels, includes excerpts from the following:

Jasmine: Suspension scene from "Please Let Me Go"
Cali: "Don't Tape My Mouth, I Won't Scream"
TerraMizu: "Dangerous Inspection"
Jessica: "The Perpetrator"
Candle, Hannah, Carissa & Autumn: "The Heist"
Cadence & Cali: "Don't Keep Me Tied Up"
Dee: "I Can't Let You Go"
Jennifer: "In Peril"
Carissa: "Silenced & Humiliated"
Tara: "Predicament"
Tilly: "Tilly Tightly Zipped"
Hannah: "Keep Me Prisoner"

WMV: $18.99


WMV: $22.99


Compilation

Girls in Handcuffs 4
Time: 67 minutes 20 seconds


Becky & Sara Liz: Abuse of Authority (scene 1)
Dee & Jasmine: Winner Takes All (scene 1)
Cadence: Assassin
Alina: Transported in Handcuffs
Hannah: Self-Handcuffing Gone Wrong
Jade: Naked Arrest (scene 1)
Candle & Autumn: Perks of the Job (scene 1)
Taylor: Surprise Gone Horribly Wrong
Hannah: Lock Down
Tilly: Lost Key
Jasmine: Why Am I Being Detained?
Cadence: Risky Business
Sharron: Kept On Her Toes
Star: The Gambler
Dee & Jasmine: Winner Takes All (scene 2)
Jade: Naked Arrest (scene 2)
Candle & Autumn: Perks of the Job (scene 2)
Becky & Sara Liz: Abuse of Authority (scene 2)

WMV: $18.99


WMV: $24.99


Compilation

Beauties in Bondage Compilation 14
Time: 60 minutes 33 seconds


A collection of clips from 7 Beauties in Bondage movies featuring 12 different models. Each sequence is approximately 8 minutes in length. The excerpts derive from the following movies:

Jasmine & Amber: Hostage Training
Jessica: Don't Tie Me Up
Niki, Cadence & Laci: All Planned Out
Hannah & Carissa: Epiphany (Part 2)
Taylor & Codi: Catching the Burglars
Sara & Becky: Base Code
Cadence: Risky Business

WMV: $14.99


WMV: $18.99


center>
Compilation

Girls in Handcuffs 3
Time: 68 minutes 33 seconds

Our third compilation showing girls locked in handcuffs. This collection includes 13 different models in excerpts from 15 different movies. Each excerpt is 4-5 minutes long.

Carissa & Shauna: Wrong House to Rob - excerpt 1
Lily & Amber: Cuffed & Waterboarded
Jasmine: He Made Her Undress
Anna: Intellectual Property
Star: Why Am I Being Arrested?
Rachael: I'm Taking You In
Anna: Cuffed in a Catsuit
Madison: Playing With Handcuffs
Taylor: Frisked & Groped
Autumn: Thief in Handcuffs
Candle: Candle Cuffed
Jasmine: Enforcer to Captured
Gianna: Nude Prisoner
Autumn: Do As You Are Told
Jasmine: Evil Cop
Carissa & Shauna: Wrong House to Rob - excerpt 2

WMV: $18.99


WMV: $24.99


Compilation

Beauties in Bondage: Collection 12
Time: 42 minutes

This style of this compilation differs from earlier versions insofar as most of the movies featured are edited-down versions of the original (that is, a mini-story) rather than merely an excerpt. Each sequence runs for approximately 6 minutes.

Kaitlin & Scarlett: The Best Laid Plans
Amber: Once a Hacker
Hannah: Hannah Has Been Snatched
Mai Ly & Jasmine: Assassin
Candle & Jasmine: Ransom or Slavery
Carissa: Completely Helpless
Madison: No More Riding Today

WMV: $14.99


WMV: $19.99


Compilation

Beauties in Bondage: Collection 11
Time: 71 minutes


A collection of clips from 16 Beauties in Bondage movies featuring 20 different models. Each sequence is approximately 4 minutes in length. The excerpts in this collection derive from the following movies:

Taylor - Struggling to Call For Help
Sativa - Error of Judgment
Tia & Kelli - The Smuggling Stewardess
Jasmine, Paige, Becky, Constance, Scarlett, Candle, Dixie, Shauna & Kylee - Hijacked
Mai Ly & Kelli - Mai Ly's Missed Call
Anna - Little Girl Lost
Carissa - Last Resort (Part 2)
Madison - Prisoner in Leather
Autumn - From Burglary to Bondage
Candle & Shauna - Seriously Zipped, Mouth Stuffed & Tape Gagged
Star - She Lost His Money
Lily - Kept Away From Work
Tia & Chen - Betrayal
Jasmine - Criminal Intent
Anna - Anna's Ordeal
Beverly & Jasmine - Just Doing Her Job

WMV: $18.99


WMV: $24.99


center>
Compilation

Beauties in Bondage: Collection 10
Time: 61 minutes

Our tenth collection of clips drawn from various Beauties in Bondage movies, allowing you to sample the work of 16 different models in 13 different movie clips in a single compilation. Each excerpt runs approximately 4-5 minutes. Teasers for each of the movie clips listed below will be found under their respective movies by model pages.

Duplicitous (Audrey & Amanda)
She Got Cold Feet (Jasmine & Kelli)
At His Mercy (Rachael)
Caught Snooping (Briella)
The Avenger (Madison)
Please Tie Me Up (Shauna)
A Burglar Makes Them Strip (Carissa & Dixie)
Trouble in the Changing Room (Beverly)
Cheyenne Can't Escape (Cheyenne)
Witness Protection Could Not Save Her (Melanie)
I Need Your Clothes Again (Autumn)
She Tried To Catch a Burglar (Dakkota)
She Should Not Have Said No (Constance)

WMV: $13.99


WMV: $19.99


Compilation

Beauties in Bondage: Collection 9
Time: 67 minutes


A collection of clips from 14 Beauties in Bondage movies featuring 14 models. Each sequence is approximately 4 minutes in length. The excerpts in this collection derive from the following movies:

Night Flight (Paige & Becky)
Please Zip Me Up (Anna)
Tie Her Up (Taylor & Codi)
The Cop & the Hooker (Cheyenne & Carissa)
Please Tie Me Up (Shauna)
I Need Your Clothes 7 (Kelli & Jasmine)
Lost & Found (Anna)
Frustrated Secretary (Taylor)
You're Not Going Out (Anna)
Zipped in Her Bikini (Dakkota)
Abducted Stewardess (Taylor)
I'm Here For the Job (Carissa)
Kept Hostage For Days (Madison)
Stealing Boyfriends (Taylor & Codi)

WMV: $16.99


WMV: $24.99


Compilation

Beauties in Bondage: Collection 8
Time: 66 minutes


Our eighth collection of clips drawn from various movies, allowing you to sample the work of 16 different models and 11 different movies in one compilation. Forms of bondage include rope only; gagging includes cleave gags and duct tape. Each excerpt runs approximately 6 minutes. (Owing to an oversight, an excerpt from The Mercenary appears here as well as on Collection 7; the scenes are largely different but we still apologies for this partial duplication).

Lily, Amber, Rachael, Lola & Carissa: The Mercenary
Audrey & Amanda: Confronting the Boss
Cheyenne: Fight To Get Free
Shauna: Watch Shauna Being Tied Up
Tabitha: Tormented Captive
Carissa, Lily, Madison, Tina & Melanie: Foreclosure
Madison: Bound, Carried & Rolled Downhill
Carissa & Rachael: Walking Into Touble
Dixie & Lola: Two For The Price of One
Andrea: Abuse of Authority
Carissa, Lily, Madison, Tina & Melanie: Bomb At The Office

WMV: $11.99


WMV: $16.99


center>
Compilation

Beauties in Bondage: Collection 7
Time: 77 minutes


Our seventh collection of clips drawn from various movies, allowing you to sample the work of 10 different models and 14 different movies in one compilation. Forms of bondage include ropes, zip ties and handcuffs; gagging includes cleave gags and duct tape. Each excerpt runs approximately 5 minutes.

Lily, Amber, Rachael, Lola & Carissa: The Mercenary
Autumn: I Need Your Clothes 2
Helena: Out of Circulation
Lily & Amber: Secretaries in Trouble
Rachael: Zipped & Gagged
Carissa: Officer in the Snow
Melanie: I Need Your Clothes 3
Rachael, Mari & Gray: Unlucky Reporters
Autumn & Lavender: Turning the Tables (Autumn is tied up)
Madison: Attacked!
Amber; I Need Your Clothes 4
Carissa: A New Avenger
Melanie: She Almost Got Away
Autumn & Lavender: Turning the Tables (Lavender is tied up)
Lily & Amber: Bored Housewives

WMV: $12.99


WMV: $17.99


Compilation

Beauties in Bondage: Collection 6
Time: 58 minutes 21 seconds


Our sixth collection of clips drawn from various movies, allowing you to sample the work of 9 different models in one compilation. Forms of bondage include ropes, zip ties and handcuffs, cleave gags and duct tape. The excerpts here derive from the following movies:

Beverly - Mrs. Steele Investigates
Carissa - I Need Your Clothes
Rachael Mari & Gray - Witness Protection
Madison - Zipped Secretary
Lily & Amber - cat Burglar
Beverly - She Wants To Be Tied Up
Carissa - Gagged With Her Own Stockings
Lola - Be My Guest
Tabitha - Complain At Your Peril
Lily - Barely Hanging On
Carissa - Finding Trouble
Lily & Amber - Frisked, Handcuffed & Arrested
Beverly - Farewell, Mrs. Steele

WMV: $11.99


WMV: $16.99


Compilation

Beauties in Bondage: Collection 5
Time: 47 minutes 06 seconds


Our fifth collection of clips drawn from various movies, allowing you to sample the work of 9 models in one compilation. Forms of bondage include ropes, zip ties and handcuffs, cleave gags and duct tape. The excerpts here derive from the following movies:

Beverly - She Wants To Be Tied Up
Lily & Amber - Waitresses in Trouble
Jynx - A Perilous Situation
Carissa - Grabbed & Zipped
Melanie - Held Prisoner By Her Student
Lola - Boundary Dispute
Madison - Hell For Leather
Autumn - She Lost Her Way
Beverly - What Are Friends For?
Jynx - Caught in The Act
Madison - Zipped Secretary
Lily & Amber - Double Cross

WMV: $11.99


WMV: $15.99


center>
Compilation

Beauties in Bondage: Collection 4
Time: 50 minutes 39 seconds

Our fourth collection of 4-minute clips drawn from various movies, allowing you to sample the work of 10 models in one compilation. Forms of bondage include ropes, zip ties and handcuffs; gags are mostly duct tape. The excerpts here derive from the following movies:

Beverly - She Knows Too Much
Rachael - Cutting Off Her Clothes
Jayne - Needing Help
Madison - Miss Gray's Dilemma
Lily - Held in the Basement
Jordana - Hostage Situation
Lavender - The Banker's Wife
Melanie - Private Property
Lola - Sticky Situation
Madison - Punishment For Spending Too Much
Autumn - Wrong Place at the Wrong Time

WMV: $10.99


WMV: $14.99


Compilation

Beauties in Bondage: Collection 3
Time: 51 minutes 30 seconds

Our third collection of 4-minute clips drawn from various movies allowing you to sample the work of 10 different models in one compilation. Forms of bondage include ropes, zip ties and handcuffs; gags are mostly duct tape and in two cases cleave gags. The excerpts here derive from the following movies:

Samantha - The Abducted Hitchhiker
Madison - Zip It!
Lily - Eviction Notice
Jayne - Trying to Escape
Lily - Lily Sees Red
Tabitha - Home Repairs Gone Wrong
Madison - Imprisoned in Pink
Audrey - Snatched
Rachael - Surprising a Burglar
Jynx - Federal Bureau of Incompetence
Lola - Trunk Call
Beverly - The Census Taker

WMV: $10.99


WMV: $14.99


Compilation

Beauties in Bondage: Collection 2
Time: 44 minutes 12 seconds

Our second collection of 3-4-minute clips drawn from various movies, allowing you to sample the work of many different models in one compilation.

Beverly - Running a Red Light
Rachael - The Overpowered Operative
Melanie - What's Going On In There?
Autumn - Intruder
Lily - The Repairman
Madison - Anniversary Present
Lola - Failure to Arrest
Beverly - Buyer Beware
Lily - The Rude Realtor
Melanie - I'm Leaving You
Rachael & Diamond - A Burglar Comes To Visit

WMV: $10.99


WMV: $14.99


center>

Compilation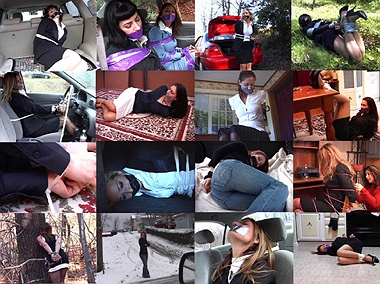 Beauties in Bondage: Collection 1
Time: 44 minutes 37 seconds

Our first collection of bondage clips drawn from 12 movies with 12 models. Excerpts are 3-4 minutes long and derive from the following movies:
Beverly - You've Been Served
Lily - Taken Bank Teller
Melanie - Restraining Order
Madison - Home From the Office
Jynx - Bound Business Woman
Autumn - School Ma'am
Lola & Nyxon - Abandoned in the Woods
Sienna - Bid For Freedom
Jayne - Do You Need a Ride?
Rachael - Run For Your Life
Emily - Held Hostage
Madison & Maria - What If We Were Burgled?
WMV: $10.99

WMV: $14.99