15 models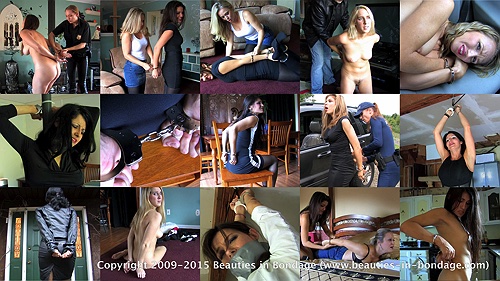 Girls in Handcuffs 4

Becky & Sara Liz: Abuse of Authority (scene 1)
Dee & Jasmine: Winner Takes All (scene 1)
Cadence: Assassin
Alina: Transported in Handcuffs
Hannah: Self-Handcuffing Gone Wrong
Jade: Naked Arrest (scene 1)
Candle & Autumn: Perks of the Job (scene 1)
Taylor: Surprise Gone Horribly Wrong
Hannah: Lock Down
Tilly: Lost Key
Jasmine: Why Am I Being Detained?
Cadence: Risky Business
Sharron: Kept On Her Toes
Star: The Gambler
Dee & Jasmine: Winner Takes All (scene 2)
Jade: Naked Arrest (scene 2)
Candle & Autumn: Perks of the Job (scene 2)
Becky & Sara Liz: Abuse of Authority (scene 2)
67 minutes 20 seconds

WMV: $18.99


WMV: $24.99

12 Models


Beauties in Bondage Compilation 14


A collection of clips from 7 Beauties in Bondage movies featuring 12 different models. Each sequence is approximately 8 minutes in length. The excerpts derive from the following movies:
Jasmine & Amber: Hostage Training
Jessica: Don't Tie Me Up
Niki, Cadence & Laci: All Planned Out
Hannah & Carissa: Epiphany (Part 2)
Taylor & Codi: Catching the Burglars
Sara & Becky: Base Code
Cadence: Risky Business
60 minutes 33 seconds

WMV: $14.99


WMV: $18.99

13 Models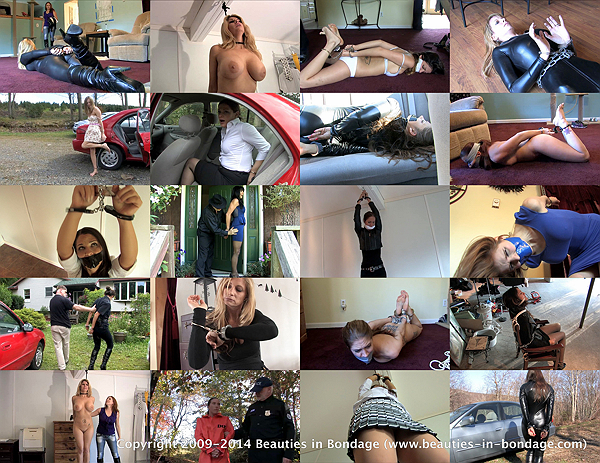 Girls in Handcuffs Collection 3
Our third compilation showing girls locked in handcuffs. This collection includes 13 different models in excerpts from 15 different movies. Each excerpt is 4-5 minutes long.
Carissa & Shauna: Wrong House to Rob - excerpt 1
Lily & Amber: Cuffed & Waterboarded
Jasmine: He Made Her Undress
Anna: Intellectual Property
Star: Why Am I Being Arrested?
Rachael: I'm Taking You In
Anna: Cuffed in a Catsuit
Madison: Playing With Handcuffs
Taylor: Frisked & Groped
Autumn: Thief in Handcuffs
Candle: Candle Cuffed
Jasmine: Enforcer to Captured
Gianna: Nude Prisoner
Autumn: Do As You Are Told
Jasmine: Evil Cop
Carissa & Shauna: Wrong House to Rob - excerpt 2
68 minutes 33 seconds

WMV: $18.99


WMV: $24.99


Beauties in Bondage: Collection 12

This style of this compilation differs from earlier versions insofar as most of the movies featured are edited-down versions of the original (that is, a mini-story) rather than merely an excerpt. Each sequence runs for approximately 6 minutes.

Kaitlin & Scarlett: The Best Laid Plans
Amber: Once a Hacker
Hannah: Hannah Has Been Snatched
Mai Ly & Jasmine: Assassin
Candle & Jasmine: Ransom or Slavery
Carissa: Completely Helpless
Madison: No More Riding Today

42 minutes

WMV: $14.99


QUICKTIME: $14.99


WMV: $19.99


QUICKTIME: $19.99



Beauties in Bondage: Collection 11


A collection of clips from 16 Beauties in Bondage movies featuring 20 different models. Each sequence is approximately 4 minutes in length. The excerpts in this collection derive from the following movies:

Taylor - Struggling to Call For Help
Sativa - Error of Judgment
Tia & Kelli - The Smuggling Stewardess
Jasmine, Paige, Becky, Constance, Scarlett, Candle, Dixie, Shauna & Kylee - Hijacked
Mai Ly & Kelli - Mai Ly's Missed Call
Anna - Little Girl Lost
Carissa - Last Resort (Part 2)
Madison - Prisoner in Leather
Autumn - From Burglary to Bondage
Candle & Shauna - Seriously Zipped, Mouth Stuffed & Tape Gagged
Star - She Lost His Money
Lily - Kept Away From Work
Tia & Chen - Betrayal
Jasmine - Criminal Intent
Anna - Anna's Ordeal
Beverly & Jasmine - Just Doing Her Job

70 minutes 59 seconds

WMV: $18.99


QUICKTIME: $18.99


WMV: $24.99


QUICKTIME: $24.99



Beauties in Bondage: Collection 10

Our tenth collection of clips drawn from various Beauties in Bondage movies, allowing you to sample the work of 16 different models in 13 different movie clips in a single compilation. Each excerpt runs approximately 4-5 minutes. Teasers for each of the movie clips listed below will be found under their respective movies by model pages.

Duplicitous (Audrey & Amanda)
She Got Cold Feet (Jasmine & Kelli)
At His Mercy (Rachael)
Caught Snooping (Briella)
The Avenger (Madison)
Please Tie Me Up (Shauna)
A Burglar Makes Them Strip (Carissa & Dixie)
Trouble in the Changing Room (Beverly)
Cheyenne Can't Escape (Cheyenne)
Witness Protection Could Not Save Her (Melanie)
I Need Your Clothes Again (Autumn)
She Tried To Catch a Burglar (Dakkota)
She Should Not Have Said No (Constance)

Time: 61 minutes

WMV: $13.99


QUICKTIME: $13.99


WMV: $19.99


QUICKTIME: $19.99




Beauties in Bondage: Collection 9


A collection of clips from 14 Beauties in Bondage movies featuring 14 models. Each sequence is approximately 4 minutes in length. The excerpts in this collection derive from the following movies:

Night Flight (Paige & Becky)
Please Zip Me Up (Anna)
Tie Her Up (Taylor & Codi)
The Cop & the Hooker (Cheyenne & Carissa)
Please Tie Me Up (Shauna)
I Need Your Clothes 7 (Kelli & Jasmine)
Lost & Found (Anna)
Frustrated Secretary (Taylor)
You're Not Going Out (Anna)
Zipped in Her Bikini (Dakkota)
Abducted Stewardess (Taylor)
I'm Here For the Job (Carissa)
Kept Hostage For Days (Madison)
Stealing Boyfriends (Taylor & Codi)

67 minutes

WMV: $16.99


QUICKTIME: $16.99


WMV: $24.99


QUICKTIME: $24.99


Beauties in Bondage: Collection 8


Our eighth collection of clips drawn from various movies, allowing you to sample the work of 16 different models and 11 different movies in one compilation. Forms of bondage include rope only; gagging includes cleave gags and duct tape. Each excerpt runs approximately 6 minutes. (Owing to an oversight, an excerpt from The Mercenary appears here as well as on Collection 7; the scenes are largely different but we still apologies for this partial duplication).

Lily, Amber, Rachael, Lola & Carissa: The Mercenary
Audrey & Amanda: Confronting the Boss
Cheyenne: Fight To Get Free
Shauna: Watch Shauna Being Tied Up
Tabitha: Tormented Captive
Carissa, Lily, Madison, Tina & Melanie: Foreclosure
Madison: Bound, Carried & Rolled Downhill
Carissa & Rachael: Walking Into Touble
Dixie & Lola: Two For The Price of One
Andrea: Abuse of Authority
Carissa, Lily, Madison, Tina & Melanie: Bomb At The Office

Time: 66 minutes

WMV: $11.99


WMV: $16.99



Beauties in Bondage: Collection 7


Our seventh collection of clips drawn from various movies, allowing you to sample the work of 10 different models and 14 different movies in one compilation. Forms of bondage include ropes, zip ties and handcuffs; gagging includes cleave gags and duct tape. Each excerpt runs approximately 5 minutes.

Lily, Amber, Rachael, Lola & Carissa: The Mercenary
Autumn: I Need Your Clothes 2
Helena: Out of Circulation
Lily & Amber: Secretaries in Trouble
Rachael: Zipped & Gagged
Carissa: Officer in the Snow
Melanie: I Need Your Clothes 3
Rachael, Mari & Gray: Unlucky Reporters
Autumn & Lavender: Turning the Tables (Autumn is tied up)
Madison: Attacked!
Amber; I Need Your Clothes 4
Carissa: A New Avenger
Melanie: She Almost Got Away
Autumn & Lavender: Turning the Tables (Lavender is tied up)
Lily & Amber: Bored Housewives

77 minutes

WMV: $12.99


WMV: $17.99


Beauties in Bondage: Collection 6



Our sixth collection of clips drawn from various movies, allowing you to sample the work of 9 different models in one compilation. Forms of bondage include ropes, zip ties and handcuffs, cleave gags and duct tape. The excerpts here derive from the following movies:

Beverly - Mrs. Steele Investigates
Carissa - I Need Your Clothes
Rachael Mari & Gray - Witness Protection
Madison - Zipped Secretary
Lily & Amber - cat Burglar
Beverly - She Wants To Be Tied Up
Carissa - Gagged With Her Own Stockings
Lola - Be My Guest
Tabitha - Complain At Your Peril
Lily - Barely Hanging On
Carissa - Finding Trouble
Lily & Amber - Frisked, Handcuffed & Arrested
Beverly - Farewell, Mrs. Steele

58 minutes 21 seconds

WMV: $11.99


WMV: $16.99



Beauties in Bondage: Collection 5


Our fifth collection of clips drawn from various movies, allowing you to sample the work of 9 models in one compilation. Forms of bondage include ropes, zip ties and handcuffs, cleave gags and duct tape. The excerpts here derive from the following movies:

Beverly - She Wants To Be Tied Up
Lily & Amber - Waitresses in Trouble
Jynx - A Perilous Situation
Carissa - Grabbed & Zipped
Melanie - Held Prisoner By Her Student
Lola - Boundary Dispute
Madison - Hell For Leather
Autumn - She Lost Her Way
Beverly - What Are Friends For?
Jynx - Caught in The Act
Madison - Zipped Secretary
Lily & Amber - Double Cross

47 minutes 06 seconds

WMV: $11.99


WMV: $15.99


Beauties in Bondage: Collection 4

Our fourth collection of 4-minute clips drawn from various movies, allowing you to sample the work of 10 models in one compilation. Forms of bondage include ropes, zip ties and handcuffs; gags are mostly duct tape. The excerpts here derive from the following movies:

Beverly - She Knows Too Much
Rachael - Cutting Off Her Clothes
Jayne - Needing Help
Madison - Miss Gray's Dilemma
Lily - Held in the Basement
Jordana - Hostage Situation
Lavender - The Banker's Wife
Melanie - Private Property
Lola - Sticky Situation
Madison - Punishment For Spending Too Much
Autumn - Wrong Place at the Wrong Time

50 minutes 39 seconds

WMV: $10.99


WMV: $14.99



Beauties in Bondage: Collection 3

Our third collection of 4-minute clips drawn from various movies allowing you to sample the work of 10 different models in one compilation. Forms of bondage include ropes, zip ties and handcuffs; gags are mostly duct tape and in two cases cleave gags. The excerpts here derive from the following movies:

Samantha - The Abducted Hitchhiker
Madison - Zip It!
Lily - Eviction Notice
Jayne - Trying to Escape
Lily - Lily Sees Red
Tabitha - Home Repairs Gone Wrong
Madison - Imprisoned in Pink
Audrey - Snatched
Rachael - Surprising a Burglar
Jynx - Federal Bureau of Incompetence
Lola - Trunk Call
Beverly - The Census Taker

51 minutes 30 seconds

WMV: $10.99


WMV: $14.99


Beauties in Bondage: Collection 2

Our second collection of 3-4-minute clips drawn from various movies, allowing you to sample the work of many different models in one compilation.

Beverly - Running a Red Light
Rachael - The Overpowered Operative
Melanie - What's Going On In There?
Autumn - Intruder
Lily - The Repairman
Madison - Anniversary Present
Lola - Failure to Arrest
Beverly - Buyer Beware
Lily - The Rude Realtor
Melanie - I'm Leaving You
Rachael & Diamond - A Burglar Comes To Visit

44 minutes 12 seconds

WMV: $10.99


WMV: $14.99



Beauties in Bondage: Collection 1

Our first collection of bondage clips drawn from 12 movies with 12 models. Excerpts are 3-4 minutes long and derive from the following movies:

Beverly - You've Been Served
Lily - Taken Bank Teller
Melanie - Restraining Order
Madison - Home From the Office
Jynx - Bound Business Woman
Autumn - School Ma'am
Lola & Nyxon - Abandoned in the Woods
Sienna - Bid For Freedom
Jayne - Do You Need a Ride?
Rachael - Run For Your Life
Emily - Held Hostage
Madison & Maria - What If We Were Burgled?

44 minutes 37 seconds

WMV: $10.99


WMV: $14.99

Home