Lily, Carissa, Melanie, Madison & Tina

Foreclosure (Cut-Down)


This is a re-release of the popular clip "Foreclosure" from 2011. This version contains all the vital scenes but has been edited down to speed along the action, and to make the download a lot cheaper than the 31-minute version.

Lily's husband has left her and she has been unable to meet mortgage payments alone. The mortgage company is foreclosing on her home and two representatives from the bank have come to talk to her because she has not been returning their calls. They explain that real estate agents will be arriving shortly to appraise the house for sale. The two bank employees practically force their way into the house, and Lily, furious and at the end of her fuse, holds them at . The frightened women try to reason with her, but Lily is having none of it. She forces one woman to tie up the other in a hogtie on the floor, then she sets about securing the second woman to a chair. She gags them both with duct tape to shut them up, telling them: "I'm in charge!" Lily then awaits the arrival of the real estate agents. When they show up, Lily holds them at point too and again, makes one woman tie up the second. Lily then finishes the job by tying up the fourth woman, then binding the two real estate agents back to back. After a little thought, Lily decides that she will have to dispose of them all, and starts by freeing the woman on the chair, leaving her wrists and ankles bound and the duct tape firmly over her mouth, then pick picks up the woman and carries her out to her car. By the time she comes back for her next victim, the remaining three women have managed to get free and they jump Lily.

19 minutes 10 seconds

WMV: $10.99


WMV: $14.99


Melanie

For Sale


Melanie is tied up and gagged. She is told to make herself comfortable because her captor has buyers coming to look at her. He is expecting a good price, and tells her she will soon be going on a long journey, probably to the middle east. Left unattended, Melanie tries frantically to get away before the buyers arrive, hopping around the house, trying doors, struggling to get free of her bonds, and finally getting herself outside. She fights desperately with the ropes holding her, and then, just when all seems lost, she manages to get her hands free. She unties herself as quickly as she can and makes a run for it into the woods...

11 minutes 03 seconds

WMV: $6.99


QUICKTIME: $6.99


WMV: $10.99


QUICKTIME: $10.99


Simply Hogtied



Melanie is bound in a hogtie and cleave gagged with black cloth. She wriggles around energetically on the floor, as Melanie always does, trying to get herself free. Sorry Melanie - not this time :-)

6 minutes 24 seconds

Download WMV version
$5.99


Download MP4 version
$5.99



Blind Date


Melanie has turned up on a blind date and is greeted by a man who says she does not look like her online photo. She retorts that he doesn't look anything like his online persona either. She is initially willing to give the date a try, but when her date starts to insult her and the way she chooses to dress, she changes her mind. He even suggests that she should try being tied up for a while. This is the final straw, and making the usual excuses, Melanie attempts to leave. Her date blocks her path so she makes a run for it into the woods. He pursues her, snatching up a stick along the way, and when he catches up to her he uses it. When Melanie wakes, she finds herself securely bound with rope and gagged with duct tape. Her date teases her for a minute before going indoors to cook them dinner. Melanie takes the opportunity to hop across the lawn towards her car, but before she can get there, her date intercepts her and makes her hop back across the lawn to the chair where she was seated earlier. He threatens to tie her to the chair if she tries anything else, then he returns to the house to continue preparing dinner. Again, Melanie hops across the lawn and this time manages to reach her car before she is spotted. She opens the door, awkwardly climbs in onto the driver's seat and using her knee to blow the horn repeatedly, trying to summon help.

12 minutes 55 seconds

WMV: $5.99


WMV: $10.99


Watch Melanie Being Tied Up



It's Melanie's turn to be thoroughly tied to a chair to see if she can escape. As with the earlier Watch Being Tied Up clips, Melanie will have just five minutes to get free before more rope is added. The tying process takes around 14 minutes, and then we watch Melanie struggling with her bonds for the next 20 minutes. Does she manage to free herself or is she trapped? The action is recorded by two cameras and the viewpoint switches back and forth between them at regular intervals. Other than this, the content has not been edited so you get to see the entire process.

34 minutes 45 seconds

Download WMV version
$13.99


Download MP4 version
$13.99



Witness Protection Could Not Save Her



Melanie has been living the good life for the last three years after testifying against Warren, her old partner in crime. She was then placed in the witness protection program to keep her safe, or so everyone thought. Unfortunately, Melanie is a city girl, and even though she is living in a quiet place now to keep a low profile, she still can't resist those designer clothes. This leaves a paper trail for Warren to follow once he is released from prison. He surprises her as she is on her way out, and she makes a desperate run for the woods. Warren has come prepared for trouble, however, and fires a tranquilizer dark into her butt as she runs. Melanie tumbles to the ground, and Warren taunts her as she gradually passes out. She wakes to find herself being tied to one of her kitchen chairs. He drags her roughly around the room, threatening her if she doesn't tell him where she hid the money from their final job together. Melanie reluctantly tells him where she has hidden the key to the safety deposit box where she has stashed the cash. Warren gags her while he goes to check it out. Melanie works her way all around the kitchen trying to get free before her ex-partner returns, but she is too tightly tied. In no time at all, it seems to her, he is back and angry because the key to the safety deposit box is not where she said it would be. Convinced that she is lying, Warren regags her and turns off the light, telling her she can sit there until morning, and maybe by then she will have come to her senses. (The movie concludes with 5 minutes behind the scenes where Melanie tries to get free).

27 minutes 44 seconds

Download WMV version
$14.99


Download MP4 version
$14.99


Quick Escape


Melanie has been left secured to her office chair with zip ties, duct tape stuck over her mouth the keep her quiet. Always resourceful, Melanie manages to escape her bonds in record time. (At the conclusion of this movie clip, we see Melanie laughing as she tries to suggest ways to make the movie longer, but it's too late for that. Keeping this girl tied up is remarkably difficult!)

6 minutes 32 seconds
$4.95

Download WMV version
$5.99


Download Quicktime version
$5.99



She's Got To Make That Call


Melanie is being held prisoner in a house. Unable to escape from the ropes holding her, her only hope of rescue is to use the phone to call for help. She manages to stand up and hops across the living room into the kitchen where the phone is located. She manages to remove the handset and press out 911 on the dial, and then tries to speak into the mouthpiece through her gag. At this moment, her captor discovers her attempt to get help and takes the phone away, unplugging it from the wall. He then orders Melanie to hop back to where he left her. He threatens to tie her up even more if she doesn't stay put. Soon after he leaves her alone again, Melanie works her way back to the kitchen, retrieving the phone and hopping across the floor with it to plug it back in and make another attempt at calling for help. Even though she plugs the phone in, alas, there is no dialing tone. No help is coming.

19 minutes 04 seconds


Download WMV version
$12.99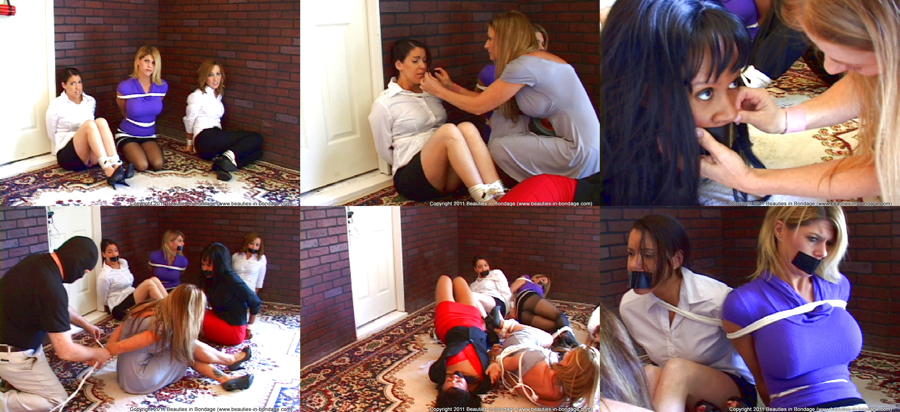 Carissa, Lily, Madison, Tina & Melanie
Bound at the Office
21 minutes 28 seconds

An office building has been the scene of a robbery, and all the secretaries have been herded into an area close to a stairwell. As the movie starts, three of the girls are already tied up; now the thief forces one of the two remaining free secretaries to tie up her companion. Once secretary number four is secure, the thief makes the remaining secretary to gag all of the others with duct tape. Now it is her turn: the thief ties her wrists and ankles, quickly secures some rope around her body, and concludes by gagging her. He warns the girls not to try escaping becaiuse he'll be watching on a closed-circuit TV system into which he and his cohorts have tapped. He warns them that if they misbehave, he will remotely detonate the bomb attached to the door behind them. Nevertheless, as soon as he leaves, secretary Melanie starts making attempts to reach the bomb and disconnect the wires before the thief has a chance to set it off. The other secretaries work to free one another from their bondage. They succeed in the end and make a run for it in case the thief returns to deal with them.

WMV: $12.99

WMV: $14.99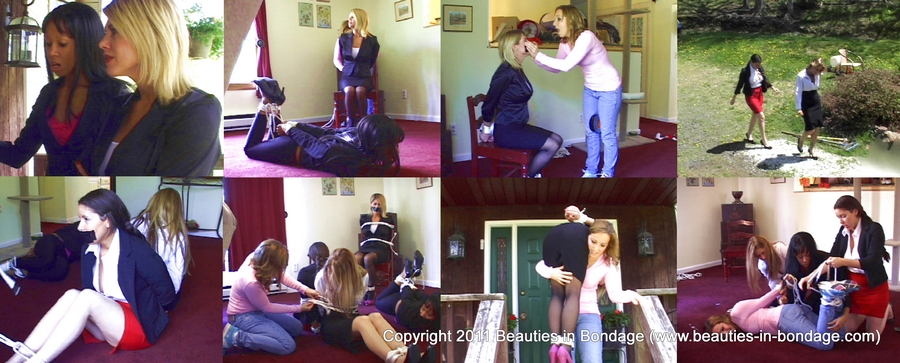 Carissa, Lily, Madison, Tina & Melanie
Foreclosure



Lily's husband has left her and she has been unable to meet mortgage payments alone. The mortgage company is foreclosing on her home and two representatives from the bank have come to talk to her because she has not been returning their calls. They explain that real estate agents will be arriving shortly to appraise the house for sale. The two bank employees practically force their way into the house, and Lily, furious and at the end of her fuse, holds them at gunpoint. The frightened women try to reason with her, but Lily is having none of it. She forces one woman to tie up the other in a hogtie on the floor, then she sets about securing the second woman to a chair. She gags them both with duct tape to shut them up, telling them: "I'm in charge!" Lily then awaits the arrival of the real estate agents. When they show up, Lily holds them at gun point too and again, makes one woman tie up the second. Lily then finishes the job by tying up the fourth woman, then binding the two real estate agents back to back. After a little thought, Lily decides that she will have to dispose of them all, and starts by freeing the woman on the chair, leaving her wrists and ankles bound and the duct tape firmly over her mouth, then pick picks up the woman and carries her out to her car. By the time she comes back for her next victim, the remaining three women have managed to get free and they jump Lily.

31 minutes 05 seconds

Full version
WMV: $14.99


Full version
WMV: $18.99


Cut-down version
WMV: $10.99


Cut-down version
WMV: $14.99



Gagged With Her Own Panties


Office worker Melanie has been tied to a stool and cleave gagged, left at the top of a stairwell in her office building. Her captor has attached a bomb to the door marked Employees Only, and if anyone opens it the bomb will explode. Melanie struggles hard to free her hands, but when she succeeds, pulls the gag from her mouth and starts calling for help, the masked intruder known as The Spook returns to deal with her. First, he re-ties her wrists, listening to her protests as he secures her again. Tired of her noise, he produces a pair of panties he found in her office drawer, stuffs them into her mouth and sticks duct tape across her mouth and cheeks to make sure she can't spit them out. Next, The Spook unties her ankles from the chair legs, and despite Melanie's kicking and struggling, he ties her feet together. Releasing her from the ropes holding her on the stool, Melanie tries to get up and get away, but The Spook pulls her back down and coils rope above and below her breasts, pulling her arms tightly against her sides. He now needs to take her away since he is expecting others to join him in his robbery of the office complex, so he throws Melanie over his shoulder and carries her outside. He carries her away into the woods where he dumps her on the ground and leaves her to struggle against her tight bonds.

20 minutes 37 seconds


WMV: $8.99


WMV: $13.99



Pursued


Melanie has escaped from a house where she is being held prisoner. Her legs are free but her wrists are still tied behind her back, and rope around her body hinders her ability to move her arms. She can't even reach the duct tape gagging her, much as she wants to pull it away and call out for help. As she runs through the woods, pausing here and there to catch her breath, Melanie finally decides to hide in some dense foliage. It is just as well that she did, because minutes later she hears footsteps coming towards her. She remains perfectly still and quiet, hoping that the man pursuing her will pass by and she can continue her flight for freedom. (The last few minutes is behind the scenes content).

13 minutes 53 seconds


Download WMV version
$10.99


Transported Prisoner



Melanie is a captive who is being moved to a more remote, secure location by the people who abducted her. Wearing a short, clinging blue dress, Melanie is helpless in a tight hogtie, a cleave gag between her teeth muffling her speech. Once she arrives at a remote spot in the woods, she is left bound and gagged in the back of the vehicle while her captors go off to deal with other matters. Melanie struggles and makes a valiant attempt to get free, but she cannot get out of the ropes binding her wrists and ankles. (Additional comment: Melanie is often able to wriggle out of her bondage after a while, but after being in this hogtie for almost half an hour, she declared that she was well and truly stuck).

16 minutes 55 seconds


Download WMV version
$12.99



The Loan Officer


Melanie works at a bank as a loan officer. Her working day is over and she is at home using her laptop when a man enters her kitchen and holds her at gunpoint. He is disgruntled because he applied for a loan at her bank at the beginning of the week and she declined his application. Now he wants her to fix things by approving the loan from home. To make sure she doesn't try anything, he ties her ankles to the chair legs then makes her perform the transaction. Once this is done he finishes tying her up so that she cannot reverse the transaction. (Melanie filmed the sequence where her legs are being tied so you see it from the victim's perspective).

17 minutes 00 seconds


Download WMV version
$12.99



She Almost Got Away


Melanie is being held prisoner. She has been bound and gagged for some hours, and summons her captor ostensibly to get a visit to the bathroom. Once freed and in the bathroom, however, Melanie quietly opens the window and jumps out, making a run for it through the snow and ice, heading for her car. She does not get far before her captor catches up with her, knocking her down on the hood of the car. He takes her back into the house (off camera) and ties her up again, taking off her shoes and socks to ensure that she doesn't run away through the snow again. He also tells her that she won't be getting another bathroom break that day. When he leaves her alone again, Melanie gets up and hops around the house, coming across a cellphone. She starts to make a call for help, but her captor discovers what she is doing before she can raise the alarm. To fully immobilise her, or so he believes, he places her in a hogtie. The resourceful Melanie even manages to free herself from this after some minutes of effort, and the movie concludes as she gets up and starts to hop away on another escape attempt.

18 minutes 30 seconds


Download WMV version
$12.99


Melanie
Allegations of Corruption


Melanie is a journalist who has managed to secure an interview with Adam Scott, former private secretary to Senator Daniels. Scott's resignation is steeped in rumours that he departed the administration after allegations of corruption were levelled at the senator. Melanie probes hard to try to get answers from Scott, but during the interview he receives a phone call; the caller explains that this journalist is causing a lot of trouble for the senator and he is instructed to take her out of circulation for three days until the elections are over. Scott gets up and makes an excuse to leave the room, but as he turns to go, he pats Melanie's shoulder. She reacts as if she has been stabbed with a needle, and within half a minute she is unconscious. When she recovers, she finds herself tied to the chair she was using during the interview. Ever a journalist, she keeps pressing Scott for answers until he gags her with duct tape. Left alone, Melanie struggles frantically to get free. She partially succeeds but finally has to resort to trying to get away while still tied to the chair. Scott intercepts her and again touches her shoulder, knocking her out for a second time. The characters protrayed here are entirely ficticious, and any resemblance to real senators or their private secretaries is coincidental.

22 minutes 44 seconds


Download WMV version
$13.99



I Need Your Clothes 3

Click here for photographs from this session

The intruder who steals womens clothes has struck yet again! This time, his victim is Melanie who does her best to reason with this lunatic with a clothing compulsion, suggesting that what he really needs is for someone to come and collect him. This attitude does her no favours and she soon finds herself stripping down to her underwear and laying face down on the floor. She is tied up (mostly on screen), gagged to silence her continual protesting, then left to struggle. (Includes a 4.5-minute behind the scenes sequence where it is clear that Melanie was not able to get free, and shows her threatening the cameraman if he does not give her a pair of scissors to cut her legs free. He complied before she gave him a lashing with her tongue)!

25 minutes 06 seconds


WMV: $8.99


WMV: $14.99



She's Still His Prisoner


In Held Prisoner By Her Student, we saw Melanie handcuffed to a cellar door and gagged, held there by a recalcitrant student. Time has passed and poor Melanie is still being kept prisoner. Now she is tied to a chair, the cleave gag still between her teeth. She works continuously at her bonds but progress is slow. Will she ever escape her student's evil clutches?

14 minutes 40 seconds


Download WMV version
$10.99


Frantic to Get Away


Melanie is being held prisoner, bound hand and foot with duct tape, and gagged with it too. Left unattended, she writhes frantically to get free, standing up, hopping and falling, trying everything she can to find a way out of her bonds. At last, she spots a pair of scissors and stands up again to reach them. She works on cutting her ankles free first, then her hands, and finally peels off her gag before running out the door and making good her escape into the darkness beyond.

13 minutes 02 seconds


WMV: $6.99


WMV: $10.99



Rude Awakening


Melanie is sleeping peacefully when an assailant creeps into her room and presses a cloth over her mouth. She struggles weakly, but hardly has time to wake up before her senses begin slipping away from her. When she next comes to it is morning. She is still on her bed but is now bound and gagged. Melanie works on her bonds until she is able to free her feet, but she can't reach the knots on the rope binding her wrsist behind her back. She goes to the kitchen and tries using a knife to saw through her remaining bonds, but it proves a lot harder than she expects. By the end of the movie, Melanie is on the kitchen floor, her hands still tied behind her back, the knife beside her.

15 minutes 13 seconds


Download WMV version
$11.99



The Hanging Detective


Melanie is a detective in pursuit of an armed and dangerous criminal. She chases him to a remote house and then lets herself in through the basement door. She discovers a noose in the basement and wonders what the hell is going on. She soon finds out when her quarry takes her by surprise and she ends up locked in her own handcuffs, a noose around her neck. This is one detective who does not accept defeat easily. First, she checks her coat pocket for her spare handcuffs key; happily, the criminal has not through to search her. She tries to unlock her handcuffs, but in the attempt she drops the key. She manages to free her legs from a zip tie, kick off her sneaker and sock and retrieve the fallen key with her toes. When it slips from her grasp a second time and lands out of her reach, a truly frustrated Melanie turns her attention to trying to reach the rope securing the noose to the wall with her foot.
Most models would have accepted their fate in a seemingly impossible situation like this, but not Melanie. The escape attempts were all of her own contrivance. If anyone ever kidnaps this woman, they will have a devil of a job actually keeping her restrained!

18 minutes 21 seconds


WMV: $7.99


WMV: $12.99


Kept in Bondage 2


Melanie is being kept prisoner in a house and is determined to escape. She unties the rope holding her on a chair and then hops with wrists and ankles still bound to the front door, hoping to get away. Outside, rain is falling heavily and she hesitates. It is then that her captor emerges from his office and is going to check on her, when he sees her at the front door. He pulls her back in, closes the door and orders her back to the chair in the kitchen. How long with poor melanie remain a captive?

9 minutes 17 seconds


Download WMV version
$8.99



Somebody Help Me


Melanie works as a receptionist for a Dr. Tanner. When a man who appears to be one of the doctor's patients arrives, Melanie does her best to help him, but when her back is turned, he grabs her, drags her from her chair and renders her unconscious. She recovers to find herself bound and gagged on the floor. She makes muffled calls for help through her gag, hoping that at least one of her work colleagues is still in the building. After struggling for some time and unable to free herself, Melanie is beginning to despair at the prospect of spending the night in bondage when Lola comes in to say goodnight... only to find her friend trussed up on the floor! Lola sets about untying the poor girl as Melanie explains to her what happened.

20 minutes 02 seconds


Download WMV version
$13.99



Held Prisoner By Her Student


Melanie Smith is a trainee teacher who offers private tuition to students to make extra money. One of these students, Peter, has other ideas for Miss Smith, however; soon after she arrives at his house, he knocks her out and takes her down to the basement where she is handcuffed to a door and gagged. We join Melanie as she struggles without hope to free herself of the handcuffs. She pulls off her gag and calls to Peter, threatening him in an attempt to make him let her go, but Peter, if he is even still in the house, is not answering. All Melanie can do is stand there and wait to be released from her bonds... but who can say when that is likely to be?

15 minutes 12 seconds


WMV: $6.99


WMV: $12.99


Melanie & Lola
Help Me Get Free


Melanie and Lola are being held captive in different rooms, both tied to a chair. We join them as Melanie works her way into the kitchen to find Lola. Once together, the two women try to untie one another, but reaching the knots is very difficult.

24 minutes 01 seconds


WMV: $7.99


WMV: $12.99



Keeping Our Secretary Quiet


A very simple situation where Melanie is dressed as a secretary tied to her chair and gagged. These secretaries are just so noisy that we have to quieten them down from time to time and make them chill out. Melanie is very good at escaping from her bonds, however, so it is not long before she is untying her feet and making a run for it.

8 minutes 35 seconds


Download WMV version
$7.99



Repo Girl


Melanie has the unenviable task of going to peoples homes when they default on car payments to repossess their vehicles. On this occasion, she meets with more resistance than usual from a man who is determine not to lose his vehicle. To stop Melanie taking it, he ties her up in the back yard and gags her. It's a very hot day, and having some compassion for the girl, he gives her some water, managing to pour some of it down her cleavage. Then he re-gags her and leaves her there while he goes out in the vehicle she had been sent to repossess. At the end, Melanie manages to wriggle her hands free, untie her legs and make a run for it.

13 minutes 07 seconds


Download WMV version
$10.99


What's Going On In There?


Melanie has come looking for direction, but while standing at the open door, she hears muffled cries from within the house. When she becomes curious about what is going on, rope is looped around her neck and she is dragged inside. She is bound on the floor in a hogtie and left to struggle.
This movie was going to be longer, but Melanie had been tied so well that he hands were going numb and she could not escape. We had to stop filming to free her... again! Poor Melanie.

8 minutes 26 seconds


Download WMV version
$7.99



I'm Leaving You


Melanie has decided she wants out of a relationship and she wants to leave, but her boyfriend has other ideas. After an argument, he subsues Melanie and secures her to a chair with zip ties and sticks duct tape over her mouth to keep her quiet. The resourceful Melanie is not that easily beaten, and after quite a struggle she manages to get the duct tape off her mouth and the zip ties off her wrists. She is trying to get to a kitchen drawer to look for a sharp knife or a pair of scissors when the boyfriend unexpectedly returns. She tries being all sweetness and light to him but it doesn't work; he zip ties her wrists together behind her back and applies a new gag. Can Melanie escape from captivity again?

21 minutes 26 seconds

WMV: $8.99


WMV: $14.99


Private Property


Melanie challenges a trespasser walking on her property. She asks him to leave, but noticing the tools he is carrying she wants to know what he is doing. When he says he is planning to erect a deer hide, she tells him there is no hunting on her land. The trespasser says he has been coming to these woods for years and that she, as a newcomer, has no right to ask him to leave. When Melanie insists that she has every right, she is knocked to the ground and trussed up in loads of duct tape.
Additional information: We had planned to make this a fairly long movie, but Melanie was taped up so tightly that she could not stand it for long (her hands were going numb), so we had to stop filming and cut her free. She did a wonderful job of trying to get out of all that duct tape, even though the attempt was utterly futile - she was well and truly trapped!

7 minutes 43 seconds


Download WMV version
$7.99



Escape Attempt


Melanie has escaped from a house where she has been held captive. She runs through the woods, moving fast, but when she stops to rest her worst fears are realized - her captor is pursuing her! She tries to get away but the foliage is too dense and she is dragged to the ground. Her ankles bound together to make her stay put. Left alone for a few minutes, Melanie manages to free her legs and resumes her flight. but she doesn't get far before she falls. She lays there exhausted, wondering if she will find the energy to continue her escape before her captor find her again...

6 minutes 3 seconds


WMV: $3.99


WMV: $5.99


Restraining Order


A legal secretary delivers a restraining order to a Mr. Michael Smith. Naturally, Mr. Smith is not too happy about this, and his reply to the secretary is: "If anyone is going to do the restraining around here, it's me." The secretary looks puzzled and then frightened as Smith pushes her to the ground. She is soon bound hand, foot and thighs with duct tape. There is a long sequence where Melanie is being wrapped in additional duct tape, ultimately leaving her in a hog tie of sorts. She struggles with surprising vigour and even manages to get herself partially free.

21 minutes 15 seconds


Download WMV version
$12.99



Asking For Directions


Melanie has got herself lost in the back of beyond. When she stops at a house to ask for directions, the owner pulls a gun on her and forces her inside. She tries to reason with him, hoping he might let her go, but instead she finds herself tied up with zip ties and has tape stuck over her mouth. Left alone for a while, she tries to escape her bondage, but zip ties are completely inflexible and she remains trapped and helpless.

9 minutes 46 seconds


WMV: $5.99


WMV: $8.99


Going Nowhere


It's a pleasant, sunny afternoon, perfect for spending time out on the garden swing chair, perhaps reading a book and sipping wine. Alas, poor Melanie can do neither - her wrists are looked to the metal seat by handcuffs, and her ankles are ensnared by a chain and padlock, with the end of the chain hooked to the top of the garden frame. She's obviously going nowhere without help, but despite her pulling the cleave gag from her mouth and calling for help, no one arrives to free her. Never mind, she puts on a wonderful display as she raises her long, slim legs in an effort to unlook the chain holding her feet in place.

10 minutes 32 seconds


WMV: $5.99


WMV: $8.99



Girl in the Garage


Melanie is tied up and gagged in the garage, forced to stand because the rope snaring her wrists is secured to the garage door tracks. After her captor comes to inspect her bonds, standing on a step ladder to get a close look at her wrists, Melanie manages, with great difficulty, to mount the steps with her ankles tied; to peel off her gag now that she can reach it, then to go to work on the bindings holding her wrists. She can't reach the knots that secure her, however, so she tries reaching up with her foot. A very acrobatic performance!

12 minutes 54 seconds


WMV: $6.99


WMV: $10.99

Home