font-family: Arial, Helvetica, sans-serif;
Movies by Model: Jasmine St James
Jasmine St James

Deja Vu (MP4)
Time: 17 minutes 28 seconds



Jasmine is relaxing after getting home from work, catching up on her text messages, unaware that an intruder is in the house with her... until he presses a cloth over her nose and mouth, that is. Jasmine struggles desperately, but in trying to cry for help, she inhales. The world goes dark. When she wakes, she finds herself tied to a bed with a device strapped to her chest, and it is counting down. There are just a few minutes before it reaches zero. Jasmine pulls at the ropes holding her, desperate to escape, but she is still trapped when the counter reaches zero. She is vaguely aware of an explosion, then she finds herself sitting in her easy chair once more. She is startled, frightened. What an incredible nightmare. Just as she starts to relax, she feels a cloth pressed over her nose and mouth. She struggles, inhales, and wakes to find herself tied to a chair, another device ticking nearby. She's going to be blown up again... and again... and again.

1920x1080 pixels - bitrate 6 Mbps - MP4: 810.7 MB

$8.99


Jasmine St James

Jasmine in Jeopardy Remastered (MP4)
Time: 7 minutes 31 seconds



This was one of Jasmine's very first movies with us (her second shoot in fact). She looks very young because this was more than seven years ago. It's a simple little movie, but she looks so cute in it that I could not resist a remaster, which means it is now 1920x1080 pixels and has a much higher bitrate than the original. Kelli Lynn Sage makes a brief appearance at the end as the girl who rescues Jasmine.

Original description: Jasmine's house has been broken into and the thief has left her tied to a chair and gagged. Jasmine struggles frantically with her bonds but she just can't reach the knots to untie herself. She whimpers intermittently, her breaths coming fast and urgent as she sits in fear that the thief might return. Then, her luck changes. Her friend Kelli just happens by to see her and hears her muffled cries for help. She rushes to Jasmine's side and starts untying the girl, asking her questions even before she has removed Jasmine's gag. Once Jasmine has been freed, Kelli says she is taking her to the police to file a report, and leads the distressed girl from the room.

1920x1080 pixels - bitrate 6 Mbps - MP4: 351.0 MB

$3.99

Jasmine St James

Fight Or Flight (MP4)
Time: 18 minutes 08 seconds



Jasmine has been grabbed, tied up, gagged and thrown in the trunk of a car. We join her towards the end of a long journey, and as the car stops moving, she begins calling out for attention. No one comes to get her out of the trunk. Desperate to free herself, Jasmine begins kicking at the door of the trunk. Unexpectedly, the trunk eventually opens in response to her blows, and she is able to climb out. Her ankles are secured with a hobble rope so she can't run, but she moves as far as possible into the woods, hands tied behind her back. Rope is secured above and below her breasts, restricting her arms; she could not save herself if she fell. Several times she almost takes a tumble but makes herself keep going. Just when she starts to think she might be safe, she hears a sound behind her. The man who took her is approaching, bag in hand. She knows what is in that bag - more rope! Jasmine attempts to run but quickly falls to her knees, dropping to the ground. The man catches up to her, and as she desperately struggles against his grip, he holds her legs while he removes the hobble rope, then binds her ankles and thighs to stop her running. Jasmine continues to struggle, trying to put distance between herself and her captor, so he decides to place her in a hogtie, making she she won't be going anywhere at all. Jasmine continues to struggle but it is to no avail. He's got her. She is helpless.

1920x1080 pixels - bitrate 6 Mbps - MP4: 838.3 MB

$8.99


Jasmine St James

It Started With A Sound (MP4)
Time: 19 minutes 11 seconds



Jasmine is having some chill time, reading a book, nothing pressing to do. The door bell chimes. She wasn't expecting any one this early in the day. She answers the door but no one is there. She looks out, even calls out. No one. When she closes the door and turns, she gets the shock of her life. A hand is clamped over her mouth. Someone is holding her wrist, stopping her pulling the day away. Without even realizing how she got there, Jasmine is on her back being dragged by her wrists. The intruder flips her over, zip ties her wrists and ankles and gags her with silver duct tape. Jasmine is helpless! The intruder leaves the room and Jasmine tries to get up, planning to hop to the door in the hope that someone will see her predicament and help her. She uses the chair to lift herself, but she loses her balance and falls. It's too hard. She decides instead to wriggle across the room to the back door. She is only half way there before the intruder drags her back and wraps duct tape around her wrists and ankles, over the zip ties. As if they were not already tight enough! As the intruder walks away, Jasmine her the sound of something falling. He thinks she has made the noise, and does not notice that he has dropped a pair of scissors. Jasmine starts making her way towards the scissors; they are her only hope of getting out of the peril she is in.

1920x1080 pixels - bitrate 6 Mbps - MP4: 887.2 MB

$8.99


Jasmine St James

The Archaeologist 3 (MP4)
Time: 22 minutes 20 seconds



In 2014, archaeologist Jasmine Croft had a first encounter with a rival who tricked her into evaluating an ancient scroll and then grabbed her, tied her up and even ducked her head in a sink of water to make him tell her about another artifact at the museum where she worked. History repeated itself in 2017 when the same man grabbed her for a second time and applied some less than gentle persuasion to get what he wanted. Also in 2017, Jasmine tied to help Cali Logan recover another stolen artifact in part 2 of "The Relic", but that did not turn out too well either. Now, Jasmine is back in trouble again. She is surprised at the museum where she works. She is so busy writing up recent finds that she does not hear the man sneak up behind her. He pushes something against her back, and assuming the worst, Jasmine allows him to tie her hands behind her back and gag her. He takes her out of the back entrance to the museum to a house. Here, he ties her legs together, removes the gag and questions her about a new artifact the museum has acquired; he wants her to tell him precisely where it is being stored. When Jasmine refuses to help him, he tickles her until she starts to hyperventilate, but still she refuses to talk. He warns her that if she remains silent, he will take things to a more extreme less. Jasmine is almost laughing it off, unable to believe that this idiot would try tickling her to get information. When her sits her on the edge of a bathtub, wrists and ankles bound, water running into the tub, she starts to appreciate how perilous her situation really is. She tries to struggle as the man lowers her into the tub, realizing what he intends, but there is nothing she can do to stop him pushing her head under the water and holding it there, torturing her until she tells him what he wants to know.

1920x1080 pixels - bitrate 6 Mbps - MP4: 1,032.8 MB

$8.99

Jasmine St James

Every Breath You Take (MP4)
Time: 12 minutes 53 seconds



Jasmine is going to visit a business friend who has promised to give her advice on how to invest her money. What she doesn't realize is that he plans to relieve her of her savings instead. As she enters the house and calls out, the last thing Jasmine expects is to be grabbed from behind and subdued. When she wakes, she finds her wrists and ankles bound with rope. Her shoes are missing and she can't straighten her legs. What is going on? When her so-called friend appears, Jasmine wants to know why he is doing this to her and demands to be released. In a quiet voice, he explains that he wants her to enter a password via a phone to allow access to her account. Jasmine refuses, leading the man to inject her with a drug which has the effect of constricting the airways, making breathing increasingly difficult. He tells Jasmine she has about ten minutes to enter the password. After that, every breath the takes may be her last if she doesn't receive the antidote. As she struggles to breathe, Jasmine stretches and scrunches her toes, something the man enjoys watching. As the minutes tick by and Jasmine grows ever more desperate, she knows that she will have to give in and supply the requested information. The question is, will the man bother to give her an antidote once he has what he wants?

1920x1080 pixels - bitrate 6 Mbps - MP4: 594.9 MB

$6.99


Compilation

Girls in Handcuffs: Volume 8 (MP4)
Time: 54 minutes 02 seconds



This handcuffs compilation contains 14 excerpts from our video library, each lasting approximately four minutes. Eleven different girls are featured.

Cadence Lux: Hostile Witness
Jasmine St James: Jasmine Cuffed In Bra & Panties
Rachel Adams: Give Me Your Password
Kendra James: Captured, Stripped & Secured
Dakkota Grey: You Can't Keep Me Here Like This
Vonka Romanov: Daily Exercise
Jessica: I've Got You Now
Carissa Montgomery: I Must Try To Escape
Tara: Bogus Arrest - Part 1
Jamie Knotts: Jamie Knotts Hogcuffed
Cadence Lux: Waiting For A Colleague
Jennifer: The Other Woman
Jasmine St James: Her Last Story
Tara: Bogus Arrest - Part 2

1920x1080 pixels - bitrate 6 Mbps - MP4: 2,060.7 MB

$13.99


Jasmine St James

Occupational Hazard (MP4)
Time: 12 minutes 14 seconds



Jasmine is a model who takes on a lot of glamour photography jobs. This time, her talent agency has sent her to a location in the back of beyond. Still, she is not too worried; the talent agency has never sent her anywhere unsafe. She meets the photographer; an old guy. Looks harmless enough. Her first moment of trepidation occurs when the guy says he wants to photograph her in restraints - handcuffs and shackles. The agency never mentioned this, but they did vouch for this shoot so it should be alright. With a smile, Jasmine allows herself to be handcuffs, hands behind her back. The guy is about to shackle her ankles when his phone rings and he leaves the room to talk the call. Jasmine waits patiently, but then becomes curious about what the old guy is doing. She calls out to him, and when she doesn't receive an answer, she goes in search of him. That's when she overhears a conversation that makes her feel suddenly cold: The guy is telling his friend how he plans to keep her here, joking that she is in restraints after all. Panicked, Jasmine makes a run for it. She heads off into the woods, away from her car. She is not thinking clearly. She runs until she is exhausted, then hides behind a tree, looking back to see if she is being followed. She is ready to move on but one of her boot heels is broken, and her other foot has become stuck under a tree root. Jasmine tries to pull free but the boot won't budge. She has no choice; she has to take it off and try to run with a sock on one foot and a boot with a broken heel on the other. She doesn't get far before she sees the photographer approaching, and he is carrying some shackles in his hand.

1920x1080 pixels - bitrate 6 Mbps - MP4: 567.9 MB

$6.99

Jasmine St James

Means Of Inducement (MP4)
Time: 19 minutes 48 seconds



Jasmine is in her way to visit friends when he car starts acting up. It begins lurching and slowing down, and finally stops. Jasmine is mystified and opens to hood to see if she can spot what is wrong. It never occurs to her that someone may have tampered with the engine to make it stop exactly where it did. While she is looking in perplexity at the engine, a man rushes up behind her, grabs her and presses a cloth over her nose and mouth. Jasmine struggles desperately, trying to break free, but before she can succeed, her world grows dark and she sags in the man's grip, sliding to the ground. When she recovers, she finds herself tied to a chair, a strip of duct tape covering her mouth. She panics, disorientated and frightened. Her alarm increases when a man enters the room and removes her gag. He claims to be a bounty hunter after Jasmine's father, and since he can't find him, he wants information from his daughter regarding his present location. Jasmine claims she has not seen her father in years, but the bounty hunters says he saw the two of them together less than a month ago. When Jasmine continues to feign ignorance, she is subjected to some chemical inducement to make her tell the truth. After a minute, she can't stop herself betraying her father's location and phone number. Now that her purpose is served, the bounty hunter subdues her again. When Jasmine wakes again, she finds herself wearing on her bra and panties, her arms wrapped around a tree, her wrists and ankles secured with zip ties. Duct tape has been stuck across her throat and brow, anchoring her head to the tree. She is gagged with a cloth which also extends back behind the tree. Jasmine can barely move, and she seems to be far from anywhere in the woods. Only the distant sounds of barking and vehicles keep her company. The sun is sinking in the west. It will soon be dark and there is no hope of escape.

1920x1080 pixels - bitrate 6 Mbps - MP4: 914.0 MB

$8.99


Jasmine St James

A Dangerous Profession (MP4)
Time: 28 minutes 33 seconds



Jasmine is a journalist known for writing incriminating articles. One of the subjects of her vitriolic pieces really doesn't like what she has to say about him. He breaks into her house and surprises her when she arrives home from work. As soon as she encounters him, Jasmine tries to defend herself, but he has her covered and she has no choice but to comply with his instructions. He forces her to duct tape her ankles and thighs, secure a ballgag in her own mouth and finally handcuff herself. He then lifts her up, sits her on a chair and tapes her body to it, rendering Jasmine helpless. He goes away for a while, and as soon as he is gone, Jasmine begins struggling to escape. With handcuffs and a lot of duct tape holding her, she doesn't have much hope of getting away. When the man returns, he takes her down to her basement, handcuffs and zipties her to a pole, then ties her to the pole with rope. He gags her with duct tape this time, after pushing a cloth into her mouth to muffle her protests. He departs, leaving Jasmine in another inescapable situation.

1920x1080 pixels - bitrate 6 Mbps - MP4: 1,317.9 MB

$8.99


Jasmine St James

The Actress (MP4)
Time: 38 minutes 10 seconds



Jasmine is an actress who is resting at home. She is between films and is busy reading a script for her potential next movie. She is so engrossed in the script that she is unaware of the man approaching from behind, cloth in hand. He presses it over her nose and mouth. Jasmine struggles to pull the cloth away from her face, but before she can succeed her world turns black. She wakes up in a strange room, bound with zip ties (ankles & wrists) and gagged by a simple piece of white tape. She struggles, bewildered by what is happening. Her captor enters the room and tells her that he has taken her for ransom. He walks away and Jasmine carries on struggling, trying to escape. She works her way to little table and opens its only drawer, looking for something she can use to cut herself free. The drawer is empty.

Her captor returns again, cuts Jasmine free and makes her stand. He undresses her down to bra and panties, removing her shoes before tying her to a chair with ropes. When the tying is finished, Jasmine says that her feet are cold. Her captor goes away and finds some socks; he puts them on her feet. He adds a tiny cleave gag which he passes under her hair before taking photos to go with the ransom demand. All the while, Jasmine struggles.

Jasmine is freed and told to put on a pair of mini-shorts Her captor has provided. He explains that he wants her to look cute and sexy so that he can sell her if her parents refuse to pay the ransom. Jasmine reluctantly puts on the shorts. She is then told to remove the socks and put her shoes back on. As she finishes and straightens up, Her captor overpowers her again. Next time she wakes, Jasmine finds herself hogtied and ball-gagged; she is to stay like this until the ransom arrives.

1920x1080 pixels - bitrate 6 Mbps - MP4: 1,769.3 MB

$9.99

Jasmine St James

Risking It All (MP4)
Time: 18 minutes 36 seconds



Jasmine is an investigative reporter who is looking in to the activities of a crime boss. She has located one of his many hideouts and manages to get inside. Believing no one is at home, she plans to search the house for documents which will inform on his operations. Before she gets a chance to do anything, however, Jasmine is assailed from behind. A hand is clamped over her mouth and she is told not to struggle. Jasmine is shocked to realize that this is Franck, the very man she has been hunting, and he seems to be here alone. Maybe she can get a story out of him? Rather than answer her questions, he makes her remove her dress before he blindfolds her. Jasmine feels him binding her wrists together in front of her, and then finds herself standing with her arms above her head, the rope attached to the ceiling. Left alone for a minute, Jasmine starts to fully appreciate the gravity of her situation. When Franck returns, he removes the blindfold and asks her why she is snooping in his house. Jasmine explains that she is a reporter and that she needs a big break to make a name for herself. Franck is amused that she would take such an absurd risk for her career. He gags her with duct tape and puts the blindfold back in place. Jasmine is left to stand there again, vulnerable is just her bra and panties. Finally, Franck decides to grant her an interview, mostly so that he can brag to this attractive girl. He leaves her hands tied and the tape over her mouth; only he will speak. When he is done talking, he makes Jasmine sit on his lap, promising to take her to the airport and let her go. This is far from the truth. Instead of giving Jasmine her freedom, Franck has her bound and gagged, still in bra and panties, on the back seat of his car. Only now does he tell her that he has other plans for her.

1920x1080 pixels - bitrate 6 Mbps - MP4: 863.4 MB

$8.99


Hannah Perez & Jasmine St James

Avenging Angel Remastered (MP4)
Total Time: 19 minutes 48 seconds



Remastered in HD. Hannah works for an insurance company and she has been cheating retired people out of a percentage of their pension for some time. Charges have been brought against her by the police but she is very good at covering her tracks and nothing could be proved. When the law fails, it is time for the Avenging Angel (in the angelic form of Jasmine in a catsuit) to step in and right the wrong. She overpowers Hannah just as the girl is trying to leave for work, securing her wrists and ankles with heavy duty zip ties, the kind used by law enforcement. Hannah is indignant and protests her innocence, but Jasmine does not believe a word of it. She decides to humiliate Hannah, in repayment for the way she has humiliated her clients, and she uses a pair of scissors to cut off all of Hannah's clothing, leaving her stark naked. To shut Hannah up, Jasmine stuffs a cloth into her mouth and then gags her with the pair of leggings she has just cut off the girl's legs. Jasmine says she is now going to search the house for the evidence the police need to finally bring her to justice. In her absence, Hannah struggles frantically but there seems to be no way out of those very tight zip ties. Still zip tied, naked and gagged after some time, and her her shoes taken away, Hannah sees no obvious prospect of escape. In a desperate attempt to free herself, she slides into the kitchen and starts checking drawers. She is unable to reach the cutlery drawer, but perhaps there is something else she can use? She searches and finally discovers a small, multi-purpose knife. With a lot of effort, she is finally able to cut through the zip ties holding her wrists and can then reach the drawer with the scissors to free her legs. She has no sooner liberated herself when she hears the sound of a door creak - Jasmine is returning. (The final ten minutes of the original have not been included owing to poor picture quality).

(1920x1080 pixels - bitrate 6 Mbps - MP4: 923.1 MB)

$7.99


Jasmine St James

Moving Up (MP4)
Total Time: 16 minutes 56 seconds



Jasmine has been asked to visit her boss at home. She is excited because she is moving up in the company, receiving a promotion to his department. Naturally, she has a few questions about her new position, such as pay and hours. The boss seems very friendly and relaxed. He even offers Jasmine an iced coffee to drink while they chat. She seems impressed by this treatment and starts sipping right away. After a minute or two, she no longer feels too good and says she needs to go home, but as she tries to stand, she topples onto the floor and the world goes dark around her. When she recovers, Jasmine finds herself tied up on a bed, hogtied in fact, with duct tape stuck over her mouth. She starts to probe the ropes looking for a knot... why can't she find any? That's when her boss returns and says, as much as he would like to have her move up into his department, he would far sooner just keep her prisoner at his home. Jasmine struggles frantically, especially when he reaches down and pulls up the hem of her skirt, exposing the tops of her thigh high stockings, but there is nothing she can do. The ropes are tight. She is helpless.

(1920x1080 pixels - bitrate 6 Mbps - MP4: 787.1 MB)

$8.99

Amber Wells & Jasmine St James

Tip Off Remastered (MP4)
Total Time: 33 minutes 10 seconds



First released in 2014 at 1280x720 pixels, this video has been completely remastered, which includes rebalancing color and sharpening the picture, as well as enhancing sound. This was the last time Amber and Jasmine were to work together.

Journalist Amber Wells has received an anonymous tip suggesting the corruption of a high ranking city official. A place and time are indicated, and Amber waits there with her camera hoping the call was not a hoax. She sees a woman apparently waiting for someone, and then to her astonishment, a vehicle arrives and the man who climbs out of it is the Chief of Police. He unloads a box from the back of his vehicle and enters the building with the woman. Amber sneaks closer until she can hear their conversation. It seems the Chief has been stealing from the evidence locker and selling goods to local street gangs. Amber takes a compromising photograph of the policeman then tries to flee, but the other woman (Jasmine) is too quick for her and she is quickly captured. The Chief of Police recognizes her as a reporter and realizes they are in trouble. He orders Jasmine to take Amber into the garage and tie her up. With Amber secure, the Chief departs to find her car before a passing patrol vehicle spots it and calls it in. After he departs, Jasmine finds a knife and cuts Amber free, saying that she was okay going along with the sale of stolen goods to local thugs, but now the Chief wants to send shipments overseas to terrorists to make more money, and she can't get behind that. She and Amber are just hurry from the garage when the Chief intercepts them, forcing them back inside. He says he has suspected Jasmine of betrayal for a little while, after too many things went wrong with recent shipments. He makes Jasmine re-tie Amber then he ties Jasmine up himself. Now that the women have compromised his operation, he has no choice but to dispose of them. He throws gasoline over them and sets a timer on a device that will spark and ignite the gas when it reaches zero. He departs and the two women struggle frantically to free themselves in time.

(1920x1080 pixels - bitrate 6 Mbps - MP4: 1,538.7 MB)

$8.99


Amber Wells, Lily Anna
Shauna Ryanne & Jasmine St James

Colombian Ambush Remastered (MP4)
Total Time: 36 minutes 20 seconds



This 2014 movie was enhanced in 2016 by stretching the 1280x720-pixel recording to make it look 1920x1080 pixels. It worked well and that might very well have been that. However, the chance discovery of the original master allowed for Colombian Ambush to finally be presented at full HD. Re-edited, re-balanced and sharpened, this is the definitive version of this amazing story where, unusually, everything went exactly right on the day of the shoot. This version also contains an additional 12 minutes showing what happened to Shauna when a CIA agent turns up and interrogates her about her resistance group.

Original description: Lily, Amber and Jasmine are three female diplomats who have just finished attending a summit in Bogota, Colombia and are being driven back to the airport by a local driver. The vehicle begins bouncing over rough, wooded terrain, and the women as the driver where he is going. He explains that he is taking a short cut. The women want to believe him but their are uneasy in such a volatile country. After a while, they grow so concerned that they ask the driver to turn back. Instead, he stops the vehicle just as a member of the Fuerzas Armadas Revolucionarias de Colombia emerges from the woods with some heavy duty fire power. The rebel orders the women out of the vehicle and very roughly zip ties their hands behind their backs before gagging them with duct tape. They are marched through the woods in their high heels over quite a distance until they arrive at one of the group's hideouts. Here, the zip ties are removed and the diplomats are bound with rope, Lily sitting on the floor tied to a pole, Amber tied to a chair and Jasmine forced to stand with her wrists tied above her head. Amber is forced to read a statement into a cellphone camera telling the U.S. authorities that she and her fellow diplomats will be executed if incarcerated members of the Revolucionarias are not released immediately. Now they have to wait for a response. The lead rebel tells the driver to fetch supplies because they will be here for some time.

After he leaves, Jasmine declares that she needs to use the bathroom. Initially the rebel tells her to just go in her clothes, but when Jasmine pleads with the rebel, she relents and takes her to a bathroom in the main house, leaving Amber and Lily unattended. In her absence, the two women work on their bonds. Jasmine manages to open a window in the bathroom and escape, but she does not get far before her absence is discovered and the rebel quickly catches up to her. She is marched back to where her fellow diplomats are being held. When they arrive, however, Shauna discovers that both Amber and Lily have manages to free themselves. She doesn't think to look behind her, and the two grab their captor from behind. Jasmine joins in, and between them they manage to restrain the rebel with zip ties, gagging her with duct tape. Amber retrieves a phone and calls the CIA, reporting what happened to them and asking them to send agents to capture the rebel. The diplomats make a run for it. Hours later, an agent arrives and starts interrogating the rebel, handcuffing her, making her stand in a tray of water and torturing her with an electrical current to make her talk. It is only a matter of time before she will break.

(1920x1080 pixels - bitrate 6 Mbps - MP4: 1,695.6 MB)

$9.99


Jasmine St James

Jasmine Re-Challenged (MP4)
Total Time: 30 minutes 39 seconds



Jasmine is always confident about her prowess as an escape artist, and in recent times she has come unstuck a little with this recurring boast. Given that it has been a while since she was put to the test, we decided to give her a little seasonal gift of some red rope on her sexy black dress and thigh high boots. Laughing and so sure of herself, Jasmine allowed herself to be tied up and placed in a hogtie, then cleave gagged with a knotted red cloth, a nice color match for her restraints. Now all she had to do was demonstrate that she has not lost her edge when it comes to escaping. So, we waited, and we waited, and... well, things didn't go quite the way Jasmine had hoped.

(1920x1080 pixels - bitrate 6 Mbps - MP4: 1,411.0 MB)

$8.99

Jasmine St Jamess

One Little Mistake (MP4)
Total Time: 15 minutes 56 seconds



Jasmine is alone and feels like having some fun with her handcuffs. She likes locking herself in them and doing things around the house as if she were free. She closes the ratchets on her wrists, careful to ensure she knows where the key to the cuffs is located. After admiring how she looks in cuffs, she goes to the kitchen and grabs a bag of chips, and a can of drink, and leans against the counter reading as she eats. After a while, she goes out on the back deck to admire the view, the handcuffs key gripped in her hand. All is well until she accidentally drops the key and, in trying to retrieve it, she drops it through the slats in the deck floor. She kneels and peers through the narrow gap to see if she can spot it. She can't. Her only option is to walk around the back of the house to find it. Jasmine walks in her knee high boots until she arrives at the deck and begins searching. She can't find it anywhere. How can such a shiny object be so impossible to spot? Eventually, Jasmine gives up searching and goes back indoors, thinking that she can probably pick the locks on the cuffs. She tries for a while using a piece of wire, but it doesn't work. There's nothing for it other than to wait until her boyfriend turns up to help her. As she lies there waiting, she falls asleep.

(1920x1080 pixels - bitrate 6 Mbps - MP4: 737.8 MB)

$7.99


Jasmine St Jamess

The Anti-Santa (MP4)
Total Time: 21 minutes 43 seconds



Meet Jasmine, the anti-Santa. She does not deliver presents to households for the holidays; rather she breaks into properties and helps herself to jewelry and cash. She seems to have gotten away with this many times, but on this occasion the occupant of the house arrives home and catches her in the act. Jasmine tries to talk her way out of trouble, but she gains little traction as she is made to empty out her bag of goodies. The man decides to turn her in to the cops, but not before making sure that she can't make a run for it when his back is turned. He makes Jasmine sit on a chair before cuffing her wrists behind her back. He uses a belt to secure her thighs to the chair seat, preventing her from stand up. Now he can have a little fun with her, producing aloud of rope that he uses to tie her ankles and knees, and finally wraps some around her body to ensure she is fully attached to the chair. Only now does he inform Jasmine that his brother is a cop, and if she thinks her present dilemma is bad, she should wait and see what his brother is like. It seems the brother would keep Jasmine in a holding cell for days and have fun with her. Sadly, the brother is not on duty until the evening, and only then will he come and collect her. In the meantime, she will have to remain tied to the chair with duct tape covering her mouth to silence her protests. (All tying is done on screen).

(1920x1080 pixels - bitrate 6 Mbps - MP4: 1,001.8 MB)

$8.99


Anna Lee, Carissa Montgomery, Jasmine St James & Autumn Bodell

All In The Game Remastered (MP4)
Total Time: 31 minutes 33 seconds



"All in the Game Remastered" is presented here in dimensions 1920x1080 pixels. Both color and white balance have both been adjusted, the picture has been sharpened and sound enhanced.

Anna in the process of getting ready to go riding with her friend Jasmine when Carissa and Autumn come to the door. The visitors force their way into the house, demanding to know about the security arrangements at the stables where Anna rides, convinced that a valuable thoroughbred is hidden there. Anna claims to know nothing about this but the two criminals don't believe her. They tie her up and gag her and say they'll wait for her friend.

A car arrives and Jasmine steps out. She knocks on the door, and Autumn and Carissa answer it, dragging poor Jasmine into the house. Autumn puts Jasmine down and holds her in place while Carissa ties her up. They question Jasmine as she struggles and when she doesn't give up any information either, they gag her too. With the two riders secured, Carissa and Autumn decide to try accessing the stables anyway and leave the two equestriennes bound and gagged, saying they'll be back later. In their absence, Jasmine is able to get free and she releases Anna. The two are about to leave the house and drive away to get the authorities (the criminals have taken their cell phones) when they see Autumn returning. They realize they can't escape and have no choice but to try to overpower her.

As Autumn enters the house, Anna stands in the living room to distract her attention while Jasmine runs up behind her and hits her over the head. The two riders have little experience with tying, but they contrive to bind Autumn effectively. They gag her when she comes to and again think of leaving. Anna then notices that Carissa is coming back too, so the girls repeat their ploy, capturing the second criminal in the same way. When Carissa is firmly bound and gagged, the two girls leave to summon help. Autumn and Carissa struggle in their bonds, trying to free one another, but before they can succeed they hear an approaching siren. A minutes later, police burst into the house. The game is up!

(1920x1080 pixels - bitrate 6 Mbps - MP4: 1,466.8 MB)

$8.99

Cadence Lux, Vonka Romanov & Jasmine St James

Deal Breaker (MP4)
Total Time: 38 minutes 49 seconds



Dave has made a lucrative movie deal with a foreign dignitary of middle eastern origins, but the only way the dignitary is willing to go forward with negotiations is if he gets three American girls to clinch the deal. He has even picked them from the social media profiles: their names are Jasmine, Cadence and Vonka. Dave dispatches his assistant, Asher, to track down the girls and bring them to the house where the dignitary will send his men to collect them. At the start of the movie, we see Asher leading the three girls through the snow, their hands bound behind their back to maintain control of them. Jasmine decides to make a break for it but does not get far before she slips and falls in the snow. While Asher is securing her legs to prevent her running again, Cadence and Vonka run back the way they came, hoping to use Jasmine's distraction to escape themselves. Once Jasmine is secure, Asher gives chase and quickly catches up to the two girls. He carries them back together, one over each shoulder. he links the ropes used to lead them to make escape a little harder before picking up Jasmine and carrying her to the house where the boss lives. The other two girls try to escape again, but this time they are hampered by the additional tie. Asher catches them for a second time, throws Vonka over his shoulder and makes Cadence walk beside him.

With all three girls safely delivered, Asher unties them at Dave's behest and makes them change their clothes, dressing them to look more seductive for the buyer. The girls are then photographed before Asher places them all in hogties. A cloth is stuffed into each girl's mouth and secured there with a cleave gag. While the two men are busy with sending the photos, the girls all struggles against their bonds. After a few minutes, Cadence manages to free her hands. She releases the other two girls and they all make a run for it. As they open the door to the outside world, however, they find Asher standing on the other side, and he is armed. He makes the girls walk back to the living room, then while Dave keeps them covered he ties all three of them to chairs. To shut them up, the girls are gagged again, this time with knotted cleave gags. Now the ropes are a lot tighter, and struggle as they may, none of them are able to get loose. Their level of distress increases when a gloating Asher comes to tell them that the buyer is happy with the choice of girls and has closed the deal. He promises them a trip to somewhere very warm, very soon.

(1920x1080 pixels - bitrate 6 Mbps - MP4: 1,798.0 MB)

$12.99


Candle Boxxx, Dixie Comet & Jasmine St James

Shop Girls Remastered (MP4)
Total Time: 28 minutes 56 seconds



This movie has been remastered from the original recording, presented here in 1920x1080 pixels and with a bit rate of 6 Mbps (the original was 1280x720 pixels with a bit rate of 4 Mbps). Color and white balance have both been adjusted, and sound has been augmented.

Candle and Dixie work in the perfume section of a big department store and they rely on commission for much of their salary. When the commission rates fall really low one month, they blame a meek little girl named Jasmine who works in accounts and calculates their monthly earnings. Convinced that Jasmine is on the take, the girls grab her one lunch time, tie her up, gag her, and take her to Candle's house in the trunk of her car. We join them as they carry a bound Jasmine into the living room and place her on the floor, then proceed to torment her, accusing her of giving the boss handjobs to get ahead,and laughing when Jasmine starts to cry. The girls go away to have their lunch, unaware that Jasmine has wriggled free and is looking for something to use to defend herself. The shop girls get a nasty surprise when they return, discovering that meek little Jasmine has a ferocious temper. Covering them, Jasmine forces Candle and Dixie to strip naked, then makes Dixie put Candle in a tight hogtie before gagging her. Jasmine sees how the tie is done and applies it to Dixie herself, first the ropes, then the gag. With the two girls trussed up and humiliated, Jasmine sets about tormenting them the way they did her, only far, far worse.

(1920x1080 pixels - bitrate 3.8 Mbps - MP4: 1,345.6 MB)

$8.99


Hannah Perez & Jasmine St James

Skiptracers Remastered (MP4)
Total Time: 30 minutes 18 seconds



Skiptracers has been re-edited and remastered from the original recording, presented here in 1920x1080 pixels and a bit rate of 6 Mbps (the original was 1280x720 pixels with a bit rate of 4 Mbps). Color and white balance have both been adjusted, and sound has been augmented. The effects near the conclusion of the story have been changed. This version is over 2 minutes longer than the original edit, and contains 45 seconds of bloopers at the end.

Original description: Italian criminal Raimondo has escaped from justice in his native Italy and has taken refuge in the property in the United States owned by a business contact. Raimondo plans to lie low until things cool down back home. He is unaware that two skiptracers (bounty hunters) are on his trail. The girls work for different agencies and both are hoping to collect the 10% commission for bringing him in. Jasmine is watching the house and sees the Italian emerge from the front door to collect a newspaper. She emerges from hiding and is is about to move in on him when Hannah, who sneaked up behind her, holds her up and puts her out of commission using duct tape. Hannah's plan is to pretend to be an escort sent by the owner of the property to entertain Raimondo during his forced isolation. She slips on high heels as a bound and gagged Jasmine watches. Hannah goes to the front door and introduces herself. Raimondo is very pleased to see such an attractive woman on the doorstep and invites her in. Once inside, he immediately tries to make advances to Hannah, but she slows him down by asking for a glass of wine. Outside, Jasmine reaches for a concealed cutter in her jacket pocket and beings slicing through the duct tape retraining her. Once free, she makes her way around to the back of the house and gains entry via the basement. Upstairs, Hannah now has the drop on Raimondo and is about to arrest him when Jasmine pounces on her, and the two fight. Raimondo takes advantage of the confusion and gets the drop on both of them. He forces Jasmine to zip tie Hannah's wrists behind her back, then he does the same to Jasmine. Raimondo then calls Dave, his business contact, and explains that they have a big problem. When Dave arrives, the two men tie the girls with more rope then march them to the basement where they are further restrained. Before leaving, Dave says they need to get rid of all the evidence and sets a timer to blow up the property. Left alone, the rival skiptracers work together to free one another. They are in a panic because the time is counting down and they may only have seconds left. They manage to free their legs and run from the house with hands still bound and duct tape still covering their mouths. It not a moment too soon - an explosion rips through the basement, knocking the two girls off their feet. They survive, but it is a very close call.

(1920x1080 pixels - bitrate 6 Mbps - MP4: 2,017.9 MB)

$8.99

Jasmine St James & Lydia Lael

Turning State's Evidence (MP4)
Total Time: 20 minutes 26 seconds



Lydia and Jasmine work for the pharmaceutical company Pharmaphial and they have uncovered evidence that the results of trials for a new product may have been altered in order to hide a potentially dangerous side effects. Unable to live with the lie, they decides to blow the whistle on Pharmaphial. If they both testify, the company would be in big trouble, so they hire someone to "fix" the situation. The two girls have been snatched and their wrists secured with plastic cuffs, pulled tight. They are gagged and have bags over their heads to prevent them seeing where they are being taken. The girls are made to sit on the floor to have their ankles secured with plastic cuffs. Now the interrogation begins. Lydia is the first to have the bag removed from her head. Her duct tape gag is torn off and she is asked where the evidence they have is being stored. Lydia tries to play the innocent game, which leads to one of her nipples receiving a shock. Next, the bag is removed from Jasmine's head, her gag is torn off and she too is questioned. The penalty for not cooperating is a shock to the thigh. The fixer decides the girls need some time to think about their responses, and leaves them gagged with duct tape and zip tied together, face to face. The zip tie around the their waists is very tight, preventing the girls from moving very much. After a time of pointless struggling, they help each other remove their tape gags and start talking about ways they might escape, none of which prove productive. Finally, the fixer returns. He cuts the zip tie around their waists and asks them again for the evidence they intend to present in court. When neither girl cooperates, he shackles their ankles together and leaves them, saying he will return in the morning. With improved mobility, Lydia and Jasmine are determined to use the opportunity to escape. First, they have to get to the clippers on the tool cupboard...

(1920x1080 pixels - bitrate 6 Mbps - MP4: 943.5 MB)

$8.99


Compilation

Girls in Handcuffs 7 (MP4)
Total Time: 65 minutes 11 seconds



This compilation contains 13 excerpts from our video library, each lasting approximately five minutes.

Lost in the Woods - Kendra James
Shackled Walk - Cadence Lux
Moment of Crisis - Vivian & Veronica Pierce
Stopover - Jasmine St James
Please Let Me Out - Vonka Romanov
Shoplifter - Rachel Adams
You Should Not Have Come Here - Jamie Daniels
Prisoner Transporter - Dakkota Grey
ICE - Monica Jade
The Perverted Cop's Next Victim - TerraMizu
Hit & Run - Autumn Bodell
Jasmine Needs To Be Punished - Jasmine St James
Anything To Save Her Sister - Lana Luxor

(1920x1080 pixels - bitrate 3.8 Mbps - MP4: 1,924.1 MB)

$16.99


Lydia Lael & Jasmine St James

Consider Yourself Served (MP4)
Total Time: 35 minutes 01 seconds



Lydia has the unenviable job of serving a subpoena to those who refuse to appear in court. The woman she is trying to serve, Jasmine, is expecting her and ambushes Lydia when she hands over the envelope. She drags Lydia to the floor in a comatose state. When Lydia wakes, she finds Jasmine watching her, and is alarmed to see the girl is armed. She orders Lydia to stand up and take off her clothes, recording the event on her phone for her boyfriend. Lydia naturally objects to this treatment, but clearly, Jasmine is being subpoenaed for a very good reason; she is crazy! Lydia pulls her top off, only to have Jasmine tell her to put it back on and do it again, and make it more sexy. Things are just getting worse for the public official. After as much stalling as she can manage, Lydia finally stands naked in front of Jasmine. A chair is brought in from the next room and Lydia is made to sit on it. She looks alarmed when Jasmine explains that she is going to tie Lydia to the chair, and force her to sit there with her legs apart. It's so humiliating, but Lydia can do nothing to stop her. Jasmine has to go out for a while and gags her prisoner before she leaves. In Jasmine absence, Lydia struggles to get free. It takes her a while but she does manage to liberate one hand. From that moment, Jasmine's fate is sealed. Lydia waits in hiding for the girl's return, then pounces on her as she enters through the front door. With Jasmine insensible, Lydia peels off her clothes down to her lingerie, then places her in a hogtie. Jasmine wakes to find herself already restrained and begins to struggle and threaten. Lydia merely gags her with duct tape and leaves the girl to bound and gagged in her underwear, just waiting for the police to arrive and arrest her.

(1920x1080 pixels - bitrate 6 Mbps - MP4: 1,626.6 MB)

$10.99

Jasmine St James

Jasmine Needs To Be Punished (MP4)
Total Time: 24 minutes 44 seconds



Jasmine decided to give a submissive lifestyle a try for a while, but it was not long before her rebellious streak surfaced. Dressed in leathers, she has been out spending money, something she was told not to do. When confronted about her transgression, Jasmine tries to shrug it off, but her dom is not letting it pass. He places Jasmine in handcuffs, despite her complaint about hating them, then spanks her bottom with a slipper, whacking her hard through her leather skirt. That is far from the end of her punishment, however. She is taken down to the basement where she is chained to a chair and her booted ankles are shackled. She is told she will be there for four hours, to make sure she doesn't go out again in the evening. Jasmine can't believe this and tries to reason with her dom, but he duct tapes her mouth to keep her quiet. He is in no mood to listen to her complaints; the gag will only come off when she becomes more compliant.

(1920x1080 pixels - bitrate 6 Mbps - MP4: 1,140.6 MB)

$8.99


Jasmine St James

Too Good At Her Job (MP4)
Total Time: 19 minutes 30 seconds



Jasmine pays a visit to her boss's home because she wants to discuss something of a delicate nature, something she would rather not bring up and work. She tells her boss that the accounts contain some pretty startling irregularities, and she is very uncomfortable bringing this up because the person who formerly held her job was the boss's brother. Effectively, she is accusing someone in the boss's family of being a criminal. She does not realize that it was not the brother who was siphoning off money and sending it abroad; it's the boss himself. He offers Jasmine a drink of raspberry tea which he says he poured for himself and has not touched. Relieved that he seems to be taking the news so well, Jasmine relaxes and accept the drink. After taking several sips, she starts to feel a little woozy and her head begins to ache. She takes a this sip before deciding to put the drink down. Saying she feels ill and needs to go home, she asks if they can pick up the conversation at a later time. The boss readily agrees, just before Jasmine tries to stand up and loses her balance. She falls back onto the lounger where she had been sitting, comatose. When she recovers, she discovers that she has been tied up and gagged in the boss's bedroom. He tells her how unfortunate it is that she is so good at her job, because now he can't let her go, at least not before he flees the country with the money, and that could be weeks. (First bondage scene: 8 minutes; second bondage scene: 6 minutes).

(1920x1080 pixels - bitrate 6 Mbps - MP4: 901.5 MB)

$8.99


$12.99


Jessica, Sinn Sage, Cadence Lux, Jasmine St James & Amber Wells

The Cult enhanced (MP4)
Total Time: 57 minutes 16 seconds



Filmed in the autumn of 2014, The Cult was assembled from a series of four different shoots. It was exported at 1280x720 pixels, the standard resolution of the time. I looked at completely reconstructing this story from raw data to re-release it, but then discovered just how many layers of work went into creating it. Everything gelled so perfectly that I decided not to mess with it. Instead of starting from scratch, the best quality Quicktime copy was imported into Final Cut Pro where the pixels were stretched to 1920x1080, the picture was sharpened, and both color and audio were enhanced. Exported in MP4, the quality is comparable to our most recent productions.

Original description: Jessica's car has broken down on a quiet country road. She has no cellphone signal, so in order to get help she has to walk. She finds her way to a remote house and knocks on the door. No one answers. Normally, Jessica would not have persisted, but she had seen no other properties and is completely stranded. She tentatively tries the door. To her surprise, it is unlocked. She pushes the door open a little way, calling out "Hello?" Once again, there is no response. She walks into the house and finds herself in a room with the skeleton of a man seated in a chair, surrounded by the skeletons of various creatures. This strange sight makes her uneasy and she starts to think that entering the house was a mistake. She is about to turn and leave when a gloved hand clamps over her mouth and she feels an arm snake around her waist. She struggles and tries to cry out in alarm but the sound is stifled by the clamping hand. A chilling, sepulchral voice speaks in her ear: "You should not have come here. Don't struggle." Forced down onto the floor, Jessica gets her first look at the dark acolyte who has captured her. She is almost too terrified to move as he produces rope from beneath his cloak and begins to tie her wrists together behind her back, warning her: "If you want to live, don't struggle." Later in the day, Jessica's friend Sinn Sage arrives looking for her, having found her abandoned car close by. She too falls victim to the dark acolyte and is tied to a chair and gagged. Later, she is taken to an old abandoned building where she sit alongside Jessica, both of them bound and gagged. The next day, Cadence, a nosy reporter looking for a story about the Cult of Asmonday, is also grabbed and made a prisoner. Now there are three women ready for the sacrifice; only one more is required in order for the ritual to make Asmonday flesh to be performed. The fourth is supplied when Detective Jasmine St John arrives in search of the missing women. The Dark Acolyte ties her up but she manages to get free and is about to escape to get help when she comes face to face with Amber, the High Priestess.

(1920x1080 pixels - MP4: 2,144.0 MB)

$14.99


$18.99

Jasmine St James

Jasmine Kept As Collateral (WMV & MP4)
Total Time: 18 minutes 49 seconds



Jasmine goes to see a loan shark from whom she borrowed $20,000. It's time for her to pay him back, with interest, a total of $28,000. The trouble is, Jasmine doesn't have it, and after dancing around the issue for a few minutes, she is forced to admit this fact. Naturally, the loan shark is not at all pleased by this news. He suggests that Jasmine's boyfriend should come up with the money, but she insists he doesn't have any either. The loan shark tells her that he had better find it, quickly, and that in the meantime he is going to keep Jasmine as collateral. Much to her surprise and consternation, the loan shark places her in handcuffs and marches her out to his car, taking her to a quiet spot where he can hold her prisoner and no one will know where she is. He duct tapes her mouth and lays her down on the back seat of his car. We see Jasmine lying there helpless as the car travels to its destination. Once there, Jasmine is forced to kneel and the duct tape is ripped from her mouth. She is ordered to call her boyfriend and tell him to find the money. The loan shark takes the phone as he re-gags Jasmine, warning the boyfriend that he has just twenty four hours if he wants to see his girlfriend alive again. Jasmine is moved to another room and forced to lie on a bed. She is handcuffed to the bed frame, while her ankles are tied with rope. The loan shark pulls on the rope, lifting her legs into the air and tying off the ends of the rope. Jasmine will have to remain in the very uncomfortable position for the next day until the money arrives. If it doesn't, he threatens, he will get the money some other way, perhaps by letting men have a few hours with her for a thousand bucks a pop.

(1920x1080 pixels - WMV: 730.2 MB; MP4: 727.9 MB)

$8.99


$12.99


Jasmine St James

Her Last Story (WMV & MP4)
Total Time: 10 minutes 57 seconds


An ambitious reporter is taking photos of a house where she believes a criminal lives, and she wants to write a damning piece about his activities. If she could get a a shot of him emerging from the house, so much the better. While she is busy taking photos, however, the target of her research creeps up behind her, cloth in hands, doused in who knows what kind of chemical. Unaware of his approach, Jasmine keeps clicking away, until that cloth is suddenly pressed over her nose and mouth. She lets go of the camera, saved from falling by the strap around her neck, as she tries to pull the man's hand away from her face. Before she can succeed, she inhales. After that, the fight is over. She wakes up handcuffed, shackled and chained to a chair. Duct tape covers her mouth and is wrapped all the way around her head, stuck to her hair. She can barely utter a sound, and she certainly can't get out of her restraints. A night passes, and suddenly the garage door is opened, letting in sunlight. It also admits the man who grabbed her and chained her up. He pulls up a chair and sits next to her, taunting her about the story she will now never write. Her turns her chair so that she has a view of the outside world, a world she cannot reach, and says he must go to work. He promises to return in the evening, and perhaps then he will have made a decision about what to do with her. Left alone, Jasmine's struggles soon subside. She knows she can't escape, that she has been well and truly caught. The worst of it is, she was working alone on a story where she wanted to make a scoop, so she didn't even tell anyone at the paper where she was going. If the man has moved her car, and she's pretty sure he would have done so, in addition to taking away her cell phone, there is basically no way to track her. She's alone, trapped, helpless and without hope.

(1920x1080 pixels - WMV: 425.2 MB; MP4: 423.3 MB)

$5.99


$9.99


Jasmine St James

I Hope It Was Worth It (WMV & MP4)
Total Time: 33 minutes 49 seconds


Jasmine is just leaving a house having stolen a bag of jewelry. Before she can drive away, however, the house owner arrives and prevents her from leaving. He makes her empty the bag she is carrying onto the ground, and out spills a whole load of jewelry. The guy decides to make a citizen's arrest. He makes Jasmine walk backwards towards his vehicle. He retrieves a zip tie from the vehicle and secures her wrists behind her back. The man then forces Jasmine to walk around to the back of the house. Inside his garage, he cuts off the zip tie and tells Jasmine to remove her dress; he wants to see if she has concealed any of the jewelry about her person. Jasmine is so sassy that he decides she needs to be taught a lesson before he involves the police. He makes her sit on a chair wearing only her bra and panties, the proceeds to tie her to it using zip ties - wrists, arms, ankles, thighs. Jasmine can barely move now and her attitude has subdued a little, but she is still annoying the guy, so he decides to stuff a cloth in her mouth and seal her lips with duct tape. He leaves to move Jasmine's car out of sight, since now he is thinking that he may not even call the cops today, or even tomorrow. When he returns and removes Jasmine's gag, she tries again to let her go. To shut her up this time, he uses a length of rope to gag her. He leaves her to sit there for the night. The next morning, he has her kneeling on a bed in his basement as he ties her wrists behind her back, this time using clothes line. He throws Jasmine down onto her stomach and uses more clothes line to put her in a tight hogtie. Finally, before heading off the work, he re-gags Jasmine and tells her he will decide what to do with her come evening. Unless she can free herself, and the prospects don't look at all good, this is going to be a very long day for Jasmine.

(1920x1080 pixels - WMV: 1,312.3 MB; MP4: 1,309.3 MB)

$10.99


$14.99

Jasmine St James

Jasmine Knows Too Much (WMV & MP4)
Total Time: 18 minutes 45 seconds


Jasmine has been prying a little too deeply into the company accounts, and there is a chance that she now knows too much about a scheme the management is running which is siphoning money into off-shore accounts. Rather than have Jasmine involved in a public accident to remove her from the scene, the management decides to hire a fixer who can take her out of circulation for as long as necessary. The fixer surprises Jasmine while she's working, ties her up, gags her by stuffing a cloth into her mouth and tying another around her head to keep it in place, placing her in a tight hogtie on the floor. As she struggles, the fixer looks through her computer files and finds what the management suspected her might. He tells Jasmine that she is not quite as clever as she thinks she is, and he now has no choice but to take her somewhere more discrete. Later, Jasmine fines herself still hogtied, now lying on a bed as the fixer secures her in place with ropes that connect her arms and legs to the frame of the bed. Jasmine is silenced, a cloth pushed into her mouth before a cleave gag is applied, then left alone to struggle. The ropes are well tied and all the knots are completely out of the reach of Jasmine's probing fingers.

(1920x1080 pixels - WMV: 726.9 MB ; MP4: 729.5 MB)

$8.99


$12.99


Jasmine St James

The Candidate (WMV & MP4)
Total Time: 13 minutes 38 seconds


Full description: Jasmine is running for public office at the general assembly and election day is tomorrow. She says that if she gets elected, and the polls indicate that she will, she plans to launch an investigation into people who bribe officials to get approval for shady projects.Unable to resist gloating about her plans for when she gets into office, Jasmine visits Dave, a man who has repeatedly got away with under-the-table deals. She is determined to put an end to this, and she tells him so. She rather foolishly warns him that his days are numbered and that he better enjoy his freedom while he still has it, because all that is about to change. As Jasmine turns away, Dave grabs her and drags her to the floor. He has other plans for her, and this one will be at least as shady as the ones she has just accused him of implementing. When Jasmine wakes, she finds herself sitting on a chair, her wrists tied together behind her, and a noose around her neck. Dave pulls on the rope and makes her step up onto a block of wood, tightening the rope so that Jasmine is forced to stand on the balls of her feet, or risk strangling herself. As Jasmine sways precariously, Dave gags her with duct tape and tells her she had better not lose her balance. He reaches around her body from rebind her and pulls up the hem of her skirt, making the tope of her thigh high stockings even more visible. Jasmine wants to fight him off, but if she moves she may fall off the wooden block and be unable to reach the floor. Both scared and humiliated, but she tries to maintain a defiant attitude, but it is proving difficult. Dave leaves her standing there, her hands tightly tied behind her back, making it impossible for her to reach the noose. All she can do is try to maintain her balance, however tired her muscles become. She wonders how much longer she can keep this up when Dave decides to let her down. He ties her to a chair and applies a new tape gag before dragging her out of his garage, leaving her own on the lawn where it is just starting to drizzle.The forecast is for heavy rain, and once again, Jasmine's hands are too tightly tied for her to get free.

(1920x1080 pixels - WMV: 530.0 MB ; MP4: 530.6 MB)

$7.99


$11.99


Jasmine St James

Just Jasmine (WMV & MP4)
Total Time: 80 minutes 12 seconds


The following movies will appear in your download folder, along with a small file called Just_Jasmine_set.mp4. The most recent titles are presented in WMV and MP4 formats; older files are in WMV & MOV (Quicktime) formats.

Abandoned (12 minutes 30 seconds)
Jasmine wakes up on the back seat of a car. She slowly comes to realizes that she has been bound and gagged. Her wrists are tightly tied together behind her back; rope snugly encircles her thighs and ankles. A cleave gag is tightly tied between her teeth. In her initial panic, Jasmine frantically kicks the door with her heels, then it dawns on her that she can open the door behind her head. It opens, and she swivels herself round to put her legs outside the vehicle; then she drops to the ground on her knees. Jasmine looks around; she seems to have been abandoned in the middle of nowhere, not a trace of civilization anywhere. She can't even remember what happened - who grabbed her; who tied her up? Her first instinct is to try to saw through the ropes binding her wrists, rubbing the rope against the rear wheel arch and then the sharper edges of the wheel hub. The rope has not even frayed! She can't escape. All she can think to do is inch her way through the woodland on her bottom (her boot heels are far to high to allow her to hop, and with her legs tied together she can't take them off), pushing herself along with her bound hands. She has to work her way through ferns, kick fallen branches out of her way, and just keep going. Progress is very slow and tiring, and after a while, Jasmine lays her head down to rest a while before continuing her arduous journey to find help.

Out Of Nowhere (15 minutes 43 seconds)
Jasmine is at home for the day, just relaxing. She checks her phone for messages, checks the oven to see how her cooking is progressing, and sits on the counter eating a banana. When she thinks she hears a faint, unfamiliar sound somewhere in the house, she goes to investigate, calling out to see if anyone is there. She receives no answer and moves on to her next task, checking the pantry for something else to eat for lunch. She is unaware that a man dressed as a cop is now standing close behind her. He may not be a real cop, but what better way to pass unchallenged if you plan to enter homes and do what he is about to do. As Jasmine straightens up, a hand bearing a white cloth comes out of nowhere and presses hard over her nose and mouth. Her arms are held to prevent her resisting too hard, and within seconds she is sliding to the floor. When she wakes, she is lying face down on a bed. At first, she can't remember how she got there. Suddenly, she becomes aware of the ropes around her wrists, elbows, thighs and ankles, and the fact that she can't straighten her legs. She struggles, and notices the man who grabbed her approaching the bed. He gags her by forcing a cloth between her teeth and tying it off tightly at the back of her neck. When Jasmine's struggles start to loosen the hogtie a little, the man adds an additional rope to pull her ankles and wrists closer together. Jasmine tries so hard to free herself, but the ropes are tight and the knots impossible to see. All she can to is lie there and wait to see what the man does to her next.

Vanished on Vacation (16 minutes 21 seconds)
Jasmine is on vacation and traveling to a resort, or trying to; she gets lost, and just when she thinks things can't get any worse her car breaks down. She tries to call for help but the area is so remote she is not getting a cellphone signal. She gets out and opens the hood of her car to see if there is anything obvious that she can fix, like a loose terminal. As she is standing there, a vehicle pulls up behind hers. A good samaritan gets out and comes to ask if she is having a problem. He pretends to look at the engine while Jasmine turns away, trying to get a signal on her cellphone. Suddenly, the man grabs her and drags her backwards towards his vehicle, his hand clamped over her mouth. He manages to wrestle her into the back of his vehicle then punches her to keep her quiet. The not-so-good samaritan drives Jasmine to his house and, leaving her in the back of his Jeep, zip ties her wrists and ankles, applying duct tape to gag her mouth. When Jasmine comes to, she panics and struggles to get free. Unable to release herself, she hops out of the Jeep and tries to get away. The man quickly catches her and carries her into his basement. Here, he sits her on a chair and ties rope around her waist, securing her to a chimney stack to make sure she doesn't try to hop away again. Jasmine wonders what her friends will think when she doesn't show up, and she wonders if she will eventually come to be known as the girl who vanished on vacation.

White Collar Crime (17 minutes 58 seconds)
Detective Jasmine St James has come to interview a bank's financial officer about white collar crime she believes he has orchestrated, transferring funds illegally from bank accounts to an off-shore haven. The man is very friendly and offers her a coffee (he himself is already drinking one). She accepts and begins drinking the coffee but after a minute begins to feel drowsy. Too late, she realizes what has happened. Jasmine recovers in the man's home office, handcuffs on her wrists and a rope that secures her to an overhead beam via the handcuffs chain. He pulls on the rope, making Jasmine stand until her arms are extended above her head and she is poised on her toes. He ties rope around her ankles and then gags her as he explains that he has an important engagement at work but he will be back to deal with her later when he'll take her on a little journey in the trunk of his car.

I'm Not For Sale (17 minutes 40 seconds)
Jasmine has answered an advertisement for a Jeep, but upon seeing it she thinks it is just a piece of junk. She picks fault with it, and when the owner asks her if she is wasting his time, she retorts that he has wasted her time. He tells her to wait a minute while he goes into his garage. When he returns he is carrying a cloth which he presses over Jasmine's nose and mouth, lowering her inert form to the ground. When she wakes, Jasmine finds herself tied up inside the Jeep, her legs spread apart and her wrists secured together behind her back. The man gags her with duct tape. He leaves for a while but when he returns, he says he has had an idea; instead of selling his Jeep he will sell her instead. Later, Jasmine is seen stripped down to her bra and panties and secured to a pole with handcuffs and a collar buckled around her neck. The man has found her some heels to make her look even more sexy for the bidders viewing her on line and making their offers. When the bidding reached a quarter of a million, the man shakes the contents from a bottle onto another cloth and presses it against Jasmine's face to subdue her ready for packing in a crate and shipping to foreign climes.

$19.99


$23.99

Jasmine St James

Activating Clause 7
Total Time: 39 minutes 26 seconds


Jasmine is a maid who has been working for a particular employer for about a year now. He likes her to clean the house wearing a white blouse, black mini skirt, black hose and strapy heels. More than once she has requested to wear her normal clothes, but he insists that she always wear this uniform. She would quit but he pays so much more than anyone else she works for that she just puts up with it. This particular day is morning challenging, however. Her employer reminds her of the contract she signed when he hired her, stipulating in clause 7 that she may, from time to time, be asked to perform unusual duties, and that she would be recompensed for them. Assured that these special duties would not involve sex, she agreed and signed the contract. Now, he says, he is activating clause 7. He explains that she can skip cleaning the house today, because instead he wants to tie her up and gag her and just watch her struggle to get free for the whole five hours she normally works. Jasmine balks at the idea, but when she is offered a $500 bonus, she finally agrees to being tied up for the duration of her working day.

(1920x1080 pixels - WMV: 1,531.6 MB; MP4: 1,518.2 MB)

$9.99


$14.99


Jasmine St James

Appropriate Punishment
Total Time: 14 minutes 42 seconds


Jasmine has been caught inside someone's house in the act of stealing valuables. She is being held up by the owner who is about to call the police on his cell. Jasmine tries grabbing at the phone, pleading with him not to involve the police. The man infers from this that she has prior convictions and does not want to go back to jail. Jasmine tries to persuade him to just let her off but he is not having any of that. Instead, he offers her a choice; either she allows him to tie her up out in the woods and make her stand there for the rest of the day, or he calls the cops and she goes to prison. Neither option seems very attractive to Jasmine, but realizing that she cannot change the man's mind, she finally opts for the former choice. She is handcuffed and marched far out into the woods where the man positions her between two trees, produces a second pair of handcuffs, some clothes line and a bandana. He secures each of Jasmine's wrists with a cuff, then links the other cuff to a tree with the clothes line. Jasmine is now standing with arms apart, the handcuffs pulling on her wrists. She can only watch helplessly as the man secures some plastic cuffs around her ankles, and cannot resist when he moves behind her and gags her with the bandana. He tells her he will be back to release her in six or seven hours, by which time, he considers, she will have undergone an appropriate punishment for her misdeed.

(1920x1080 pixels - WMV: 571.9 MB; MP4: 566.3 MB)

$7.99


$11.99


Jasmine St James

Subjection: complete
Total Time: 76 minutes


Jasmine has been snatched by a man who has been watching her for some time, and he wants to have her in his life. He is way too old and ugly to ever attract a pretty girl like this, so to make her stay he must keep her tied up, changing her restraints periodically, and stripping her down to her bra and panties while she is in a chemical-induced sleep. After grabbing her, she is bundled into the trunk of his car where her wrists and ankles are bound with rope, and she is cleave gagged to ensure she doesn't make too much noise when he is driving her to where he plans to keep her. Before he can drive her away, however, Jasmine pulls on the emergency release in the trunk of the car, opening the door and scrambling out. She tries to hop away into a nearby woodland, hoping to hide among the trees, but the old man who has snatched her notices her departure and comes after her. He makes her hop all the way back to the car, and once back inside the trunk, he places her in a hogtie so that she can't try that stunk again. Jasmine has a very uncomfortable ride to her enforced home, and once there, is made to hop again, this time into the house. She is placed in a hogtie to keep her still, then soon after has a chemical-soaked cloth pressed over her nose and mouth.

When she wakes, she finds herself wearing only bra and panties, and the old man is now making her strap a collar around her neck. Using a series of handcuffs, he puts her back in the hogtie position, her movements now restricted by metal. She is gagged with several strips and black duct tape, then left alone to struggle. Later, the old man announces he is going out. He lets Jasmine out of the restraints, gives her a dress and shoes to wear, then makes her sit on a chair. He uses ample duct tape to secure her arms and legs, then gags her once more before taking his leave.

Alone now, Jasmine desperately tries to free herself, but there are many layers of tape pinning her to the chair and she can't make any progress. She tugs frantically against the tape around her legs, trying to pull it away from the chair, but she is not able to succeed. (The tape was so strong it was necessary to partially cut through the tape attaching her legs to the chair so that she could ultimately break it and left her legs). Before that, though, the bad guy returns from his trip out and decides to grope Jasmine's thighs, pushing her dress up to expose a lot more leg. Satisfied, he leaves her alone as he goes to take a shower. When he returns, he finds Jasmine using the heel of a shoe to attack the tape binding her ankles. She is not making any progress, but he nevertheless decides to stop her by pulling the chair backwards and laying her on the floor. (This position was very uncomfortable for Jasmine because the tape around her arms, formerly just keeping her arms tied up, is now pulling under the weight of her body).

For the final scene, Jasmine is back in just her bra and panties, sitting on the same chair and waiting to see what will be done to her next. To her relief, the man hands her some clothes to wear. He then sets about tying her up with rope again (all shown on screen) until she is in a tight and inescapable hogtie, a cleave gag back in her mouth. In total, Jasmine spent over three hours tied up for this story, and one can see that she is growing tired towards the end, exactly what would happen if a girl were kept restrained for so long.

(Resolution: 1920x1080 pixels; bitrate: 5 Mbps)

$17.99


$24.99

Jasmine St James

Subjection: Part 2
Total Time: 36 minutes 42 seconds


In the concluding part of this story, we rejoin Jasmine duct taped to a chair and gagged. She desperately tries to free herself, but there are many layers of tape pinning her to the chair and she can't make any progress. She tugs frantically against the tape around her legs, trying to pull it away from the chair, but she is not able to succeed. (The tape was so strong it was necessary to partially cut through the tape attaching her legs to the chair so that she could ultimately break it and left her legs). Before that, though, the bad guy returns from his trip out and decides to grope Jasmine's thighs, pushing her dress up to expose a lot more leg. Satisfied, he leaves her alone as he goes to take a shower. When he returns, he finds Jasmine using the heel of a shoe to attack the tape binding her ankles. She is not making any progress, but he nevertheless decides to stop her by pulling the chair backwards and laying her on the floor. (This position was very uncomfortable for Jasmine because the tape around her arms, formerly just keeping her arms tied up, is now pulling under the weight of her body). For the final scene, Jasmine is back in just her bra and panties, sitting on the same chair and waiting to see what will be done to her next. To her relief, the man hands her some clothes to wear. He then sets about tying her up with rope again (all shown on screen) until she is in a tight and inescapable hogtie, a cleave gag back in her mouth. In total, Jasmine spent over three hours tied up for this story, and one can see that she is growing tired towards the end, exactly what would happen if a girl were kept restrained for so long.

(1920x1080 pixels - WMV: 1,422.3 MB; MP4: 1,411.7 MB)

$10.99


$14.99


Jasmine St James

Subjection: Part 1
Total Time: 40 minutes 25 seconds


Jasmine has been snatched by a man who has been watching her for some time, and he wants to have her in his life. He is way too old and ugly to ever attract a pretty girl like this, so to make her stay he must keep her tied up, changing her restraints periodically, and stripping her down to her bra and panties while she is in a chemical-induced sleep. After grabbing her, she is bundled into the trunk of his car where her wrists and ankles are bound with rope, and she is cleave gagged to ensure she doesn't make too much noise when he is driving her to where he plans to keep her. Before he can drive her away, however, Jasmine pulls on the emergency release in the trunk of the car, opening the door and scrambling out. She tries to hop away into a nearby woodland, hoping to hide among the trees, but the old man who has snatched her notices her departure and comes after her. He makes her hop all the way back to the car, and once back inside the trunk, he places her in a hogtie so that she can't try that stunk again. Jasmine has a very uncomfortable ride to her enforced home, and once there, is made to hop again, this time into the house. She is placed in a hogtie to keep her still, then soon after has a chemical-soaked cloth pressed over her nose and mouth. When she wakes, she finds herself wearing only bra and panties, and the old man is now making her strap a collar around her neck. Using a series of handcuffs, he puts her back in the hogtie position, her movements now restricted by metal. She is gagged with several strips and black duct tape, then left alone to struggle. Later, the old man announces he is going out. He lets Jasmine out of the restraints, gives her a dress and shoes to wear, then makes her sit on a chair. He uses ample duct tape to secure her arms and legs, then gags her once more before taking his leave... (to be continued).

(1920x1080 pixels - WMV: 1,565.2 MB; MP4: 1,557.5 MB)

$10.99


$14.99


Jasmine St James

I Can Escape From Anything & Let's Try That Again
Total Time: 38 minutes 29 seconds


I Can Escape From Anything
Jasmine insists that she can escape from anything. What she means is she can escape from anything involving ropes (she knows she can't escape from handcuffs and plastic cuffs). We put her to the test. She is tied up tightly with rope, placed in a hogtie, gagged, and left to her own devices. She struggles long and hard trying to reach those knots. Does she live up to her claim?

Let's Try That Again
After escaping during "I Can Escape From Anything", we decided to put Jasmine through a more rigorous test to see just how good at getting out of rope bondage she really is. The tying sequence is filmed in its entirety, during which Jasmine has a lot of humorous remarks to make. She grows visibly concerned as additional ropes are added this time, and by the time we put her on the floor and hogtie her, she really is seriously trussed up. Jasmine begins searching for reachable knots, as she always does, only this time what she finds to undo doesn't seem to do her any good. Part way through, Jasmine has to pause for a rest and to have some windows opened - she is sweltering in her Cashmere sweater dress! She announces that her ropes have not been tampered with at all during the break, then resumes trying to get free. This time, her chances are not looking at all good.

(1920x1080 pixels - WMV: 1,491.5 MB; MP4: 1,488.9 MB)

$12.99

Jasmine St James

Jasmine Chained, Interviewed & More
Total Time: 37 minutes 32 seconds


Jasmine has agreed to submit to being chained to a chair, secured with padlocks, locked in handcuffs, allowing herself to get into a totally inescapable situation. She points out that it's good she is not claustrophobic! Along the way, playful banter ensues as it usually does with Jasmine, until she is chained up like a packing crate. It's a terrible time to get an itchy nose, and she needs to ask for assistance with that. She is gagged for a few minutes, but she soon pushes it out of her mouth, remarking that it is the only thing she can escape from. So now, with Jasmine heavily chained and padlocked to a chair, two pairs of handcuffs on her wrists and a chain wrapped around her ankles, she can barely move. Now that she's a captive audience, it seemed like the perfect time to interview her regarding her opinions and attitude towards bondage. If she refuses to answer, we just don't let her out! Jasmine actually gives quite expansive answers. During her chat, she also mentions that she is quite good at picking locks, and has always wondered if she could pick the locks on a pair of handcuffs using only a hairpin. Once she is freed from all the chains, we film her locking herself in handcuffs and attempting to get out of them without assistance. She gets gets further than she expected, and she is so excited about it.

(1920x1080 pixels - WMV: 1,454.8 MB; MP4:1,447.4 MB)

$9.99


Jasmine St James

Kept Out Of Circulation
Total Time: 19 minutes 24 seconds


We join Jasmine where she is tied to a chair and gagged, being held prisoner, kept out of circulation. She doesn't know why, and her captor refuses to tell her. She struggles hard against the ropes binding her wrists, determined to escape, but so far the knots are not yielding to her attentions. At last, her captor comes into the room, removes her cleave gag and gives her water. He says he has to go out and leave her here for a while, and he doesn't want her to become dehydrated. He makes Jasmine drink about half a bottle before muffling her pleas for him to let her go by replacing the gag. After he departs, Jasmine renews her efforts to free herself. With constant pulling, is is slowly loosening the rope around her wrists. At last, she manages to pull one hand free. She unties herself and runs outside, heading for a nearby vehicle. If she can only find the keys to start it, she can get away! She climbs in, searching in the center console, looking under the sun visor; nothing. Before she can think what else to try, a cloth is clamped over her nose and mouth. She grabs at the hand holding the cloth against her face, trying to pull it away before she is forced to inhale, but too late. Her world turns black. She wakes to find her wrists secured behind her back in plastic cuffs. She kicks and yells as her captor tries to secure her ankles with a second pair of plastic cuffs. Fight as she may, she cannot stop him tightening the cuffs on her ankles, any more that she can resist with her sticks duct tape over her mouth to keep her quiet. Jasmine struggles with her new restraints, but in her heart, she knows there is no way out this time.

(1920x1080 pixels - WMV: 902.6 MB; MP4:1,891.6 MB)

$8.99


$12.99


Jasmine St James

Helpless_in_Restraints
Total Time: 15 minutes 11 seconds


Jasmine is sitting on a stool reading messages on her phone. The picture moves in for a close up on her face before a man in a leather jacket and gloves appears behind her and clamps a hand over her mouth. Jasmine pulls at the hand, looking terrified, but she warned in a low whisper not to struggle. The voice seems menacing and she sits still. We cut to where Jasmine's wrists are secured by some very heavy antique handcuffs, locked together behind her back. Her ankles have been shackled. She struggles against these restraints, fully aware that she cannot possible get out of them, but the instinct to try is very powerful. The man in the leather jacket returns with a roll of duct tape and stills two strips of it over Jasmine's mouth, muting her cries. He makes Jasmine drop down onto the floor where he padlocks one end of a chain to the handcuffs and the other to her shackles. Applying zip ties, the man secures the links on the shackles together in several places, turning Jasmine's predicament into a full hogtie. He walks away then, leaving Jasmine to struggle helplessly on the floor, unable to get up, unable to escape. What is the poor girl going to do?

(1920x1080 pixels - WMV: 705.8 MB; MP4:698.4 MB)

$7.99


$11.99

Jasmine St James

Let's Try That Again
Total Time: 22 minutes 40 seconds


After escaping during "I Can Escape From Anything", we decided to put Jasmine through a more rigorous test to see just how good at getting out of rope bondage she really is. The tying sequence is filmed in its entirety, during which Jasmine has a lot of humorous remarks to make. She grows visibly concerned as additional ropes are added this time, and by the time we put her on the floor and hogtie her, she really is seriously trussed up. Jasmine begins searching for reachable knots, as she always does, only this time what she finds to undo doesn't seem to do her any good. Part way through, Jasmine has to pause for a rest and to have some windows opened - she is sweltering in her Cashmere sweater dress! She announces that her ropes have not been tampered with at all during the break, then resumes trying to get free. This time, her chances are not looking at all good.

(1920x1080 pixels - WMV: 1054.5 MB; MP4: 873.0 MB)

$8.99


$12.99


Jasmine St James

The Archaeologist: Parts 1 & 2
Total Time: 51 minutes


The Archaeologist: Part 1 (WMV only; 1280x720 pixels)
Archaeologist Doctor Jasmine Croft receives a call from a collector of rare Egyptian artifacts who claims he has acquired a papyrus he would like her to translate for him. Jasmine agrees enthusiastically, happy to be getting out of her office for a while. When she sees the parchment, however, it is immediately apparent to her that it has been acquired by illegal means, taken from the very museum where she works. Jasmine attempts to raise the alarm but the collector interrupts her before she can finish the call - he sneaks up behind her and presses a cloth over her nose and mouth until she lies limp in his arms. When she recovers, Jasmine finds herself zip-tied to a chair. She calls for help and demands to be let go, but when she refuses to translate the hieroglyphs on the papyrus, the collector stuffs a cloth into her mouth and gags her with duct tape. Later, he attempts to bribe Jasmine with a piece from his collection, but while she is momentarily tempted, Jasmine redoubles her resolve and shakes her head. She is gagged again, this time with a bandana. Eventually, growing irritated by Jasmine's lack of cooperation, the collector is about to take more drastic action when Jasmine suddenly agrees to translate the document for him. This turns out to be a ruse because as soon as she is free, Jasmine makes a break for it and almost manages to escape from the house before the collector catches her and drags her back. He ties her wrists and ankles with rope and offers her one final chance to cooperate. When she refuses once more, the collector drags Jasmine into the kitchen where he has filled a sink with water. He forces Jasmine's head under the water and holds it there, letting her up for air only to ask her to help him. When she keeps refusing, Jasmine receives repeated immersions. Jasmine finally manages to escape her tormentor by implementing a clever ruse.

The Archaeologist: Part 2 (WMV & MP4; 1920x1080 pixels)
They say that lightning doesn't strike twice in the same place, but Jasmine discovers this is not true. Having retrieved a stolen papyrus three years earlier from an archaeologist turned illegal collector of ancient Egyptian treasures, the papyrus has again been stolen from the museum where Jasmine works as curator. While the police feel they don't have enough evidence against the archaeologist to apply for a warrant to search his home, Jasmine is convinced he is behind the most recent theft. On her own time and without informing the museum board of directors, lest they become culpable, Jasmine returns to the man's house. Seeing no vehicles outside, she believes he is not at home. She picks the lock on the front door and enters the house, then proceeds to search for the missing papyrus. In the room where the archaeologist keeps many of his treasures, Jasmine decides to look inside the sarcophagus standing in the corner. When she opens it, she triggers a trap - a jet of gas erupts from the lid, and moments later Jasmines lies comatose on the floor. When she wakes, she finds herself secured to a chair with plastic cuffs and zip ties. She pulls against the restraints but she knows there is no chance of getting out of them. She looks up to see the archaeologist watching her. She snarls at him as he admits that he does indeed have the papyrus again, but he is not content with that alone. He now wants to break into the museum to steal a four thousand year old statue, and asks Jasmine for details of the security measures in the museum. She flatly refuses to tell him anything. He warns her that he will torture her for the information if she does not surrender it willingly. When Jasmine tells him to go to hell, she prepares a tub full of water. History repeats itself for Jasmine when, her wrists and ankles now bound with rope, the archaeologist repeatedly ducks her head into the water and holds it there, threatening to keep doing this until she talk. Jasmine remains defiant and even manages to flick wet hair into his face, angering him and making her situation even more threatening.

$12.99


$16.99


Jasmine St James

Jasmine's Game (WMV & MP4)
Total Time: 20 minutes 28 seconds


POV video: Jasmine decides to perform some self-bondage with a metal collar, a chain, some handcuffs and some shackles. To make sure she cannot free herself, she places all the necessary keys on a shelf above head height, then sets about showing you her array of restraints. She starts off by securing her booted ankles in shackles, then attaches the metal collar around her neck, over her turtleneck sweater. She attaches the collar to a chain which is connected to handcuffs on its opposite end, then cuffs her wrists behind her back. The collar and chain do not allow her to reach below waist level. Jasmine shows herself off in her restraints, demonstrates the impossibility of reaching the keys, contrives to drink some water despite her restraints, and finally ends up in the bathroom, faced with the impossibility of pulling down her pantyhose and panties. Jasmine gives you a big grin; it's all such a fun game to her.

(1920x1080 pixels - WMV: 349.9 MB; MP4: 350.9 MB)

$8.99


$12.99

Jasmine St James

Escape & Recapture (WMV & MP4)
Total Time: 16 minutes 37 seconds


We begin with Jasmine lying on a bed, waking up to find herself hogtied and gagged. She immediately begins struggling against the ropes binding her, her long fingers reaching around in boots in search of knots she can untie. After working really hard on the knots for a few minutes, Jasmine is able to free herself from the hogtie. She manages to untie her ankles, then finally slide her wrists free of the rope holding them. She pulls the cleave gag from her mouth and makes a run for it. Outside, she finds a car and jumps inside, searching for a key to start the engine. She finds it behind the sun visor; suddenly, her chances of getting away are looking good. She inserts the key into the ignition and turns it. As the engine turns over, a jet of gas simultaneously erupts from an air vent. Before she realizes what is happening, Jasmine inhales. She coughs, trying to get the gas out of her lungs, but it is too late. Her world descends into the darkness. When she wakes, she finds herself strapped to a chair with plastic cuffs around her wrists and ankles, the second loop of each cuff secured to the chair frame. To further anchor her in place, a long zip tie encircles her waist, pinning her body to the chair back. Jasmine coughs away residual traces of the gas from her lungs and calls out for someone to let her go. This brings her captor into the room. To shut her up, he gags her with surgical tape, then slides her skirt up for a better look at her thighs. Jasmine struggles frantically in a vain attempt to stop him, but her limbs are all tightly secured and she is powerless to do anything to defend her dignity.

(1920x1080 pixels - WMV: 644.5 MB; MP4: 637.9 MB)

$7.99


$11.99


Jasmine St James

I Can Escape From Anything (WMV & MP4)
Total Time: 16 minutes 00 seconds


Jasmine insists that she can escape from anything. What she means is she can escape from anything involving ropes (she knows she can't escape from handcuffs and plastic cuffs). We put her to the test. She is tied up tightly with rope, placed in a hogtie, gagged, and left to her own devices. She struggles long and hard trying to reach those knots. Does she live up to her claim?

(1920x1080 pixels - WMV: 620.2 MB; MP4: 616.8 MB)

$7.99


$11.99


Jasmine St James

The Archaeologist: Part 2 (WMV & MP4)
Total Time: 24 minutes 00 seconds


They say that lightning doesn't strike twice in the same place, but Jasmine discovers this is not true. Having retrieved a stolen papyrus four years earlier from an archaeologist turned illegal collector of ancient Egyptian treasures, the papyrus has again been stolen from the museum where Jasmine works as curator. While the police feel they don't have enough evidence against the archaeologist to apply for a warrant to search his home, Jasmine is convinced he is behind the most recent theft. On her own time and without informing the museum board of directors, lest they become culpable, Jasmine returns to the man's house. Seeing no vehicles outside, she believes he is not at home. She picks the lock on the front door and enters the house, then proceeds to search for the missing papyrus. In the room where the archaeologist keeps many of his treasures, Jasmine decides to look inside the sarcophagus standing in the corner. When she opens it, she triggers a trap - a jet of gas erupts from the lid, and moments later Jasmines lies comatose on the floor. When she wakes, she finds herself secured to a chair with plastic cuffs and zip ties. She pulls against the restraints but she knows there is no chance of getting out of them. She looks up to see the archaeologist watching her. She snarls at him as he admits that he does indeed have the papyrus again, but he is not content with that alone. He now wants to break into the museum to steal a four thousand year old statue, and asks Jasmine for details of the security measures in the museum. She flatly refuses to tell him anything. He warns her that he will torture her for the information if she does not surrender it willingly. When Jasmine tells him to go to hell, she prepares a tub full of water. History repeats itself for Jasmine when, her wrists and ankles now bound with rope, the archaeologist repeatedly ducks her head into the water and holds it there, threatening to keep doing this until she talks or she drowns. Jasmine remains defiant and even manages to flick wet hair into his face, angering him and making her situation even more threatening.

(1920x1080 pixels - WMV: 930.6 MB; MP4: 925.1 MB)

$8.99


$12.99

Jasmine St James

A Costly Promotion (WMV & MP4)
Total Time: 25 minutes 58 seconds


Jasmine has been angling for a promotion for some time, and is now excited that her boss is considering giving it to her. When he asks her to his home to discuss the situation, Jasmine willingly goes. When she arrives, however, her boss is nowhere to be seen, but he has left some clothes for her and a note telling her to change into them. He has also left a pair of handcuffs and a metal collar. Jasmine looks at all this and shakes her head, saying this is not happening, but as she starts to walk away, she stop as she begins to think about that promotion she so desperately craves. In the end, she decides to just get it over with. She strips down to her bra and panties and puts on a blouse and jacket-skirt suit, a pair of thigh high stocking, and some heels. She attaches the collar around her neck and handcuffs her wrists behind her back. She is just starting to wonder what next. She does not have to wait long to find out. Her boss arrives, and as Jasmine questions him about why he wanted her to dress like this and handcuffs herself, he sets about attaching a chain to the collar, and padlocks the handcuffs to the other end of the chain, forcing Jasmine to hold her arms up behind her. If she relaxes them, the collar begins to choke her. She demands to be released from these restraints, but her boss is in no hurry to do that. He goes off to the kitchen to make some tea, and when Jasmine keeps complaining, he asks her if she really wants that promotion or not. He suddenly remembers that he left some items on display in his car and leaves the house for a while. Jasmine, now desperate to escape, starts looking for a way to free herself from the handcuffs - a key, a piece of wire, anything she might be able to use on the locks. But she can find nothing. Her boss has removed all the keys. She is trapped in this uncomfortable predicament with no way out.

(1920x1080 pixels pixels - WMV: 1,006.2 MB; MP4: 1,002.8 MB)

$8.99


$12.99


Jasmine St James (with Amber Wells)

Hostage Training Remastered (WMV & MP4)
Total Time: 51 minutes 45 seconds


This movie has been reprocessed from the original master and re-edited. Color and sound have been enhanced, and the video is now presented at 1920x1080 pixels with a bitrate of 5 Mbps. (Note that the title at the start of the video is Hostage Situation instead of Hostage Training, but it is the right file). In this story, branch manager Amber has been on a training course at head office, part of which was a course in how to handle yourself in a hostage situation. Head Office has warned that they may employ indioviduals to conduct field tests at their various offices to ensure that employees are well prepared to handle themselves should the need arise. When a man does walk into the office with her assistant Jasmine as hostage, and Jasmine already has her hands tied behind her back, Amber thinks this is just a guy hired by the company. She does not realize for quite some time that he is a genuine intruder with an agenda of his own. Amber does not resist when she is tied up and gagged, and her assurances to Jasmine that this is just an exercise places the girl at ease. Jasmine now thinks the whole experience is quite fun. Only later is it borne in upon Amber that something is very definitely wrong.

(1920x1080 pixels pixels - WMV: 2,005.7 MB; MP4: 2,005.5 MB)

$9.99


$15.99


Cali Logan & Jasmine St James

Roadside Grab (WMV & MP4)
Total Time: 13 minutes 19 seconds


Cali and Jasmine are on their way to a party at the home of a new friend, and never having made the trip to her house before, they are relying on a GPS to guide them. As the journey grows longer and they are directed into a heavily wooded area, the girls start to worry. Not only are their cell phones no longer receiving a signal, but also their car engine is overheating. They are finally forced to stop and climb out of the vehicle, desperately searching for a signal on their phones. Then their luck changes - a Jeep comes along behind them and stops. They ask the driver if he has any bottles of water they can use to cool their car's radiator, but he says he has not. While Jasmine is searching for a phone charger in Cali's car, the man grabs Cali, pressing a cloth over her nose and mouth and holding her to stop her struggling. She sinks to the road, just as Jasmine comes back around to vehicle and sees what is going on. Instinctively, she runs to help Cali, right into the arms of the man who then presses the cloth over her nose and mouth too. Both girls lie motionless on the road while the man stands looking on in satisfaction. When the girls wake, they find themselves tied up in the back of the man's Jeep, duct tape stuck over the mouths to keep them quiet. The ropes binding them are tight and they have both been secured in hogties. They struggle but there is no escape. Just when they think things could not get any worse, the man starts driving, bouncing them around in the back of his vehicle, taking them to who knows where.

(1920x1080 pixels pixels - WMV: 516.8 MB; MP4: 513.7 MB)

$8.99


$11.99

Jasmine St James (with Cali Logan, Hannah Perez & Cadence Lux)

The Relic: Parts 1 & 2 (WMV & MP4)
Total Time: 51 minutes 04 seconds


Dave is a thief who has acquired an ancient relic on display at a local museum for the week. He knows the cops will come looking and is anxious to shift the piece; what he does not expect is for three of the museum's employees to track him down. He sees them arrive via CCTV and stop some distance from his house, getting out of their car and fan out. Evidently, they are planning to approach the house from different directions to optimize their chances of gaining access. Dave calls his employee Pete and asks him to round up the girls, then bring them to the house for interrogation. Pete manages to pick off the girls one by one, carrying their limp forms to the same spot in the woods before tying them up and gagging them. As the girls recover, they find their ankles secured in a hobble tie. Pete forces them to stand, links their waists with a rope to make them walk in single file, then wraps a rope around the lead girl's neck to act as a leash. He leads them through the woods towards the house, and the girls have no choice but to stumble along and desperately try not to fall. As they near the property, Pete hears a vehicle nearby and ties the leash rope to a tree which he goes to check that the coast is clear. The girls seize the opportunity to make an escape attempt. They untie the waist rope of the girl at the back and she hobbles away through the woods to get help. As her returns, Pete sees her and gives chance, lifting her up and bringing her back to her colleagues. He reattaches the waist rope and leads the girls into the house.

A little later, they are sitting on the floor lined up against a wall, and both Dave and Pete are asking them questions. It seems the girls were actually trying to recover the relic for the museum. The two men are amused. Dave sends Pete out to move the girls' car out of sight, and when he returns he is carrying dresses. The car owner seems to carry some spare wardrobe around with her, and Pete decides that they can put this to good use; by making the girls change into the dresses and enhance their sexuality, perhaps they will be able to interest the buyer in more than just the relic. The girls are forced to change their clothes in front of the two men, and then suffer the indignity of being tied up and gagged again. This time they are bound in a lotus position and unable to move more than a few inches. In a while, Dave receives a text from the buyer saying that he will take the girls too. All three are placed back in hobble ties and marched around the house to the big white van waiting to whisk them away, probably never to be seen again.

It is now several months later and Cali Logan has managed to escape from her captors. She has enlisted the help of fellow curator Jasmine St James, she returns to the house where the old man and his henchman live. She plans to find the missing relic, if it is still there, and then call the authorities to have him arrested. It's not the best way to proceed of course, but Cali wants a chance to interrogate the old man to find out where her colleagues are now. They enter the house at the basement level and start searching for the artifact when the old man discovers them and fires a tranquilizer dart at each of them. The girls sink to the floor, fighting the effects but only for a few seconds. When the wake, they find themselves tied up and ready to be marched off into the woods where they will be disposed of.

Linked by rope and with their ankles hobbled, the girls are led into the forest and finally told to sit down. The old man is about to shoot them both when he gets a phone call warning him that the other two girls have also escaped. Realizing the authorities will soon arrive in force, he decides that he needs hostages to help secure his escape. He makes the girls get up and leads them back to the house. Back in the basement, Cali is made to tie the still hobbled Jasmine to a chair, then she is secured to a pole using plastic cuffs on her wrists and ankles, a scarp wrapped around her neck to prevent her sliding down the pole and sitting. When the old man departs, Jasmine moves her chair closer to Cali in the hope that the latter will be able to reach the ropes binding Jasmine's wrists and untie her.

(1920x1080 pixels pixels - WMV: 1,980.0 MB; MP4: 1,961.8 MB)

$13.99


$17.99


Jasmine St James (with Cali Logan)

The Relic: Part 2 (WMV & MP4)
Total Time: 25 minutes 11 seconds


At the end of "The Relic", just a few days earlier in the story, Cali, Hannah and Cadence had been loaded into a van which was to take them to a port and a waiting cargo container. However, Cali has managed to escape, leaving her two colleagues trapped. She does not plan to abandon them, however. In the company of Jasmine, another employee at the museum from which the artifact was stolen, Cali returns to the house where the old man and his henchman live. She plans to find the missing relic and then call the authorities to have him arrested. It's not the best way to proceed of course, but Cali wants a chance to interrogate the old man to find out where her colleagues are now. They enter the house at the basement level and start searching for the artifact when the old man discovers them and fires a tranquilizer dart at each of them. The girls sink to the floor, fighting the effects but only for a few seconds. When the wake, they find themselves tied up and ready to be marched off into the woods where they will be disposed of.

Linked by rope and with their ankles hobbled, the girls are led into the forest and finally told to sit down. The old man is about to shoot them both when he gets a phone call warning him that the other two girls have also escaped. Realizing the authorities will soon arrive in force, he decides that he needs hostages to help secure his escape. He makes the girls get up and leads them back to the house. Back in the basement, Cali is made to tie the still hobbled Jasmine to a chair, then she is secured to a pole using plastic cuffs on her wrists and ankles, a scarp wrapped around her neck to prevent her sliding down the pole and sitting. When the old man departs, Jasmine moves her chair closer to Cali in the hope that the latter will be able to reach the ropes binding Jasmine's wrists and untie her.

(1920x1080 pixels pixels - WMV: 591.4 MB; MP4: 588.6 MB)

$9.99


$13.99


Jasmine St James

Planting Evidence (WMV & MP4)
Total Time: 13 minutes 13 seconds


Jasmine, wearing a cute dress, is pulled over by a cop. He indicates that she should lower her window, and when it turns out that she can't, the cop becomes more officious. He accuses her of speeding which she claims she didn't realize.Without warning, he makes Jasmine step out of the vehicle and place her hands on the roof. He leans into the cabin of the car and emerges with a tightly folded piece of tin foil. He sniffs it and declares that it is marijuana. Jasmine denies ever seeing this before, knowing full well that she can't stop him arresting her for possession, even if it is on a trumped up charge. The cop handcuffs her and marches her away to his patrol car. Instead of taking her to the police station for processing, however, he takes her to his house; specifically, to his basement where handcuffs, shackles and chains await her. Jasmine objects, demanding to know what is going on as the cop restrains her. He says he plans to keep her there, and when she starts shouting for help, he gags her with a ball gag. The cop goes back to work, leaving Jasmine in an inescapable predicament, faced with standing there for house waiting for this corrupt, perverted cop to return. (1920x1080 pixels pixels - WMV: 512.5 MB; MP4: 510.9 MB)

$6.99


$10.99

Compilation

Girls in Handcuffs: Volume 5 (WMV & MP4)
Total Time: 58 minutes 05 seconds


TerraMizu: Failed Escape
Hannah Perez: Psychopath
Jessica: Stripped & Handcuffed
Linh & Tilly McReese: At My Mercy
Tara: Mistaken Identity
Becky LeSabre & Sara Liz: Last Day On the Job
Jasmine: Scoop
Tilly McReese: Speeding
Gianna: She Locked Herself in Handcuffs & Chains
Carissa Montgomery: Naked & Restrained
Jennifer: In Transit
Sarah Brooke: Sarah Restrained
Dakkota Grey: Happy To Be Handcuffed
Jasmine: Jasmine Restrained
Hannah Perez: Lock Me to a Bed

(1920x1080 pixels pixels - WMV: 2,033.6 MB; MP4: 2,019.5 MB).

$17.99


$19.99


Jasmine St James

Jasmine Special - 6 movie set (WMV)
Total Time: 172 minutes

Six of Jasmine's most popular movies where she worked with other girls, released as a set of six. Teasers and screencaps for each movie are available via Jasmine's movie page (http://www.beauties-in-bondage.com/movies/movies_jasmine.html.
Aspect ratio: 16x9; resolution: 1280x720 pixels; format: WMV

1. Tie Them Both Up (with Hannah) - 31 mins
Hannah and Jasmine are returning home from the cinema. As they walk into their kitchen, they are confronted by a man who holds them up. The girls raise their hands, looking frightened and trying to reason with the man. Instead of telling them anything, he throws rope to Hannah and orders her to tie up her friend. The girls protest but they have no choice but to do as they are told. Hannah ties Jasmines hands behind her back, then secures her ankles and knees before being made to gag Jasmine with duct tape. Hannah is now compelled to tie her own ankles together, and her knees before she is told to roll over and put her hands behind her back. The man binds her wrists and gags her with tape. Not yet satisfied, he ties Jasmine's elbows together before doing the same to Hannah. Finally, he joins their ankles and arms to stop them moving around. He departs, leaving the girls to struggle to untie each other.

2. How Much Is She Worth? (with Jessica) - 20 mins
Jessica and her boyfriend are out to make big money by snatching the daughter of a wealthy family and holding her as hostage. We seem them pull a bound and gagged Jasmine from the back of their vehicle. At first, Jasmine is made to hope in her high heels, then she is lifted and thrown over the boyfriend's shoulder. He carries her into the house and sets her down on the floor. Jessica then takes over and puts poor Jasmine in a hogtie, then starts to play with her. When the boyfriend re-enters the room, he is on the phone to Jasmine's father. They ungag the girl and allow her to say a few words as proof that they have her, then she is gagged again. When her two captors leave the room for a few minutes, Jasmine struggles hard to escape but the ropes are just too tight and she can't get free.

3. Ransom or Slavery (with Candle) - 24 mins
Jasmine has been taken on her way home from work and is being held in a basement, her wrists handcuffed behind a pole, a collar around her neck and a cable tie securing her ankles. Duct tape covers her mouth to keep her quiet. Even though escape is impossible, Jasmine cannot help but struggle, hoping against hope that there is a way out of this situation. She doesn't know yet why she has been snatched and held captive, and she is not sure that she wants to find out. Some hours later, she learns from the woman who grabbed her (Candle) that she is being held for ransom, and that her husband has been asked to give a million dollars in exchange for her life. Despite Jasmine being forced to talk to him on the phone, her husband refuses to cooperate. Her captor informs the girl that she will be sold to a slave trader instead, a perfectly lucrative alternative. The woman leaves the room, leaving poor Jasmine in a tight hogtie, a cleave gag between her teeth, and no hope of escape.

4. Hostage Training (with Amber) 51 mins
Amber's company has recently sent her on a hostage survival training course, a standard procedure in case any of the company executives should ever be taken and held for ransom. She is warned at the end of the course that there may be a follow up test to see how well she took instruction. Now, several weeks later, Amber is working through a ton of paperwork and emails; she is clearly having a very stressful day. Her secretary Jasmine comes in and asks if she would like to go to lunch, but Amber declines, saying that her day is just way too full and that there is just no way she can get away from her desk with her workload. Jasmine understands and then heads out to lunch and Amber continues with her work. A few minutes later she hears a knock at the door. Amber rolls her eyes at yet another distraction but tells the person to come in. Jasmine enters the room with her hands tied behind her back. The man behind her orders Amber to stand and put her hands up. Amber, looking annoyed but not alarmed, puts her hands up as instructed just to play along, realizing that this is the follow up to her training... except, it isn't.

5. Two For Dubai (with Mai Ly) - 24 mins
Vietnamese girl Mai Ly is just starting the engine of her car to go out when a man grabs her, carries her back to her house and ties her up. His plan is to sell the girl to a very wealthy man in Dubai. To keep the girl quiet, he stuffs a cloth into her mouth and wraps duct tape around her head. He has no sooner finished securing his prisoner when his step daughter Jasmine pays him an unexpected visit. She is horrified at what is going on and plans to alert the authorities. Her stepfather cannot have that, so he ties up and gags Jasmine too. Now his buyer will get two for the price of one.

6. The Babysitter (with Katelyn) - 22 mins
Katelyn's mother has hired a babysitter/bodyguard to look after her daughter while she is away on a business trip. Katelyn badly wants to go out with her friends instead of being made to study, and she can't take her bodyguard Jasmine seriously since she looks little older than Katelyn herself. Jasmine assures Katelyn's mother that she can handle the situation and encourages her to get going before she misses her flight. Later, Katelyn seems to be making friends with Jasmine, asking about her job and wanting a demonstration of how her handcuffs work. Katelyn manages to lull her babysitter into a false sense of security, so much so that she allows Katelyn to handcuff her. It's a big mistake. With Jasmine secured and the key to the cuffs in Katelyn's possession, she is now free to change into her dress and go out. Jasmine is furious but is powerless to stop the girl...

WMV: $26.99


Jasmine St James

Abandoned (WMV & MP4)
Total Time: 12 minutes 30 seconds


Jasmine wakes up on the back seat of a car. She slowly comes to realizes that she has been bound and gagged. Her wrists are tightly tied together behind her back; rope snugly encircles her thighs and ankles. A cleave gag is tightly tied between her teeth. In her initial panic, Jasmine frantically kicks the door with her heels, then it dawns on her that she can open the door behind her head. It opens, and she swivels herself round to put her legs outside the vehicle; then she drops to the ground on her knees. Jasmine looks around; she seems to have been abandoned in the middle of nowhere, not a trace of civilization anywhere. She can't even remember what happened - who grabbed her; who tied her up? Her first instinct is to try to saw through the ropes binding her wrists, rubbing the rope against the rear wheel arch and then the sharper edges of the wheel hub. The rope has not even frayed! She can't escape. All she can think to do is inch her way through the woodland on her bottom (her boot heels are far to high to allow her to hop, and with her legs tied together she can't take them off), pushing herself along with her bound hands. She has to work her way through ferns, kick fallen branches out of her way, and just keep going. Progress is very slow and tiring, and after a while, Jasmine lays her head down to rest a while before continuing her arduous journey to find help. (1920x1080 pixels - 5 Mbps bitrate - WMV: 484.7 MB; MP4: 482.4 MB).

WMV: $7.99


WMV: $10.99

Jasmine St James

Out Of Nowhere (WMV & MP4)
Total Time: 15 minutes 43 seconds


Jasmine is at home for the day, just relaxing. She checks her phone for messages, checks the oven to see how her cooking is progressing, and sits on the counter eating a banana. When she thinks she hears a faint, unfamiliar sound somewhere in the house, she goes to investigate, calling out to see if anyone is there. She receives no answer and moves on to her next task, checking the pantry for something else to eat for lunch. She is unaware that a man dressed as a cop is now standing close behind her. He may not be a real cop, but what better way to pass unchallenged if you plan to enter homes and do what he is about to do. As Jasmine straightens up, a hand bearing a white cloth comes out of nowhere and presses hard over her nose and mouth. Her arms are held to prevent her resisting too hard, and within seconds she is sliding to the floor. When she wakes, she is lying face down on a bed. At first, she can't remember how she got there. Suddenly, she becomes aware of the ropes around her wrists, elbows, thighs and ankles, and the fact that she can't straighten her legs. She struggles, and notices the man who grabbed her approaching the bed. He gags her by forcing a cloth between her teeth and tying it off tightly at the back of her neck. When Jasmine's struggles start to loosen the hogtie a little, the man adds an additional rope to pull her ankles and wrists closer together. Jasmine tries so hard to free herself, but the ropes are tight and the knots impossible to see. All she can to is lie there and wait to see what the man does to her next. (1920x1080 pixels - 5 Mbps bitrate - WMV: 609.2 MB; MP4: 608.5 MB).

WMV: $7.99


WMV: $11.99


Jasmine St. James
(with Amber Wells, Lily Anna & Shauna Ryanne)

Colombian Ambush (enhanced)
Total Time: 24 minutes 27 seconds


Originally released in 2014, this three part story has been enhanced by reprocessing at 1920x1080 pixels, with color and sound improved. Now you can see these women being tied up and gagged in much better definition. Only available in MP4 format.

Original Description:
Lily, Amber and Jasmine are three female diplomats who have just finished attending a summit in Bogota, Columbia and are being driven back to the airport by a local driver. The vehicle begins bouncing over rough, wooded terrain, and the women as the driver where he is going. He explains that he is taking a short cut. The women want to believe him but their are uneasy in such a volatile country. After a while, they grow so concerned that they ask the driver to turn back. Instead, he stops the vehicle just as Shauna, a guerrilla and member of the Fuerzas Armadas Revolucionarias de Colombia, emerges from the woods with an A-K in her hands. She orders the women out of the vehicle and very roughly zip ties their hands behind their backs before gagging them with duct tape. The women are marched through the woods in their high heels until they reach one of the group's hideouts, where their zip ties are removed and they are bound with ropes. Amber is forced to read a statement into a cellphone camera telling the U.S. authorities that she and her fellow diplomats will be executed if incarcerated members of the Revolucionarias are not released immediately. Amber pleads with them to help just before Shauna transmits the message. Now they have to wait for a response. Shauna tells the driver to fetch supplies because they will be here for some time. Jasmine, tied up a standing position, claims that she needs to use the bathroom. Shauna doesn't believe her at first but eventually relents. She removes Jasmine's shoes, and those of the other diplomats, to make it harder for them to escape. Jasmine is marched to a bathroom with her hands still tied and a gag still covering her mouth. Jasmine persuades Shauna to let her use the bathroom alone. Once the door is closed, Jasmine removes her gag and uses her teeth to free her hands. She then jumps from the bathroom window and makes a run for it. Shauna soon discovers her trick and races after her, soon catching up to the barefoot girl. Meanwhile, Lily has managed to free her hands and unties Amber just before Shauna returns with her recovered prisoner. As they enter, Shauna swears as she sees that the other two diplomats have gone. She does not realize they are hiding behind the door, not until they grab Shauna's arms and force her to the floor. Jasmine snatches Shauna's A-K and covers her with it as her colleagues zip tie the guerrilla's wrists and ankles, gagging her with duct tape before making their escape. (Technical information: 1920x1080 pixels - 5 Mbps bitrate - MP4 only: 943.9 MB).

WMV: $8.99


WMV: $12.99


Jasmine

I've Got One For You
Time: 8 minutes 37 seconds


Jasmine has been grabbed and tied up in the back of a Jeep, her mouth gagged with duct tape. She struggles to free herself but before she can get anywhere with her bonds, the man who grabbed her arrives and sits on the back of the vehicle, talking on the phone with someone. He mentions wanting the full price, and asks where he should leave her for the interested party. Jasmine struggles on hearing this but to no avail. The call over, her captor grabs her by the ankles and drags her out of the vehicle. He stands her up and makes her hop with her legs tightly bound, all the way to the back of the house. Here, he stands her on top of an old railway tie to discourage her from hopping around any further. He releases the rope binding her knees and ties it around her neck, attaching it to rebars on the wall to force her to continue standing on the railway tie - if she hops off, the rope around her neck will tighten. Left alone and unable to free her wrists, her only hope of escape, Jasmine can do nothing other than await her fate.

WMV: $4.99


WMV: $7.99

Jasmine

Unsuspecting
Time: 15 minutes 06 seconds


Jasmine has arrived home from a day out, still finishing the coffee she bought while shopping. She sips at it as her phone rings. She answers, wandering from kitchen to living room as she chats. It's a friend asking her to go out together for the evening, and Jasmine considers whether or not to go, unsuspecting that a masked man is creeping across the kitchen at that moment and dropping something into her coffee. Jasmine decides she's going to stay home and tells her friend she'll see her in a few days. She retrieves her coffee and continues to drink it as she takes wood from the cradle behind the stove ready to light a fire for the evening. She feels a little dizzy and begins to cough, wondering if she is coming down with something. She finishes her coffee and loads the wood into the stove. Now the room is starting to spin. Jasmine tries to stand but sways and drops to her knees. In the bright light coming in from the kitchen, she sees a figure approaching. She shields her eyes and looks frightened as she sees a man in black wearing a white mask. She attempts to crawl away from him, but darkness is swimming in at the edges of her world and she loses her balance, going down for the last time. The masked man drags her back into the living room by her ankles then ties her up in a tight hogtie. Jasmine begins emerging from her stupor before he has quite finished the job and tries to fight him off, but it's too late - she is tightly bound and barely able to move. Moments later, she is gagged with duct tape. The masked man then sits on the floor and watches she struggle and listens to her muffled cries for help. No one can hear her but she continues to cry anyway. When the masked man finally leaves, Jasmine desperately tries to work her way to the back door of the house. If only she can attract attention; get help. If only.

WMV: $7.99


WMV: $11.99


Jasmine

Air Strike
Time: 14 minutes 07 seconds


Jasmine is an investigative reporter pursuing an arms dealer she believes has committed treason by selling military equipment to hostile parties. She arrives at his home posing as a college student undertaking a photography project, but the man is clearly not convinced. She agrees to let her use his bathroom, and when she emerges he clamps a cloth over her nose and mouth, holding her tight as she struggles until the chemicals subdue her. A little later, he slaps her face to wake her and ties her up as she protests that she doesn't know what is going on. To shut her up, Jasmine has a cloth stuffed into her mouth. Microfoam tape is wrapped around her head multiple times to keep the cloth in her mouth, then she is forced to lie down where she is finally hogtied. The arms dealer makes a call to someone he knows in the air force, saying that his end of the operation has been compromised. He asks if things can be arranged so that a missle goes off course and destroys the house and everything it in, including the reporter. With these arrangements in hand, he departs leaving Jasmine bound and gagged with only minutes to free herself before the house and everything around it is obliterated. Jasmine struggles frantically and manages to free her legs. She staggers to her feet and runs from the house, hands still tied, mouth still gagged. She puts as much distance as she can between herself and the property, hearing the approaching jet even as she climbs the bank on the edge of the property. Seconds later, a missile strikes the house and the property explodes, taking Jasmine's car with it. She lies on a grass track on the edge of the woods, still bound and gagged but alive. She got more of a story than she bargained for!

WMV: $7.99


WMV: $11.99


Jasmine

Scoop
Time: 31 minutes 59 seconds


Jasmine is a reporter who has an amazing scoop in the form of photographic evidence, stored on the flash card in her camera and backed up to a cloud, just to be safe. She is lying on a recliner chatting to her editor, saying how she has an amazing scoop. When she ends the call, an armed man grabs her from behind. He makes her surrender the flash card from her camera then makes her delete the article from her computer. He overheard her saying she had backed it up to a cloud and he demands the password in order to delete that too. When Jasmine claims that she can't remember it, her hours of torment begin. The man first places her in a tight hogtie with her elbows bound together and duct tape over her mouth. He leaves her like this for a few hours then asks her about the password again. When Jasmine still maintains that she can't remember it, the man says he is taking her to his place and she will be spending the night with him. In the man's basement, Jasmine is forced to cuff herself to a bed. She is cleave gagged and left to spend the night there. In the morning, the man stands her on a stool, places a noose around her neck, and secured her wrists and ankles with plastic cuffs. He says he will leave her there is she doesn't tell him what he needs to know. He warns her that sooner or later she will lose or balance or even fall asleep, and then... Jasmine, realizing the danger, finally surrenders her password. She is horrified when the man gags her and says he is going to check out the information she has given him, leaving her balance on the stool and unable to remove the noose from her neck. Jasmine waits and waits, but the man does not return. (The movie concludes with a behind the scenes sequence showing what it is like working with Jasmine).

WMV: $9.99


WMV: $13.99

Jasmine (with Hannah)

The Insurance Investigator
Time: 18 minutes 22 seconds


Jasmine is an insurance investigator who has been following Hannah for some days, hoping she will lead her to her boyfriend. Hannah's boyfriend Duncan has stolen a priceless painting and the insurance company have no desire to pay out. What Jasmine does not realize is that Hannah has made her and manages to grab the investigator, tie her up and drive her to Duncan's location. The clip begins as Hannah pulls up outside the house and frees Jasmine's legs to get her out of the car. When Jasmine makes a run for it, Duncan springs into action and chases after her. He captures the fleeing girl and lifts her over his shoulder, carrying her back to the house and asking Hannah why she brought the girl here. They carry Jasmine into the basement of the house and zip tie her to an old bed, leaving her there while they decide what to do with her. Hannah carelessly leaves a pair of clippers just within Jasmine's reach, and the ingenious girl manages to get free. She runs back to the car Hannah used to transport her, searching for a spare ignition key. When she can't find one, she sets about hot-wiring the vehicle. Before she can get it started, Duncan finds her and carries her kicking and screaming back to the basement. This time, he and Hannah bind Jasmine to a chair with plenty of zip ties, pulling them tight. Jasmine is gagged once again and left to struggle helplessly while her fate is decided.

WMV: $9.99


WMV: $13.99


Jasmine

Why Have You Grabbed Me?
Time: 11 minutes 01 seconds


Jasmine has been grabbed and tied to a chair by a man she doesn't know. She demands to know why he grabbed her, and why she is bound since she has no money. The man answers that her father does, and if he wants to see his daughter again he will meet whatever demands are made. Before Jasmine can interact more with her captor, he gags her with duct tape and leaves her to struggle while he goes away to make that all important phone call to daddy. Jasmine tries to untie herself but she can't seem to reach any knots. Her situation looks hopeless; all she can do is hope that her father will cooperate and rescue her.

WMV: $5.99


WMV: $9.99


Jasmine

Please Let Me Go
Time: 34 minutes 49 seconds


A man has just been released from prison after serving five years for theft. He stole diamonds which he concealed behind drywall in his garage, and these remained undiscovered by the police. During his time inside, however, the house he rented was leased to someone else, so now he must return to it as a masked burglar to avoid the risk of being identified. He removes the drywall and reaches a hand into the cavity where the stones were hidden, only to find them gone! He concludes that the new tenant must have found them and lies in wait until he hears the sound of a car pulling up outside. Jasmine receives the shock of her life when she opens her garage door to be confronted by a masked man. He grabs her and takes her through to the basement where he hogites her with electrical wire, demanding to know what she has done with his diamonds. Jasmine claims not to know what he is talking about and pleads with him to let her go, but he doesn't believe her. To help loosen her tongue, he decides to suspend her from a beam, leaving her to hang there in extreme discomfort to jog her memory. Even as she suffers this ordeal, Jasmine still maintains that she knows nothing about any diamonds. Finally, the man lets her down, but her torture is not over yet. After she tries to escape, he zip ties Jasmine to a chair with her legs elevated and pulls the ties very tight, before stuffing a cloth in her mouth and gagging her with rope. He know the girl will have to break some time. But does she know where the stolen diamonds are or is she actually telling the truth? (We subjected Jasmine to more intense forms of bondage than usual. She happily agreed to do it, but her wrists and shoulders were pretty sore the next day).

WMV: $10.99


WMV: $14.99

Jasmine (with Candle)

The Oldest Profession
Time: 23 minutes 52 seconds


Candle and Jasmine have been engaging in the world's oldest profession, appearing every evening on the same street corner and plying for business from passing drivers. One of those drivers is tired of seeing hookers working the block where he lives, so he decides to take action. He picks them both up and takes them to his house where things immediately take a nasty turn. He holds the girls by force and ties them both up, telling them that this is the only way he can think of to clean up the streets in his neighborhood. The girls try to get on his good side, saying they only did it to make money for college and they promise to stop immediately, but the guy doesn't believe a word they are saying. He gags them both and leaves them tied up while he goes back to patrol the streets for more hookers, telling them as he departs that they may soon have company. After he leaves, the girls desperately work on trying to untie one another. the ropes are tight and the knots secure, but after a while they start to loosen the ropes off. They finally manage to get free before the guy comes back and make a run for it, realizing that they will have to stay off the streets after this. In a way, the guy wins!

WMV: $9.99


WMV: $13.99


Jasmine (with Candle)

No Benefit
Time: 28 minutes 09 seconds


A man has submitted a claim for unemployment benefit and is not trying to hard to find a new job, which brings two representatives of the Unemployment Benefit Office to his door. The woman in charge, Candle, is showing new recruit Jasmine how to deal with people like this man, but the interview is cut short when he calls her a bitch. Realizing that they will now recommend that he does not receive benefits, the man decides to exact revenge on these condescending officials. As they leave work at the end of the day, he accosts them one at a time and marches them to his car, piling each women into the trunk, zip-tying her wrists and ankles, then gagging her with duct tape. With both of them secure, he drives them to his home. We see Candle and Jasmine struggling in the trunk of the car during the journey. At the house, we cut to where both women are tied to chairs with a great deal of rope. They struggle, trying to get free, but it proves very difficult., When the man comes in, Candle threatens him with the consequences of his foolish actions, earning them both a cloth in the mouth, each secured in place with a tie. It takes them a long time, but eventually the two officials manage to get free and make a run for it, but they don't get far. In the next scene we find them in the man's basement, standing with arms above their heads and zip ties around their wrists, attached to an overhead beam. They ankles are also secured with zip ties. The man scoffs at them, asking if they thought it would really be so easy to escape. He gags them both with duct tape and leaves them to stand there all night in their inescapable bondage.

WMV: $9.99


WMV: $13.99


Jasmine (with Hannah)

Can They Get Free?
Time: 36 minutes 32 seconds


Hannah and Jasmine have both submitted to being firmly tied up to see if they can escape after the tying process is finished. The tie up takes almost 25 minutes, during which the girls are not allowed to start struggling. Once they are given the go ahead, it soon becomes clear who is not going to be able to get herself free. The girls are dressed in leather jackets and sexy short skirts, a visual feast as they are carefully restrained.

WMV: $9.99


WMV: $14.99

Jasmine (with Hannah)

I Need Information
Time: 12 minutes 56 seconds


Jasmine has designs on robbing a bank but she needs inside information about the bank's security. She grabs a bank clerk as she is leaving work and we join them as Jasmine is driving her to an isolated house where the owners are away on vacation. Jasmine gets her prisoner out of the car and unties her, then demands to know about security guard, codes, procedures, anything that might be useful in planning her robbery. When Hannah refuses to provide the information, Jasmine becomes angry and pushes the girl to the ground. She tells her that if she won't help, then she, Jasmine, will help herself. She orders Hannah to take off all her clothes, intending to wear the girl's suite to get her past security, remarking that the two of them look similar and guards often don't pay attention. Hannah is forced to strip outdoors, handing over all of her clothes, including her bra and panties, to Jasmine. Once her prisoner is naked, Jasmine marches her into the house where she had already prepared a chair and two pairs of handcuffs, just in case the bank clerk wouldn't cooperate. She attaches the nude Hannah to the chair then steps out of her own clothes and into Hannah's, telling her that she had better hope Jasmine has success in the robbery. If she gets caught, there will be no one to come back and free Hannah. As Jasmine departs, Hannah panics and pulls at her restrained wrists, but there is no way for her to get free. If Jasmine does not return, she will have to wait for someone else to find her, and since she is naked, that encounter will be very embarrassing indeed.

WMV: $6.99


WMV: $10.99


Jasmine (with Hannah)

They Know Too Much
Time: 22 minutes 49 seconds


Hannah and Jasmine have been working for the same company for four years, and both are aware that the boss has been embezzling funds from the employees' 401k. They finally decide that something must be done about it since the boss shows no signs of letting up, so they resolve to go at once and report the matter to the authorities. They are approaching Hannah's car when their boss intercepts them, and he is armed. He says he knows what they are about to do and he can't allow them to jeopardize everything for him at this late stage - he needs to make only one more transfer to a South American bank and then he will be leaving the country. He says he must keep the girls out of the way until he can leave. He forces Hannah to bind Jasmine's wrists behind her back and then does the same to her. He marches them back into Hannah's house and resumes tying them up - ankles, thighs, and then a hogtie for both of them. When the refuse to shut up, he duct tapes each girl's mouth with four strips of tape, two straight across the cheeks and the remaining two in a cross to really silence them. He then takes his leave, promising to send them a postcard from Rio de Janeiro. When he is gone, the girls struggle to free each other but the ropes are very tight and the knots are hard to reach. The realize they may be stuck like this for hours, perhaps even days.

WMV: $9.99


WMV: $13.99


Jasmine

Selling Secrets
Time: 20 minutes 37 seconds


Jasmine has been stealing production secrets from her employer and selling them to rival organizations. The boss has discovered what she is doing, but instead of having her arrested and prosecuted, he decides to deal with the matter himself. He has grabbed Jasmine after work, bound her wrists and ankles and gagged her with duct tape, then driven her to his home in the country. Once they arrive, he hauls jasmine out of the trunk, throws her over his shoulder and carries her indoors. He ties Jasmine to a chair and then talks to her about her industrial espionage, how she has almost ruined his company, and he searches her for a flash drive he is sure she took away from work containing more confidential information. He searches between her thighs and then circles round behind her, leaning over her and searching inside her bra. Here, he finds what he is looking for. He goes away to his home office to answer the phone, leaving Jasmine tied up while he decides what to do with her. In his absence, Jasmine is able to get free, all apart from her wrists, and makes a run for it. She is a few hundred yards from the house when she hears a truck start up, and moments later her boss driving up behind her, fast. Jasmine leaves the road and runs into the tree, but her boss follows on foot and soon catches her, picking her up and carrying her back to his truck again. He places her on the back seat and then reverses back down the driveway. Back indoors, he puts Jasmine in a hogtie this time, pushing a ballgag into her mouth to make her as uncomfortable as possible. Jasmine struggles but this time the ropes seem tighter. After a while, she relaxes her efforts and almost falls asleep. This is when he boss returns, removes the ballgag and gives her water, re-gagging her with a bandanna. Still unsure what to do with her he goes back to his office to continue work. Jasmine renews her efforts and finally manages to get the ropes undone. She finds something to hit her boss over the head, intent on taking the keys to his truck and driving away.

WMV: $8.99


WMV: $12.99

Jasmine

The Creeper
Time: 28 minutes 52 seconds


Jasmine has been on a first date with a guy she met just the week before. He seems nice enough and she had a good time with him. Now he has driven her home and she is trying to say goodbye. He gets her to agree to a second date and seems reluctant to let her go, as if he wants to be invited inside, but Jasmine has no intention of doing that on a first date. She tries to open the door of the trunk but it seems to be stuck. As she wrestles with it, her date reaches round from behind her and presses a cloth over her nose and mouth. Jasmine struggles frantically but the guy is too strong for her and she is soon slipping away. With her asleep, her date gets out and lifts her from the vehicle, saying in a soft, creepy voice that he had planned to come in with her one way or another. By the time Jasmine recovers, she is already bound hand and foot. She slowly realizes what is going on and begins to struggle against the guy's attentions, calling him a creep. He speaks softly, telling her it wasn't supposed to be like this, that they were meant to be together. He runs his hands over her body, feeling her thighs and breasts, and tries to kiss her. Jasmine pleads for him to untie her and let her go, but he repeats that he can't let her go, not until she learns to love him. "Get off me, you creeper!" she shouts at him, which earns her a gag to gag her down. The creeper decides to place her in a hogtie to make sure she doesn't go anywhere while his attention is elsewhere for a short time. Jasmine starts working on the ropes as soon as he steps out of the room and even gets partially free before he comes back. Seeing what she is doing, he rushes to her and ties her up again, touching her body once more and saying that she will have to stay like this until she loves him. When it seems no progress is being made, the creeper finally retrieves his cloth and applies it to Jasmine's nose and mouth again until she is still. After untying her, he carries her into another room and takes off her dress and pantyhose, laying her out of the floor before securing her wrists and ankles with tuff cuffs. When Jasmine wakes and starts resisting his attentions again, he gags her with duct tape and sits watching her struggle, vulnerable in just her bra and panties. He tells her that she will have to stay like this until she is ready to be with him. ("The Creeper" was Jasmine's name for this one, pointing out to her companion that he really was being creepy. She also had several fits of the giggles during filming, some of which is included at the end of the video).

WMV: $9.99


WMV: $13.99


Jasmine

You Have To Untie Me
Time: 25 minutes 10 seconds


Jasmine has just arrived home, ending a phone conversation as she turns off the engine of her vehicle. A man knocks on the window and she lowers it just a few inches to ask him what he wants. He says he is lost and asks for directions, and when jasmine starts to explain he offers her a map to show him the route. Jasmine lowers the window completely and takes it, and while her attention is focused on the map, she fails to notice the man reaching in with a cloth which he quickly presses over her nose and mouth. Jasmine fights furiously but she is soon forced to take a breath, then it is quickly over. She recovers to find herself tied to a chair. She calls out for help but that only brings the man she met outside into the room. She asks him who he is and demands that he untie her, but instead he applies a cleave gag to keep her quiet. When he disappears into another part of the house, Jasmine sets to work on trying to get free. First, she has to untie or slacken off a few of the ropes pinning her body to the chair so that she can reach round far enough to reach the knife tucked into a small pouch inside the waistband of her skirt. She manages to cut the ropes away and runs back to her vehicle, hoping to get away. She does not realize the man has anticipated this move and is waiting on the back seat, cloth in hand. He grabs her and subdues her with it again.

This time, Jasmine wakes to find herself lying on the floor in a hogtie. The ropes feel tightly secured so she is doubtful that she can wriggle out of them. The man returns with a cloth and a roll of duct tape. As punishment for the stunt with the knife, he pushes the cloth into her mouth and seals it in with three strips of duct tape. Alone again, Jasmine rolls her way over to a cabinet and tries to saw through the rope using one of the cabinet legs. It's a futile attempt and she knows it, but what else can she do with ropes as tightly tied as these? Then she remembers her craft material in the bottom drawer of the cabinet. Did she leave a pair of scissors in there? She manages to get the drawer open and reach in to rummage with her bound hands, and, yes! The scissors are there! Jasmine is soon free again and makes another attempt to leave her house to get help. She takes the scissors with her for defense, just in case. When she opens the door, the man is standing there. Jasmine steps back and raises the scissors, intent on stabbing him, but he grabs her wrists and forces her to drop them. He squeezes his arm against Jasmine's throat until she goes down.

Since she seems so intent on getting away, the man decides that removing her clothes might deter her from going out into the February cold. He also brings in some double-loop zip ties from his car and tightens them on Jasmine's wrists and ankles. Surely the girl will not be able to escape from these? She comes to just as he is about to gag her with a ball gag. Jasmine tries to resist but with her wrists and ankles zipped up, there is really nothing she can do. When she is left alone again, all she can think to try is to get outside and hope that a passing driver might see her and raise the alarm. She works her way towards the front door and stands up on the bottom step leading into the foyer, but before she can do anything more, the man comes up from the basement, grabs her and throws her over his shoulder. Poor Jasmine's ordeal is far from over.

This 25-minutes video includes Jasmine in a chair tie, a hogtie using ropes, and double-loop zipties while wearing just bra and panties. She is cleave gagged, mouth stuffed and duct tape gagged, and finally ballgagged.

WMV: $9.99


WMV: $13.99


Jasmine

What Do You Want?
Time: 13 minutes 54 seconds


Jasmine walks into her office at home to find a man waiting for her. Startled, Jasmine almost turns to run, but the man orders her to come all the way into the room and shut the door. She asks him: "What do you want?" and he replies: "I want to tie you up." He makes Jasmine kneel down on the floor and expertly binds her wrists together behind her back, then adds rope above and below her breasts, pinning her arms to her sides. When Jasmine demands to know why the man is doing this to her, he gags her with duct tape to stop the questions, then resumes tying her up. Her wraps rope around her ankles and ties it off tightly, then adds rope to her thighs and ties that tightly too. Finally, he turns Jasmine over and connects all the ropes together, putting her into a hogtie. There are now so many layers of rope wrapped around her wrists that she has little hope of loosening it, and no hope at all of finding any knots that matter. Leaving her tightly trussed up, the man departs. Jasmine struggles with her bonds, trying to find anything to untie, but nothing is within her reach. She is trapped and helpless and going absolutely nowhere.

WMV: $7.99


WMV: $10.99

Jasmine (with Carissa)

Tightly Taped
Time: 14 minutes 16 seconds


Carissa and Jasmine have been grabbed by a couple who need to restrain them to keep them both out of the way while a job goes down. Covered by the female accomplice, Jasmine is forced to tape Carissa's wrists together behind her back. When she doesn't do it tight enough, the male captor becomes irate and demonstrates how it should be done by taping Jasmine's wrists very tightly together. He then adds more tape to Carissa's wrists, pulling hers tight too. The man forces them to stand back to back while he tapes their wrists together, then makes them kneel down so that he can tape each girl's ankle to that of her fellow captive. This is uncomfortable enough, but things only get worse when he wraps duct tape around their bodies, pinning them back to back. First Carissa and then Jasmine are gagged by having duct tape wrapped around their heads. Painfully taped and forced to kneel, the two women watch as their captors go about their business, leaving them in this terrible predicament. Carissa and Jasmine try to talk through their gags, agreeing that they need tip themselves over in order to lay on their sides, in the hope of being slightly more comfortable. They coordinate and go down, but this is not much better because now the tape around their wrists and ankles is pulling even tighter, and they simply can't get out!

WMV: $7.99


WMV: $10.99


Jasmine (with Carissa)

Right Where I Want You
Time: 17 minutes 13 seconds


Jasmine has discovered that her step-mother Carissa has been having an affair, and she managed to photograph her in the act in the bedroom. She confronts Carissa with her evidence and threatens to send a copy of the image to her father. Carissa pleads with her not to do that, but since Jasmine does not like her she is not inclined to listen. However, she does have a proposition to humiliate Carissa and make her pay for what she has done. First of all, she instructs Carissa to remove all her clothes, saying it's hardly the first time she has done that for someone. Carissa is furious but has no choice but to obey. Once she is naked, Jasmine notices the mailman delivering letters at the end of the driveway, and tells Carissa to go over to the window and wave to him. Carissa is mortified but she can't refuse. Nor can she refuse when Jasmine produces some heavy-duty, double-loop zipties and tells her step-mother she is going to restrain her with them. She zips them onto Carissa's wrists and ankles, not forgetting to stuff a cloth into her mouth and gag her for good measure. With a naked Carissa lying on the floor, Jasmine adds another ziptie to put the woman into a hogtie position. She takes some more photos with her cellphone, then admits that she has to be on her way. As one last torment, she pretends that she is going to free Carissa before departing, but then she bursts out laughing and says she was only kidding, that she is going to leave Carissa zipped up and naked for her father to find, when he arrives home in about six hours' time! The situation will certainly take some explaining.

WMV: $8.99


WMV: $12.99


Jasmine

The Security Guard
Time: 13 minutes 15 seconds


This movie was created to be incorporated into the movie Hidden Agenda, and approximately 5 minutes of it is there. If you have purchased Hidden Agenda, you may want to give this one a miss unless you would enjoy seeing Jasmine's entire getting tied up and gagged sequence, and her subsequent attempt to seek help. The ropes are nice and tight and she can't get out of them at all, or even loosen them. This is one security guard who has really fallen down on the job, but we don't mind... of course we don't.

WMV: $6.99


WMV: $10.99

Jasmine (with Keri & Alexis)

Hidden Agenda
Time: 60 minutes 36 seconds


Keri runs a small fashion designer business in a building protected by a security guard in the lobby. Despite the security, however, a thief managed to get into the building the previous day, overpower and tie up Keri's secretary Alexis, then make off with some confidential designs. The story begins with Keri questioning Alexis about the events of the day before, explaining that she needs to have a much detail as possible for the insurance claim and the ensuing police report. She asks Alexis how the man got in, but Alexis does not seem to know. She then asks her secretary how she was tied up, and with what color of rope, and how she was gagged. When Keri asks what Alexis was wearing when she was tied up, the woman starts to wonder where all this is leading. Her boss seems overly interested in what appear to her to be irrelevant details. Alexis can hardly believe it when Keri suggests re-enacting the events of the day before, ostensibly to jog Alexis' memory. While Alexis does not want to go along with this, Keri is her boss after all and she does need to file an insurance claim. Reluctantly, therefore, Alexis allows Keri to tie her up, unaware that Keri has a hidden agenda - she is using the break in as a reason to tie up Alexis, something she has secretly wanted to do ever since the woman started working for her, and here was the perfect opportunity. Believing that they are alone in the building, Keri has designs on seeing how far she can take things with Alexis...

WMV: $14.99


WMV: $18.99


Jasmine

Got To Get Help
Time: 13 minutes 09 seconds


Jasmine is just relaxing and checking things out on her cellphone, unaware that a man has crept up behind her chair and now stands looking down on the top of her head. He produces a cloth and reaches round to press it over her nose and mouth. Jasmine immediately begins to struggle, clawing at the man's hand in an effort to pull the cloth away. But it's too late; she has already inhaled. When she comes to, she finds herself lying face down on the floor and tightly tied up with ropes - her arms and wrists are secured, her thighs and ankles are secured. She can't straighten her legs because more rope connects elbows, wrists and ankles, keeping her in a hogtie position. The man removes Jasmine's bandanna from her hair and uses it to gag her. He picks up her phone and says that he had better keep hold of that. Claiming that he has been on the go all day and is tired, the man informs her that he is going to take a nap in her bed. As soon as he is out of the room, Jasmine starts work on her bonds. It takes her some time but little by little she is able to partially free herself. She can't get the rope off her wrists, but at least now she can move; she can summon help! She locates her phone and calls a friend, asking him to meet her at the end of the street, then Jasmine quietly leaves the house, her wrists still bound behind her, phone in hand, unnoticed by her sleeping captor.

WMV: $6.99


WMV: $10.99


Jasmine

I've Been Watching You
Time: 15 minutes 04 seconds


Jasmine, dressed in a sexy heavily-zippered dress is ready to go out, and while she waits for the taxi to arrive, she sits browsing the news on her computer. She is unaware that someone has crept into the room behind her and is just standing there watching her. Her sixth sense alerts her to the fact that someone else is present and she swings round to be confronted by an armed man. She can do nothing as her closes thick, powerful zip ties around her wrists, then anchors them to the back of her chair with another zip tie. The double loop ties are also added to her ankles, and to stop her protesting the intruder cleave gags her with a bandanna. He starts to enjoy himself, unzipping the skirt of Jasmine's dress up to the top of her thighs, revealing the fact that she is wearing thigh high stockings. He leaves the room to find something to eat, and in his absence Jasmine struggling to free herself, but there is no way out of those sturdy zip ties. In a while, the man re-enters the room carrying some rope. saying how nice Jasmine would look if he secured her some more. He ties room around her body above and below her breasts, then ties her thighs together just above the knees. Now he is leaving her alone to make some coffee, offering her a cup as he exits the room. Now Jasmine is in even more of a bind! It is perfectly clear that she won't be going out tonight after all.

WMV: $7.99


WMV: $11.99

Compilation

Girls in Handcuffs 4
Time: 67 minutes 20 seconds


Becky & Sara Liz: Abuse of Authority (scene 1)
Dee & Jasmine: Winner Takes All (scene 1)
Cadence: Assassin
Alina: Transported in Handcuffs
Hannah: Self-Handcuffing Gone Wrong
Jade: Naked Arrest (scene 1)
Candle & Autumn: Perks of the Job (scene 1)
Taylor: Surprise Gone Horribly Wrong
Hannah: Lock Down
Tilly: Lost Key
Jasmine: Why Am I Being Detained?
Cadence: Risky Business
Sharron: Kept On Her Toes
Star: The Gambler
Dee & Jasmine: Winner Takes All (scene 2)
Jade: Naked Arrest (scene 2)
Candle & Autumn: Perks of the Job (scene 2)
Becky & Sara Liz: Abuse of Authority (scene 2)

WMV: $18.99


WMV: $24.99


Jasmine (with Dee)

Unwilling Witness
Time: 18 minutes 82 seconds


Dee is a witness to a crime and is being kept under house arrest for her own safety. Jasmine is the detective assigned to babysit her until the trial. Dee is constantly complaining, now regretting that she ever called the authorities and got herself involved in all this. She tells Jasmine she is bored out of her mind and wants to go out somewhere, but Jasmine says no. When Jasmine visits the bathroom, Dee decides to leave. Finding the car keys, she hurries outside. Alas, Jasmine hears her and runs off in pursuit, catching up to Dee before she can unlock the vehicle and make good her escape. Jasmine handcuffs Dee and marches her back inside the house. To prevent Dee many any more escape bids, Jasmine decides to tie her up. While she is in the process of doing so, a gagged Dee tries to alert Jasmine that a man is standing behind her. Jasmine tells her not to make such a fuss, discovering too late what all the fuss was about. The man ties up Jasmine and gags her before calling his boss to tell him the good news, that the witness is in his possession. He says they need to dispose of two women now, asking for help to transport them away from the house to make them disappear. Left alone, Dee and Jasmine try to free one another, but time is running out. Will they manage to escape before the bad guy comes back?

WMV: $8.99


WMV: $12.99


Jasmine (with Dee)

Who Gets the Date?
Time: 28 minutes 53 seconds


Two good friends are hanging out at their house. Jasmine is going out to see a concert and she is going with her new boyfriend Brad who managed to get some tickets at the last minute. She brags a little about it to her friend Dee, and it's clear that Dee is a little annoyed by all this bragging, not least because Brad is one of her ex-boyfriends. Jasmine goes to her room to change before going out, leaving her cell phone on her chair. When a call comes in, Dee sees that it's from Brad and this tips her over the edge. She makes up her mind that she is going with Brad to the concert (it is, after all, her favorite band). She decides to teach Jasmine a lesson for being so boastful. Dee goes into the bathroom and squirts soe liquid on a rag, then sneaks into Jasmine's bedroom just as she is zipping up her boot and presses the rag over her nose and mouth. When Jasmine recovers, she finds herself lying on her bed in a hogtie with Dee leaning over her. Dee is ranting, angry about that whole Brad thing, and when Jasmine accuses her of being a psycho Dee cleave gags her.

While Jasmine struggles with her bonds, Dee returns to the living room and calls Brad on Jasmine's phone. She explains to him that Jasmine is ill and that she herself would be more than happy to go to the concert with him. After all, she says, it would be a shame to waste the tickets. Brad agrees, much to Dee's delight. So, Dee goes to show off her dress to a bound and gagged Jasmine. Adding insult to injury, Jasmine realizes that Dee has taken one of her dresses! She says she is going to meet Brad now and leaves Jasmine fuming with rage. After a while, Jasmine is able to free herself. She plans to call Brad and tell him what has happened, but just as she arrives in the living room to retrieve her phone, she is surprised to see Dee pulling back into the driveway. Jasmine glances around and sees that Dee has forgotten her purse. She grabs the same rag Dee used on her and waits. As Dee enters, Jasmine grabs her from behind and sends her to a dark place. She drags Dee into the living room, sits her on a chair and proceeds to tie her up. As Dee comes to and realizes what is happening, she pleads with Jasmine, saying that Brad wants to go with her. Jasmine gags her with the same cloth Dee had used on her, all wet with Jasmine's saliva, then she calls Brad in front of Dee to tell him that she is fine after all and will meet him shortly, walking out the front door as she continues her conversations, leaving Dee frantic and struggling. The ropes are secured tightly, however, and there will be no escape for Dee.

WMV: $9.99


WMV: $13.99

Jasmine (with Dee)

Winner Takes All
Time: 24 minutes 32 seconds


Jasmine arrives home from work to find Dee playing with a pair of handcuffs. Dee explains that she found them in the attic but they seem to be broken; she demonstrates by putting them on herself and then seemingly getting out of them without a key. She feigns mystification and invites Jasmine to try them out to see if she can figure out why the cuffs don't seem to lock. The two women play a little game where Dee pretends to be arresting Jasmine and they both laugh at the silliness of it. Then Jasmine stops laughing. She can't get the cuffs off. She is even more confused with Dee leaves the room and comes back with more cuffs, this time for the ankles. She makes Jasmine lay on the floor then attaches the cuffs to her ankles, wrapping the connecting chain around the handcuffs on her wrists, not once but four times, placing Jasmine in a tight hogtie. Jasmine is growing alarmed and demands to be released, but Dee is in full swing now. She produces yet another pair of cuffs and locks them around Jasmine's arms just below the elbows. Dee tells Jasmine that if she can get out of this, she can tie her up as tightly as she likes. Jasmine is furious and calls after Dee as she leaves the room and goes to her bedroom where she relaxes and begins reading a book. Jasmine struggles but knows that she can never slide out of the handcuffs. Then she reasons that Dee must have had a key to let herself out of the cuffs initially, and cranes to see if the key is still on the chair where Dee was sitting. To her relief, it's there; Dee has forgotten to remove it. Jasmine inches her way across the floor and begins rocking the chair to dislodge the key. It takes a lot of effort but at last the key falls to the floor, and Jasmine is able to unlock her cuffs.

We see Dee relaxing and wondering how Jasmine s doing, laughing to herself as she envisions the girl trying to get out of impossible bondage. To her total shock, Jasmine enters her bedroom carrying cuffs, ropes and duct tape. Dee demands to know how Jasmine escaped and kicks herself when the girl explains. Jasmine is quickly on top of Dee and attaching the handcuffs to her wrists. Dee objects, saying that she doesn't want to be tied up, to which Jasmine replies that she didn't either, but it happened anyway. She uses rope to put Dee in a hogtie, saying that she has to go out to class soon, but she'll be kind and leave Dee the key to the cuffs. Dee is relieved, but only because she does not know what Jasmine is planning. Once Jasmine has her friend secured, she takes off one of Dee's socks, lets her watch as she drops the handcuffs key inside it, then crunches it up and thrusts it into Dee's mouth. To stop the women spitting it out, Jasmine duct tapes her mouth. Just to torment her friend, Jasmine sits on the bed beside Dee and pretends to read her book, then suddenly notices the time and says she must dash. She tries to object through her sock-filled mouth but Jasmine doesn't care and departs. Dee struggles but there is no way out of this predicament; she will simply have to lay there cuffs, tied and gagged until Jasmine gets back from her class.

WMV: $9.99


WMV: $13.99


Jasmine (with Jessica)

Betrayed
Time: 20 minutes 35 seconds


Jasmine and her new boyfriend have decided to break into Jessica's home and steal her money and valuables. They are already there when Jessica arrives back early and the two have no choice but to tie her up. This gives Jasmine's boyfriend ideas; why not simply leave Jasmine here and take all the money for himself. Deciding on this course of action, he grabs Jasmine and pushes her to the floor, pins her down with her knee and then sets about tying her up next to the already bound and gagged Jessica. Jasmine curses him and warns him that she will have her revenge. In the end, he gags her too to such her up. He then goes to finish ransacking the house, and in his absence the girls manages to free themselves with a little cooperation. When her boyfriend returns, Jasmine tells him what an asshole he is and leaves, so he decides to let her go (for now at least) and turns his attention to Jessica - maybe he would rather have her instead.

WMV: $8.99


WMV: $12.99


Jasmine (with Jessica)

Forced to Strip
Time: 14 minutes 56 seconds


Jessica is relaxing in front of the TV unaware that Jasmine is sneaking up behind her. Jasmine clamps a hand over Jessica's mouth and orders her not to make a sound when it is removed. She marches Jessica into the kitchen and instructs her to take off her clothes. When she has her victim naked, Jasmine makes her lie on the floor and then proceeds to tie her up and gag her. Jasmine then takes photos with her phone and tells Jessica to stay put while she sends them to her buyer, telling her about what she will be buying with the proceeds when she gets paid. (Jasmine performs all of the tying on-screen, demonstrating how far she has come. She plays the antagonist well).

WMV: $7.99


WMV: $11.99

Jasmine (with Jessica)

Hit Men
Time: 14 minutes 18 seconds


Two hit men have identified the perfect location to carry out their hit, a house which overlooks their target's property and will enable them to stay hidden until the target arrives home. The only problem is that two girls live in the house. The hit men enter and force the girls to get down on the floor, using zip ties to bind their wrists and ankles. One of the men then holds up Jessica's hair while the other wraps duct tape around her head, sealing her mouth shut. They then do the same to Jasmine. When the girls refuse the lay still, the men decide to add another zip tie to each and place them both in the hogtie position. Now they really can't go anywhere. The two men settle down to await the arrival of their target. Jasmine and Jessica are horrified when they hear one of them say that it may be twenty-four hours for the target arrives home. Hungry, the men decide to cook pizza and leave the two women alone to struggle against their inescapable bonds as they face the longest day of their lives.

WMV: $6.99


WMV: $10.99


Jasmine (with Jessica)

How Much Is She Worth?
Time: 19 minutes 50 seconds


Jessica and her boyfriend are out to make big money by snatching the daughter of a wealthy family and holding her as hostage. We seem them pull a bound and gagged Jasmine from the back of their vehicle. At first, Jasmine is made to hope in her high heels, then she is lifted and thrown over the boyfriend's shoulder. He carries her into the house and sets her down on the floor. Jessica then takes over and puts poor Jasmine in a hogtie, then starts to play with her. When the boyfriend re-enters the room, he is on the phone to Jasmine's father. They ungag the girl and allow her to say a few words as proof that they have her, then she is gagged again. When her two captors leave the room for a few minutes, Jasmine struggles hard to escape but the ropes are just too tight and she can't get free. Jessica soon returns with her partner, and the two decide to release Jasmine from the hogtie and tie her to a chair instead. The girl is lifted up and deposited on a chair, then a lot more rope is added to pin her to the seat (mostly off screen). Jasmine is now thoroughly tied up with no hope of escape. When her father proves difficult, she is forced to speak to him on the phone again as a warning that these criminals mean business, then Jasmine's cleave gag is swapped for duct tape to keep her even quieter. Left alone for a second time, Jasmine tried desperately to escape but she simply can't. She is trapped and helpless, at the mercy of these ruthless people. Just when she believes things can't get any worse, Jessica returns and informs her that her father can't raise the money that day and that she will have to stay with them until tomorrow. Jessica tells her not to worry and says they can have some fun while they waist. She puts her arms around the bound girl and begins to feel her curvy body, stroking her thighs and squeezing her breasts. Jasmine tries to pull away but there is no way out for her. She will simply have to endure the attentions of her captors.

WMV: $8.99


WMV: $12.99


Jasmine

Detained
Time: 10 minutes 03 seconds


Jasmine has been pulled over by a cop for having her driver's window held in place by a number of pens. He tells her that this is illegal and Jasmine expects to get let off with a caution. She is surprised when the cop orders her out of the car and handcuffs her. She protests about being detained for such a minor offense as he marches her to his cruiser and sits her on the back seat. Jasmine sits and waits quietly, feeling it best not to aggravate the cop. He returns after a minute and leans in through the window, telling her that he had planned to take her to the police station, but now he has decided to just have some fun. When Jasmine asks him what he means by that, he reaches in and tasers her. When she recovers, Jasmine finds herself tied to a chair inside her own house. The cop is there, and when she mouths off at him, he gags her with several strips of duct tape. He leaves, or appears to, and Jasmine works on getting free. She succeeds after a few minutes and makes a run for it towards her car, but the cop is waiting and tasers her again. When she recovers this time, she finds herself lying on the ground and back in handcuffs. The cop seems to be nowhere around, so Jasmine gets up and climbs into her car, only to find the ignition keys gone. They must be inside the house, she reasons, she she hurries back inside. The cop is waiting and tasers her for a third time. Will her nightmare never end? (The clip concludes with a series of bloopers).

WMV: $5.99


WMV: $9.99

Jasmine

A Friend in Need
Time: 14 minutes 37 seconds


Jasmine is relaxing at home and texting to friends when a man creeps up behind her and presses a cloth over her nose and mouth. Jasmine sinks down in her chair and becomes immobile. She recovers to find herself outside on her deck, wrists and ankles bound and a cleave gag between her teeth. Jasmine works her way back indoors and is relieved to see that her cellphone is still on the table. After a few difficult maneuvres she manages to reach it and put through a call to a friend, asking him to come and help her. She is, after all, a friend in need and he therefore needs to come and rescue her. She waits patiently and after a while, someone knocks on the front door. She calls through her gag telling them to come in. When her friend walks into the room, Jasmine is surprised and more than a little anxious to see that he has a length of rope in his hand. He admits that he has always wanted to see Jasmine tied up and gagged, and rather than let her go he wants to tie her up a little more, telling her that she looks cute like this. Jasmine tries to protest but it isn't so easy through a gag. Her friend puts her in a hogtie and then departs, saying he must get back to work but will check on her later. After he leaves, Jasmine struggles to untie herself but all of the knots are out of her reach. She doesn't know that the figure who crept up behind her in the first place just happened to be the same friend she called to help her, not exactly the kind of friend she needs!

WMV: $7.99


WMV: $12.99


Jasmine

Selling Out
Time: 15 minutes 22 seconds


Jasmine has been selling out the company she works for, unaware that the boss is on to her. When he walks into her office carrying a bundle of zip ties, Jasmine looks a picture of innocence and asks him what he wants. When he confronts her about her dishonest activities, she denies them and can't believe it when the boss holds her up and secures her wrists with zip ties. She is quickly restrained and secured to the chair, then cleave gagged to shut her up. Later, the boss decides he can't keep her at work like this and frees her legs. He walks her out to his car and puts her in the trunk. At the other end of her journey, Jasmine's boss presses a cloth over her nose and mouth while she is still in the trunk. When she recovers, he has moved her into the woods where is sets above re-zipping her ankles. He uses another zip tie to place her in a hogtie, the he stuffs her mouth with a cloth and wraps duct tape around her head, covering her mouth and preventing her spitting out the cloth. The boss then walks away, leaving Jasmine to struggle helplessly and at the mercy of any wildlife which might pass her way.

WMV: $7.99


WMV: $11.99


Jasmine

I Need Your Help
Time: 24 minutes 14 seconds


Jasmine has come to visit her friend Dave because she is desperate to give up smoking but is so addicted she can't stop. In a radical approach to the problem, she produces rope and a bandana from her bag and asks Dave to tie her up so that she can't get to her cigarettes. Amused, Dave agrees and ties her wrists, chest, ankles and knees and leaves her on the floor in his living room. After a few hours, Jasmine's craving for a cigarette has become intolerable and she calls to Dave, asking him to let her go. He refuses, saying it is for her own good. When she starts hurling abuse at him for leaving her tied up, he gags her to stop the bad language. Left alone again, Jasmine finally manages to gets her wrists free and unties herself. She hurries out to her car where she has a pack of cigarettes stashed in the glove box. When Dave comes after her, Jasmine says she is leaving and that he should not worry, but he drags her from the car and marches her back indoors, determined to help his friend kick the habit. This time, he ties her to a chair and secures the ropes even more tightly to stop her getting out. Knowing that she will soon start shouting at him again, Dave duct tapes her mouth shut and leaves her to sit there. Jasmine struggles to get free, and when it becomes clear to her that she won't succeed, she starts shouting through her gag and writhing around energetically, trying to get Dave to come back and attend to her, but of course he doesn't and Jasmine has to sit there and go cold turkey with her habit. (Includes 2 tying sequences, cleave gag and duct tape gag).

WMV: $8.99


WMV: $12.99

Jasmine

The Cab Driver
Time: 26 minutes 01 seconds


Jasmine is going to a wedding and has called a cab company to send a car to pick her up. When the door bell chimes, she assumes it is the cab driver calling for her. When she answers the door, a man is standing there and he seems a little confused by the fact that she looks so happy. Jasmine has a momentary misgiving and asks if the man is from the cab company, unable to see the roll of duct tape he is holding behind his back. Taking advantage of the situation, he says he is. Jasmine tells him to wait a moment while she goes back inside to collect her phone. The man, actually a criminal on the run and looking for a discrete place to lie low, had come prepared to force his way into the house, but this is way too easy. He enters and closes the door behind him. While Jasmine is busy looking for her phone, the man steals up behind her and grabs her arms. Jasmine immediately panics and starts to fight him. A long struggle ensues as the man fights to subdue Jasmine and get the duct tape applied around her wrists. He eventually manages it, and then has to hold on to her kicking legs in order to tape her ankles. With Jasmine now effectively trapped, he continues to add more duct tape, applying to to her highs and body. To shut Jasmine up, he wraps tape around her head six or seven times, covers her mouth and silencing her. He uses Jasmine's house phone to call a friend and explain his situation, and to say he has found somewhere to hide for the moment but he needs help to disappear. In the background, Jasmine is writhing on the floor and mmmphing through her gag. The man explains that he had no choice but to tape the girl up. When he leaves the room to rest in the bedroom, Jasmine frantically works on the duct tape holding her. After a long struggle, she manages to free her wrists and then painfully peel the rest of the tape from her body. Free at last, she tries to make a run for it. Alas, the man has heard her and is coming after her. She no sooner emerges from her front door where she tries to shout for help, hoping one of her neighbours will hear and rescue her, the man clamps a hand over her mouth and drags her back inside the house. Realizing that he will have to be more thorough to keep Jasmine from escaping, he sits her on a chair and binds her wrists with loads and loads of duct tape, pulling it really tight. He tapes her thighs together, then tapes each ankle to a chair leg. He wraps tape around her waist and chest, and this time, by way of punishment, he stuffs her mouth with a handkerchief before wrapping duct tape around her head again, even more times than before. Now Jasmine is completely helpless and has no hope of escape. She going to miss the wedding, and everything else that day as she sits a helpless prisoner in her own house, wondering if she will ever be rescued.

WMV: $9.99


WMV: $13.99


Jasmine

Arrest
Time: 11 minutes 04 seconds


Jasmine has been accused of stealing from the department store where she works. The detective interviewing her looks very scruffy, raising the first hint of a doubt that all is not well. When Jasmine denies the accusation, the detective produces a set of handcuffs and tells her she is under arrest, that he has to follow up on the report and take her in. Jasmine argues with the man and he accuses her of resisting arrest. She denies this too, and soon she finds herself kneeling on the floor with handcuffs being secured around her ankles. Jasmine is now becoming alarmed. Her alarm grows when the detective produces a chain and padlock and proceeds to put her in a hogtie. He doesn't want to listen to her complaining while he searches her house for stolen jewellery, so he gags her with duct tape. Jasmine can't believe what is happening to her and struggles against the cuffs, knowing her efforts are futile. She is seriously distressed when the detective tells he he has been called away to another crime scene, and that he plans to leave Jasmine chained up and gagged until he returns.

WMV: $6.99


WMV: $9.99


Jasmine

Therapy
Time: 15 minutes 10 seconds


Jasmine has been visiting a therapist on a weekly basis for some time to help cope with all the stresses in her life. She finds it particularly beneficial because he induces a trance to make her relax. What she does not realize is that, when she is under his control, the therapist orders her to take off her dress and sit before him in bra, panties and stockings, then he ties her up. When she is bound and gagged, he counts down from three to one to wake her up and watch her panic and frantically struggle as she realizes what has been done to her. After watching her for while, the therapist puts her under again and loosens to ropes so that Jasmine can untie herself. She is then instructed to put her dress back on and told to forget everything that has happened during the session before she is woken once more. Jasmine emerges all smiles, telling the therapist she feels so much better, although she is a little mystified by her sore wrists. Her therapist tells her to pay the receptionist on her way out and to make another appointment for next week. Jasmine says she will and departs. Oh my, what a wonderful way to make a living!

WMV: $7.99


WMV: $11.99

Jasmine

For Sale By Owner
Time: 19 minutes 54 seconds


Jasmine has arranged with the owner of a house to view his property with a view to buying. What she does not realize is that the for sale routine is just a ruse to bring people to the house, and when it happens to be a young woman alone, she may find herself sold instead of the house. On entering the property, the owner leaves Jasmine in the living room for a few moments. When he returns, he asks her where she would like to start. Off her guard, she turns away, and suddenly the man is pressing a cloth over her nose and mouth. She recovers after a few minutes to find herself bound hand and foot, the man in the process of putting her in a hogtie. She squeals in panic and protest, only to get herself cleave gagged with a white cloth. The owner is soon on the phone to a potential buyer, showing him the bound and gagged girl using his phone's camera. The buyer says he isn't sure and wants to see the girl in bra and panties only. The house owner unties Jasmine and makes her strip off her clothes until she is standing in nothing more than her underwear. Now the buyer seems very interested. He also wants to see the girl in a sexy dress, so Jasmine is persuaded to put this on too. With the deal made, the house owner ties Jasmine to a chair, telling her she will only have a few hours to wait before her journey to warmer climes begins.

WMV: $8.99


WMV: $12.99


Jasmine

Let Me Out Of Here
Time: 15 minutes 04 seconds


Jasmine is relaxing before heading off to work, engrossed in the messages on her phone. She is unaware of a shape moving behind the curtains at her back. When the curtain suddenly swishes to one side and hands grab her, one pressing a cloth over her nose and mouth, Jasmine kicks and struggles frantically. She manages to break away and falls to the floor, shocked, startled at the site of the intruder. She tries to stand up and run away, but the man comes after her an drags her down. She fights him, but he is too strong and she can't stop him replacing the cloth. She tries not to breathe for as long as possible, fighting to free herself again, but in the end she has no choice but to inhale, and slowly the world goes black. By the time she wakes, her wrists and ankles are bound. She rolls away from the intruder, cursing him, calling him an old pervert and demanding that he "let me out of here!", behaviour which earns her a duct tape gag. She is finally placed in a hogtie and and intruder leaves her to struggle. Jasmine, undaunted, tries to get out of the ropes holding her, and when she finds she can't work them loose, she squirms her way into the kitchen to find something to cut the ropes. Moving is difficult, sitting up even harder. Eventually, she does manage to get a pair of scissors from one of the kitchen drawers. Now it's just a question of whether or not she has enough strength in her fingers to cut through the ropes...

WMV: $7.99


WMV: $11.99


Compilation

Beauties in Bondage Compilation 14
Time: 60 minutes 33 seconds


A collection of clips from 7 Beauties in Bondage movies featuring 12 different models. Each sequence is approximately 8 minutes in length. The excerpts derive from the following movies:

Jasmine & Amber: Hostage Training
Jessica: Don't Tie Me Up
Niki, Cadence & Laci: All Planned Out
Hannah & Carissa: Epiphany (Part 2)
Taylor & Codi: Catching the Burglars
Sara & Becky: Base Code
Cadence: Risky Business

WMV: $14.99


WMV: $18.99

Jasmine

Trapped & Overwhelmed
Time: 10 minutes 51 seconds


Jasmine is being held prisoner, and she continually struggles to try to free herself. Her captor wants her to calm down, to be quiet, but she just won't. He enters the room with a folded cloth in his hand, and seeing it, Jasmine knows what is coming. She renews her struggles but it's no good; she can't stop the inevitable. The cloth is pressed over her nose and mouth. She tries to hold her breath but in the end she has no choice but to inhale, then darkness gathers her in. Later, she wakes and resumes struggling, so her captor comes back and does the same thing again. Eventually, when Jasmine wakes once more, he brings her water to drink. She resists, but he assures her there is nothing contained in it. After taking several mouthfuls of the water, the cloth is once more pressed over her nose and mouth and she falls asleep without her gag in place. How many times will this cycle be repeated before her captivity is ended?

WMV: $5.99


WMV: $9.99


Jasmine

Carried Captive
Time: 12 minutes 37 seconds


Jasmine is being held captive. We join her as she is being carried over the shoulder from the house to the garden where she is placed on the ground, then pushed down a slope, forcing her her to roll. Her captor leaves her there unattended for a few minutes during which time she manages to get to her feet and attempts to hop away into the woods. She does not get far before the man returns and puts her back over his shoulder. He carries her down to the lower lawn and lays her on a swing chair, tying her body and ankles to the frame to make her stay put. Left alone again, Jasmine struggles and finally manages to free herself from the frame of the swing chair, but just as she is getting up to make another escape attempt, her captor returns and picks her up once more, carrying her back towards the house.

WMV: $6.99


WMV: $10.99


Jasmine (with Jessica, Sinn Sage, Cadence & Amber)

The Cult (complete)
Time: 57 minutes 13 seconds


All four parts of the story in one movie. Jessica's car has broken down on a quiet country road. She has no cellphone signal, so in order to get help she has to walk. She finds her way to a remote house and knocks on the door. No one answers. Normally, Jessica would not have persisted, but she had seen no other properties and is completely stranded. She tentatively tries the door. To her surprise, it is unlocked. She pushes the door open a little way, calling out "Hello?" Once again, there is no response. She walks into the house and finds herself in a room with the skeleton of a man seated in a chair, surrounded by the skeletons of various creatures. This strange sight makes her uneasy and she starts to think that entering the house was a mistake. She is about to turn and leave when a gloved hand clamps over her mouth and she feels an arm snake around her waist. She struggles and tries to cry out in alarm but the sound is stifled by the clamping hand. A chilling, sepulchral voice speaks in her ear: "You should not have come here. Don't struggle." Forced down onto the floor, Jessica gets her first look at the dark acolyte who has captured her. She is almost too terrified to move as he produces rope from beneath his cloak and begins to tie her wrists together behind her back, warning her: "If you want to live, don't struggle." Later in the day, Jessica's friend Sinn Sage arrives looking for her, having found her abandoned car close by. She too falls victim to the dark acolyte and is tied to a chair and gagged. Later, she is taken to an old abandoned building where she sit alongside Jessica, both of them bound and gagged. The next day, Cadence, a nosy reporter looking for a story about the Cult of Asmonday, is also grabbed and made a prisoner. Now there are three women ready for the sacrifice; only one more is required in order for the ritual to make Asmonday flesh to be performed. The fourth is supplied when Detective Jasmine St James arrives in search of the missing women. The Dark Acolyte ties her up but she manages to get free and is about to escape to get help when she comes face to face with Amber, the High Priestess.

WMV: $17.99


WMV: $22.99

Jasmine (with Amber)

CSI Cover Up
Time: 34 minutes 01 seconds


CSI laboratory technician Amber is on her way to a crime scene to re-sample evidence since the first batch has mysteriously been contaminated. She is on the phone to Jasmine, a detective who believes there is corruption in the police force and that her boss may be responsible for evidence tampering. Amber assures her that she will collect the new samples with care. At the crime scene, Amber enters the darkened house with flashlight in hand. She locates the area where the crime was committed and begins scanning for trace evidence. She collects samples, each one reinforcing her belief that something is wrong. She is just calling Jasmine back to tell her that she has found a lot of new samples when she is grabbed from behind. She can't believe it when she sees that her assailant is none other than Maxwell, the head of the CSI lab. She demands to know why he has been contaminating evidence as he ties her up with silver duct tape. Amber protests vehemently as Maxwell empties the contents of her evidence bags into a handkerchief and then stuffs it into her mouth, making sure it is contaminated again. Needed back at the office urgently, he departs and leaves Amber bound and gagged. Fortunately for her, Jasmine has come to investigate the interrupted phone call and frees Amber. The two are about to leave the house with the handkerchief now in an evidence bag when Maxwell intercepts them. He had returned to deal with Amber, but now he has to deal with two women. He secures their wrists and ankles with double-loop zipties and gags them. He leaves to remove their vehicles from in front of the house, and in his absence, Amber manages to retrieve a pair of cutters from her CSI case and snip through the zipties. The women are about the make another escape attempt when something is thrown into the room. Smoke and gas erupts from it and in a matter of seconds, both Amber and Jasmine are overwhelmed and drop to the floor, unmoving. When they recover, they find themselves tied to chairs, and Maxwell is setting a device to completely obliterate the crime scene and them with it. Can they get free in time to disarm the device, or is there another solution?

WMV: $10.99


WMV: $14.99


Jasmine (with Katelyn)

Hired to Restrain
Time: 14 minutes 14 seconds


Jasmine has been hired to take Katelyn captive and keep her out of the way until her services are required. Jasmine has Katelyn handcuffed in the back of her Jeep and she is driving her deep into the woods where no one will find her. Katelyn keeps objecting to this treatment which makes Jasmine steadily more irritable; she pushes the girl along until they reach a spot Jasmine deems a suitable place to keep her, then she secures her ankles with a ziptie, pulling it tight! Jasmine adds a second ziptie through a chain link in the handcuffs and around the tie already on Katelyn's ankles, putting her in an inescapable hogtie. She has her gagged with duct tape to stop her calling out for help. Jasmine leaves the girl to struggle, not that struggling will do her any good. Later, Jasmine comes back and says there has been a change of plan. She cuts off one of the zipties and unlocks one braclet of the handcuffs. When Katelyn tries to fight back, Jasmine says "to hell with it" and pulls Katelyn's arms behind a tree, locking her free wrist back in the bandcuffs. She storms off, leaving the girl to sit there helpless, handcuffed to a tree, ankles ziptied, and tape gagged. For Katelyn, it's going to be a long and frightening night.

WMV: $6.99


WMV: $10.99


Jasmine (with Amber)

Hostage Training
Time: 51 minutes 02 seconds


Amber's company has recently sent her on a hostage survival training course, a standard procedure in case any of the company executives should ever be taken and held for ransom. She is warned at the end of the course that there may be a follow up test to see how well she took instruction. Now, several weeks later, Amber is working through a ton of paperwork and emails; she is clearly having a very stressful day. Her secretary Jasmine comes in and asks if she would like to go to lunch, but Amber declines, saying that her day is just way too full and that there is just no way she can get away from her desk with her workload. Jasmine understands and then heads out to lunch and Amber continues with her work. A few minutes later she hears a knock at the door. Amber rolls her eyes at yet another distraction but tells the person to come in. Jasmine enters the room with her hands tied behind her back. The man behind her orders Amber to stand and put her hands up. Amber, looking annoyed but not alarmed, puts her hands up as instructed just to play along, realizing that this is the follow up to her training. Amber tells the man that this is not a good time for her and that she cannot deal with this right now. He tells her to shut up and orders Jasmine to lay down on the floor. He gives Amber some rope and tells her to bind her secretary's ankles. Irritated, Amber complies. She too is then made to lay face down on the floor and the man ties her wrists together behind her back. Just as the man is about to gag both of the women, Amber tells him she already knows what this is about and asks him not to use the gags. He agrees, provided they both agree to behave themselves...

WMV: $13.99


WMV: $17.99

Jasmine (with Amber)

Invasion
Time: 18 minutes 12 seconds


Jasmine works from home and lives alone. She is busy and expecting Amber, a colleague to come and help her with her accounts. When a knock comes on the front door, she thinks it is Amber and goes to let her in. As she opens the door, a man pushes his way into the house and grabs her in an obvious home invasion. He forces Jasmine into her living room and orders her to strip down to her bra and panties. He tells her he is going to tie her up, and that she had better choose a comfortable chair because she is going to be sitting on it for a while. Jasmine complies and is chair tied. The intruder has been through her laundry basket and found a bra which he plans to use to gag her. Just before he gets to this, however, another knock comes on the door. Jasmine begins calling frantically for help, so the intruder hurries over to her and thrusts the bra cups into her mouth to keep her quiet, tying a thin bandage around her head to stop her spitting out her gag. The intruder then answers the door. Hearing Jasmine's muffled cries inside the house, Amber takes a tentative step forward and is grabbed. She too is pushed into the living room and ordered to strip down to her bra and panties. The intruder had already attached some restraint straps to the table legs, planning to transfer Jasmine there in a while; now he uses them to restrain Amber. She is forced to lay under the table where her wrists and ankles are strapped to the table legs. Then it's Amber's turn to be gagged with another of Jasmine's dirty bras. She struggles to resist but there is no way she can prevent the intruder pushing the bra cups into her mouth and tying a bandage around her head. The girls are left alone for a short time, then the intruder returns with an explosive device hooked up to a timer, and his real intentions become clear...

WMV: $8.99


WMV: $12.99


Jasmine (with Amber)

The Cult: Part 4
Time: 23 minutes 30 seconds


At last, the police are involved. Detective Jasmine St. James is making enquiries into the disappearance of three women. She asks to see the master of the house, and like those who preceded her, she is shown into the waiting area among the skeletons. She falls victim to the dark acolyte who tells her she is the fourth, and that there can be no turning back now. Jasmine slips into oblivion and wakes to find herself being tied to a chair. Her protests go unheeded and she is cleave gagged to keep her quiet. Left alone, she struggles with her bonds and, after a while, she is able to loosen the rope binding her wrists. She frees herself and makes a run for it, planning to get away and call for backup, but as she turns the corner towards the front door, she is confronted by a woman in a long dress and red cloak, the High Priestess. "Going somewhere?" she asks. Jasmine reaches behind her, and the woman chuckles because she knows the cop will have been disarmed. The dark acolyte approaches from hind Jasmine and grabs her, and she is soon bound and gagged again, this time in a hogtie. The High Priestess orders her acolyte to "prepare her" while she goes to check on her other three prisoners. She approaches them along a passageway and Jessica, Sinn Sage and Cadence all try to speak to her through their gags. The High Priestess only smiles, knowing that she now has the number of sacrifices she needs to bring her demon, Asmonday, into the world. When the High Priestess returns to the house, Jasmine is already tied to the altar. To calm her down, the High Priestess opens a vial she carries on the cord around her neck and forces Jasmine to drink the contents. The girl is immediately subdued but still awake. The High Priestess sips from a goblet in preparation for delivering the incantation, while her acolyte hands her the sacrificial blade. The High Priestess raises it with bold hands and begins the incantation. The moment has finally arrived. (Brief appearances by Jessica, Sinn Sage & Cadence).

WMV: $9.99


WMV: $13.99


Jasmine (with Katelyn)

Stealing Her Clothes
Time: 10 minutes 21 seconds


Jasmine is an escaped convict who has been hiding in the woods in her prison orange jumpsuit. She sees Katelyn drive up outside her house and climb from her car. Jasmine rushes her and grabs her, forcing her into the house where she forces Katelyn to strip off her dress and shoes, then makes her lie down on the floor where Jasmine ties her wrists and ankles, then places her in a hogtie. Katelyn keeps demanding to know what is going on, and tied of listening to her, Jasmine stuffs a cloth into the girl's mouth then ties a strip of cloth around Katelyn's head to prevent her spitting it out. Jasmine takes off her prison clothes and puts on Katelyn's dress and shoes. She tells Katelyn she hopes she won't be stuck there too long and departs, leaving Katelyn to struggle in bondage in just her bra and panties. If she can't get out of the hogtie and free herself, she will have to face the embarrassment of eventually being rescued while almost naked.

WMV: $6.99


WMV: $9.99

Jasmine (with Amber)

Tip Off
Time: 33 minutes 23 seconds


Journalist Amber Wells has received an anonymous tip suggesting the corruption of a high ranking city official. A place and time are indicated, and Amber waits there with her camera hoping the call was not a hoax. She sees a woman apparently waiting for someone, and then to her astonishment, a vehicle arrives and the man who climbs out of it is the Chief of Police. He unloads a box from the back of his vehicle and enters the building with the woman. Amber sneaks closer until she can hear their conversation. It seems the Chief has been stealing from the evidence locker and selling goods to local street gangs. Amber takes a compromising photograph of the policeman then tries to flee, but the other woman (Jasmine) is too quick for her and she is quickly captured. The Chief of Police recognizes her as a reporter and realizes they are in trouble. He orders Jasmine to take Amber into the garage and tie her up. With Amber secure, the Chief departs to find her car before a passing patrol vehicle spots it and calls it in. After he departs, Jasmine finds a knife and cuts Amber free, saying that she was okay going along with the sale of stolen goods to local thugs, but now the Chief wants to send shipments overseas to terrorists to make more money, and she can't get behind that. She and Amber are just hurry from the garage when the Chief intercepts them, forcing them back inside. He says he has suspected Jasmine of betrayal for a little while, after too many things went wrong with recent shipments. He makes Jasmine re-tie Amber then he ties Jasmine up himself. Now that the women have compromised his operation, he has no choice but to dispose of them. He throws gasoline over them and sets a timer on a device that will spark and ignite the gas when it reaches zero. He departs and the two women struggle frantically to free themselves in time. Do they succeed? (Features rope tying, double-looped law enforcement zip ties, tape gagging, and girl tying girl).

WMV: $9.99


WMV: $13.99


Jasmine (with Katelyn)

The Babysitter
Time: 22 minutes 34 seconds


Katelyn's mother has hired a babysitter/bodyguard to look after her daughter while she is away on a business trip. Katelyn badly wants to go out with her friends instead of being made to study, and she can't take her bodyguard Jasmine seriously since she looks little older than Katelyn herself. Jasmine assures Katelyn's mother that she can handle the situation and encourages her to get going before she misses her flight. Later, Katelyn seems to be making friends with Jasmine, asking about her job and wanting a demonstration of how her handcuffs work. Katelyn manages to lull her babysitter into a false sense of security, so much so that she allows Katelyn to handcuff her. It's a big mistake. With Jasmine secured and the key to the cuffs in Katelyn's possession, she is now free to change into her dress and go out. Jasmine is furious but is powerless to stop the girl. On her way out, Katelyn is grabbed by a man, the very kind of person her mother feared would someday take her daughter. He overpowers Katelyn and binds her wrists before marching her back into the house. He is amused that the bodyguard is already handcuffed and unable to interfere. He finishing tying up Katelyn, duct tapes Jasmines legs together and then gags both girls before calling his contact to explain that they now have two girls to sell instead of one.

WMV: $8.99


WMV: $12.99


Jasmine (with Katelyn)

Hold Tight
Time: 21 minutes 05 seconds


Eighteen-year-old Katelyn makes her first ever appearance in the world of bondage in this story of being snatched along with her friend Jasmine, and driven to a quiet spot, both bound and gagged and being thrown around in the back of a Jeep. At their destination, Jasmine is pulled from the vehicle first, dragged into a garage and then placed in a hogtie on a cold, concrete floor. Katelyn, her hem of her woolen dress already up to her hips, is dragged in next and tied to a chair. To stop the girls trying to escape, each is given a grenade - safety pin removed - to hold in their bound hands. He tells them they had better hold tight, because if they let go, then boom! The snatcher drives away and leaves the girls alone. Jasmine works out an ingenious idea that might enable them to escape - she holds both grenades while Katelyn releases her from the hogtie. Jasmine then passes the grenades back to Katelyn before she unties the girl's wrists. Little by little, they manage to free themselves and peel off their duct tape gags. As they run away from the property, Jasmine tosses both grenades which explode behind them as they flee into the woods, looking for a road and a way back to civilization.

WMV: $8.99


WMV: $12.99

Jasmine

Constant Prisoner
Time: 65 minutes 11 seconds


Jasmine arrives home to find someone in her house. At first she thinks it is a burglar but the man seems in no hurry to leave. Instead, he seems totally focused on her. Despite her protests, he makes her strip down to her bra and panties and then zip tie her own ankles before he secures her wrists. The intruder puts her into a tight hogtie and gags her with black duct tape. He leaves the room and Jasmine tries flexing her wrists, but the zip ties are tight and she can't get out. Soon, the man returns; he has been looking in her wardrobe and has selected a new outfit for her to wear. He releases Jasmine and takes her down to the basement where he watches her dress herself in the clothes her has selected, just before he ties her to a chair and gags her once again. This time, he pushes a cloth into her mouth and then wraps a bandage around her head, creating an over the mouth gag. Jasmine can do nothing to resist his attentions and is soon firmly bound and gagged. Alone again, she struggles to free herself but the ropes are too tight; she is trapped. Later, the man returns again with another change of outfit, this time a pair of white shorts and a small white top. He releases Jasmine and takes her outside where he places her in another hogtie, this time with rope. Gagged for the third time, Jasmine is left alone to wrestle with her bonds. This time, she manages to free her legs and tries to make a run for it, but she comes face to face with the intruder who now takes her back indoors. Now wearing just her bra and panties, Jasmine is secured with handcuffs and leg irons to make absolutely sure she does not escape again.

WMV: $14.99


WMV: $18.99


Jasmine (with Hannah)

Price to Pay
Time: 17 minutes 57 seconds


Hannah has made a terrible mistake without relizing there will be a price to pay for her actions. She has slept with Jasmine's boyfriend and Jasmine is absolutely furious about it. She has grabbed Hannah and driven her to her home. The movie opens with Jasmine pulling Hannah from the back of her car, wrists zip-tied and duct tape stuck over her mouth to keep her quiet. Jasmine marches her captive indoors and cuts away the zip tie, then orders Hannah to undress. When Hannah takes off her top, Jasmine instructs her to put it back on and take it off the way she did for her boyfriend. Hannah is terrified of her angry captor and does her best to follow her instructions, however bizarre. Finally, Hannah is completely naked. Jasmine zip ties her wrists and ankles, then connects them with a third zip tie, leaving Hannah very uncomfortable. Jasmine then starts to torment the girl, not least with a little game of Russian Roulette.

WMV: $8.99


WMV: $12.99


Jasmine (with Hannah)

Justice Girl vs The Dark Avenger
Time: 30 minutes 57 seconds


In the first scene the Headmaster has called the mathematics teacher, Hannah, to his office for a private talk. In meetings, Hannah has vehemently opposed the Headmaster's research project to develop a mind control drug for the government. She has convinced the school's Director that what the Headmaster is doing is dubious at best, and the Director has only allowed it to continue, albeit reluctantly, because of the size of the grant it has received. The Headmaster now asks Hannah why she is so against the project and tries to change her views, pointing out that the world needs a new serum for mind control to keep the more dangerous elements of society in check. Hannah says that she sees his work as an infringement of human rights and cannot condone it. She says she has had enough and is going to talk to the school's Director to persuade him to put a stop to the Headmaster's research once and for all. As she turns to leave, the Headmaster panics hits her over the head from behind and she falls to the floor. When Hannah recovers, she finds herself tied to a chair. She struggles to get free to no avail. The headmaster enters the room with a bottle of fluid and a syringe. He tells Hannah that he knows her secret identity, that she is in fact The Dark Avenger. Hannah denies this so he holds up a photograph of Hannah in the costume without a mask, filmed by a hidden camera in Hannah's office. The Headmaster tells her that after she is given his experimental mind control serum, she will work for him. Hannah says "never" and struggles to get away, but she is helpless to resist. The serum takes effect in a matter of seconds, and when asked by the headmaster if she will obey him, Hannah says she will. The Headmaster then tells her that she must assist in his plans to remove the Director from office by tarnishing his reputation. Hannah is to plant some compromising photographs in the Director's home and, after he anonymous tips off the local authorities, she must burst in to his house as The Dark Avenger and reveal the evidence to the world. Everyone will believe the superheroine and the Director will be removed from office. Hannah agrees to do this, unable to resist the control of the serum...

WMV: $10.99


WMV: $14.99

Jasmine (with Lily & Amber)

Getaway Guest House (Complete)
Time: 38 minutes 45 seconds

Lily and Amber are on their way to a weekend retreat called the Getaway Guest House. It is a place with no TV, no phones, no internet. Truly, a place to get away from it all. Lily stays outside trying to get a signal on her cellphone, but the proprietor explains that there is reception. Looking around, Lily says she will walk up to the top of a nearby ridge to see if she can get a signal there. The proprietor says she can try as he leads Amber into the house. Lily starts off up the hill and gets a weak signal part way up. She tries to make her call but the signal is fading in and out. Before she can establish a good connection, a man runs out of the trees behind her, grabs her and presses a cloth over her nose and mouth. Soon, Lily is lying in the grass and the man begins dragging her towards the house. From the living room of the guest house, Amber sees what is happening to her friend and exclaims to the proprietor, only to have a cloth pressed over her nose and mouth too. The women recover in the basement where the proprietor and his sidekick are in the process of tying them up, Lily to a pole and Amber to a stool. They both protest, and when this does not work they try pleading with the men to let them go. This only leads to them both being gagged with duct tape. They hear the proprietor say to his colleague that another one is expected the following day, a redhead, which will complete the order. The girls are horrified as they realize they are to be sold as slaves. They are so securely tied that escape seems almost impossible. All they can do is wait for the following day and hope that whoever arrives next will manage to get away from the Getaway Guest House and raise the alarm. The following morning, Lily and Amber have been untied and permitted to use the bathroom. Now the proprietor of this shady guest house now makes them change into sexy clothing (on screen) before they are marched back down to the basement and both tied to chairs (tying is performed on screen). The two men have almost finishing tying up their victims when they hear a loud hammering on the front door of the house. Both Amber and Lily, not yet gagged, both cry out to attract attention. The men clamp hands over their mouths to silence them, gagging them with duct tape to keep them quiet before the proprietor goes to investigate. He expects that this will be his latest guest, a redhead who booked a weekend away from it all, but instead it turns out to be a Detective Jasmine who is asking about a missing woman named Lily.

WMV: $14.99


WMV: $18.99


Jasmine (with Hannah)

Changing Fortunes
Time: 25 minutes 17 seconds


Hannah and Jasmine are both actresses working on the same film. They both auditioned for the lead role and Hannah landed it, seriously upsetting Jasmine who had her heart set on playing the lead. She is furious at Hannah that Jasmine grabs her after the work day is over, ties her up and drives her to her house in the country. She pulls Hannah from the car and marches her inside, despite Hannah making an attempt to get away. Jasmine ties Hannah's ankles together and then sets about cutting off her clothes out of spite. She keeps going until Hannah is completely naked, then frees her feet and marches her back outside where she places her in a hogtie on the lawn, leaving her there for anyone to see should they happen by. Hannah struggles with her bonds and eventually gets free, gathers up the rope and lets herself into the house at the back. She creeps up behind Jasmine who is busy sending texts on her phone. Jasmine hears her at the last second and jumps up, so Hannah lands her a punch on the jaw and Jasmine goes down. When she recovers, Hannah is half way through tying her up. Only now does Hannah admit that she has had a crush on Jasmine for a long time and only auditioned for the film to be close to her. She never expected to get the lead role and would gladly have given it up for Jasmine, but no longer. Now everything is spoiled after the way Jasmine treated her. Abandoning all attempts to reason with Hannah, Jasmine begins to insult her, calling her a crazy bitch. Hannah gags her ex-friend to silence her before departing, leaving Jasmine to struggle on the floor.

WMV: $9.99


WMV: $13.99


Jasmine (with Lily & Amber)

Getaway Guest House: Part 2
Time: 22 minutes 46 seconds


A day has elapsed since Lily and Amber were grabbed by the owner of the guest house and his accomplice. They have been untied and permitted to use the bathroom. Now the proprietor of this shady guest house now makes them change into sexy clothing (on screen) before they are marched back down to the basement and both tied to chairs (tying is performed on screen). The two men have almost finishing tying up their victims when they hear a loud hammering on the front door of the house. Both Amber and Lily, not yet gagged, both cry out to attract attention. The men clamp hands over their mouths to silence them, gagging them with duct tape to keep them quiet before the proprietor goes to investigate. He expects that this will be his latest guest, a redhead who booked a weekend away from it all, but instead it turns out to be a Detective Jasmine who is asking about a missing woman named Lily. She describes her, and explains that Lily's cellphone is somewhere in this area, giving out an intermittent signal. The proprietor says he has not seen any woman answering Lily's description. He is about to close the door when a muffled voice calls out from the basement. Jasmine pushes her way into the house and descends the stairs, finding two women tied up and gagged. She immediately tries to arrest the proprietor, unaware that his accomplice is sneaking up behind her. Jasmine is disarmed and made to sit on a chair next to the two prisoners, and now she too is bound and gagged. The redhead the proprietor had been expecting has not shown up, so Detective jasmine will have to take her place in the consignment. As arrangements are being made for transporting all three of them to the coast, Amber, Lily and Jasmine all struggle against their bonds. Watched by the proprietor's accomplice, they have no chance of escape.

WMV: $9.99


WMV: $13.99

Jasmine (with Lily, Amber & Shauna)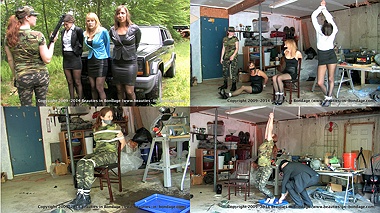 Colombian Ambush & Colombian Interrogation together
Colombian Ambush
An exciting adventure featuring Lily, Amber and Jasmine are three female diplomats who have just finished attending a summit in Bogota, Colombia and are being driven back to the airport by a local driver. The vehicle begins bouncing over rough, wooded terrain, and the women ask the driver where he is going. He explains that he is taking a short cut. The women want to believe him but their are uneasy in such a volatile country. After a while, they grow so concerned that they ask the driver to turn back. Instead, he stops the vehicle just as Shauna, a guerrilla and member of the Fuerzas Armadas Revolucionarias de Colombia, emerges from the woods. She orders the women out of the vehicle and very roughly zip ties their hands behind their backs before gagging them with duct tape. The women are marched through the woods in their high heels until they reach one of the group's hideouts where their zip ties are removed and they are bound with ropes. Amber is forced to read a statement into a cellphone camera telling the U.S. authorities that she and her fellow diplomats will be executed if incarcerated members of the Revolucionarias are not released immediately. Amber pleads with them to help just before Shauna transmits the message. Now they have to wait for a response...

Colombian Interrogation
At the end of Colombian Ambush, the three diplomats manage to overpower their captor (Shauna) and escape. One of them makes a call to the authorities telling them that they managed to overpower the guerrilla holding them and that agents should be dispatched to pick her up. The American consulate in Bogota has no one available to send immediately, but their British colleagues do have an agent at their consulate who can be there in just a few hours. He finds Shauna zip tied and gagged right where the diplomats had left her. He ungags her and demands to know the location of the rest of the group. Shauna refuses to talk so the agent orders her to remove her boots before she is made to handcuff herself. Shauna is then secured with her with her arms above her head, standing barefoot in a plastic tray filled with water. The agent hooks up some leads to a car battery and threatens to dip the ends into the water, sending an electric current through Shauna's body if she will not give up the information about her guerrilla base. When she refuses to talk, he dips the leads into the water and sparks start to fly...
WMV: $16.99

WMV: $19.99

Jasmine (with Hannah)

Double Trouble
Time: 24 minutes 52 seconds


Jasmine's husband Tom is having an affair with his secretary Hannah. While Jasmine is away on a business trip, Tom and Hannah spend the night together at Tom's house. The scene opens the following morning when Hannah is on her way to work when she receives a call from Tom, who went to the office early to attend an important meeting, to say that he has left some essential paperwork behind, and asks Hannah to go back for it. Hannah lets herself into the house and goes in search of her purse, unaware that Tom's wife Jasmine is back early from her business trip and is even now pulling into the driveway. Jasmine looks at the car parked outside the house and does not recognize it. When she gets to the front door she finds it unlocked and decides to return to her car for some protection. Jasmine finds Hannah in her bedroom riffling through the papers on the desk, and demands to know what is going on. Hannah explains that she is Tom's secretary and that he sent her to collect some papers he'd forgotten to take to work that morning. Jasmine doesn't know Hannah and is not at all sure this woman is who she claims to be. She keeps Hannah covered as she calls Tom's cell, but it keeps going straight to voicemail. She leaves a message asking Tom to call her. Jasmine is extremely tired after an all-night flight and can't stay awake much longer. Rather than risk letting Hannah go and have it turn out that she is in fact a thief, Jasmine decides to tie her to a chair to keep hold of her until she hears from Tom. With Hannah securely tied up and gagged to stop her protesting at this outrageous treatment, Jasmine returns to her bedroom, lies down on the bed and goes to sleep. While she sleeps, a real burglar enters the house. He finds Hannah tied up and gagged and is very surprised - he had brought along rope in case he needed to tie up the occupant. He looks around the house and finds Jasmine asleep. He creeps up on her and presses a cloth over her nose and nose, then carries her limp form through to the living room where he lays her on the floor. He binds her wrists and ankles and is putting her in a hogtie to keep her from moving around too much when Jasmine wakes and demands to know what the hell is going on. The burglar gags Jasmine and goes about the business of collecting valuables around the house. Hannah and Jasmine realize they have to collaborate in order to get free and save themselves. Jasmine manages to position herself so that Hannah can untie her feet, then her wrists. Once free, Jasmine says she is going to call the police, leaving poor Hannah still bound and gagged because she suspects that Hannah might have orchestrated this whole thing. Soon after she departs, the burglar re-enters the room and finds Jasmine gone. Through the window, he sees her running away from the house and goes off in pursuit, leaving Hannah stills bound and gagged.

WMV: $9.99


WMV: $13.99


Jasmine (with Lily & Amber)

The Italian Job
Time: 20 minutes 05 seconds


Enrico Scarpelli is a well-know collector of ancient swords and daggers. He has an impressive collection, some of which he keeps on display in his home. Today he is being visited by Amber Wells, an Insurance Agent who is trying to persuade him to insure his collection with her company. What she is really doing is keeping Scarpelli and his bodyguard occupied while her colleagues, Lily Anna and Jasmine St. James, break into another part of the house and steal the most precious dagger in the collection. Amber, a collector herself, has been coveting this particular dagger for years and can see no other way to acquire it. During the interview, Scarpelli grows a little suspicious. He vaguely recognizes Amber and is sure he has heard her voice somewhere before. She does her best to reassure him that they have never met, but Scarpelli is uneasy and sends his bodyguard to check on the swords. At this, Amber starts to panic, announcing that she has another appointment and that she must leave. Scarpelli prevents her leaving, making her sit back down and await the return of the bodyguard. In the sword room, the bodyguard catches the two girls in the act of stealing the dagger. He takes them to Scarpelli whose fears were clearly justified. While Scarpelli keeps them covered, he begins to interrogate the three women as his bodyguard ties them up. He works out that Amber is the daughter of one of his rivals and he knows that she too has an impressive collection of swords. In particular, she has the Selim Sword, something Scarpelli has been after for a long time. By threatening her two companions, Scarpelli makes Amber tell him where to find this Selim Sword. He then holds the three women hostage while his bodyguard goes to check out her story. Did she lie, and if she did, what will happen to she, Lily and Jasmine when the truth is discovered?

WMV: $10.99


WMV: $14.99


Jasmine (with Hannah)

Skiptracers
Time: 27 minutes 58 seconds


Italian criminal Raimondo has escaped from justice in his native Italy and has taken refuge in the property in the United States owned by a business contact. Raimondo plans to lie low until things cool down back home. He is unaware that two skiptracers (bounty hunters) are on his trail. The girls work for different agencies and both are hoping to collect the 10% commission for bringing him in. Jasmine is watching the house and sees the Italian emerge from the front door to collect a newspaper. She emerges from hiding and is is about to move in on him when Hannah, who sneaked up behind her, holds her up and puts her out of commission using duct tape. Hannah's plan is to pretend to be a hooker sent by the owner of the property to entertain Raimondo during his forced isolation. She slips on high heels as a bound and gagged Jasmine watches. Hannah goes to the front door and introduces herself. Raimondo is very pleased to see such an attractive woman on the doorstep and invites her in. Once inside, he immediately tries to make advances to Hannah, but she slows him down by asking for a glass of wine. Outside, Jasmine reaches for a concealed cutter in her jacket pocket and beings slicing through the duct tape retraining her. Once free, she makes her way around to the back of the house and gains entry via the basement. Upstairs, Hannah now has the drop on Raimondo and is about to arrest him when Jasmine pounces on her, and the two fight. Raimondo takes advantage of the confusion and gets the drop on both of them. He forces Jasmine to zip tie Hannah's wrists behind her back, then he does the same to Jasmine. Raimondo then calls Dave, his business contact, and explains that they have a big problem. When Dave arrives, the two men tie the girls with more rope then march them to the basement where they are further restrained. Before leaving, Dave says they need to get rid of all the evidence and sets a timer to blow up the property. Left alone, the rival skiptracers work together to free one another. They are in a panic because the time is counting down and they may only have seconds left. They manage to free their legs and run from the house with hands still bound and duct tape still covering their mouths. It not a moment too soon - an explosion rips through the basement, knocking the two girls off their feet. They survive, but it is a very close call.

WMV: $10.99


WMV: $14.99

Jasmine (with Lily, Amber & Shauna)

Colombian Ambush
Time: 24 minutes 34 seconds


Lily, Amber and Jasmine are three female diplomats who have just finished attending a summit in Bogota, Columbia and are being driven back to the airport by a local driver. The vehicle begins bouncing over rough, wooded terrain, and the women as the driver where he is going. He explains that he is taking a short cut. The women want to believe him but their areuneasy in such a volatile country. After a while, they grow so concerned that they ask the driver to turn back. Instead, he stops the vehicle just as Shauna, a guerrilla and member of the Fuerzas Armadas Revolucionarias de Colombia, ergences from the woods with an AK in her hands. She orders the women out of the vehicle and very roughly zip ties their hands behind their backs before gagging them with duct tape. The women are marched through the woods in their high heels until they reach one of the group's hideouts, where their zip ties are reomved and they are bound with ropes. Amber is forced to read a statement into a cellphone camera telling the U.S. authorites that she and her fellow diplomats will be executed if incarcerated members of the Revolucionarias are not released immediately. Amber pleads with them to help just before Shauna transmits the message. Now they have to wait for a response. Shauna tells the driver to fetch supplies because they will be here for some time. Jasmine, tied up a standing position, claims that she needs to use the bathroom. Shauna doesn't believe her at first but eventually relents. She removes Jasmine's shoes, and those of the other diplomats, to make it harder for them to escape. Jasmine is marched to a bathroom with her hands still tied and a gag still covering her mouth. Jasmine persuades Shauna to let her use the bathroom alone. Once the door is closed, Jasmine removes her gag and uses her teeth to free her hands. She then jumps from the bathroom window and makes a run for it. Shauna soon discovers her trick and races after her, soon catching up to the barefoot girl. Meanwhile, Lily has managed to free her hands and unties Amber just before Shauna returns with her recovered prisoner. As they enter, Shauna swears as she sees that the other two diplomats have gone. She does not realize they are hiding behind the door, not until they grab Shauna's arms and force her to the floor. Jasmine snatches Shauna's AK-47 and covers her with it as her colleagues zip tie the guerrilla's wrists and ankles, gagging her with duct tape before making their escape.

WMV: $14.99


WMV: $17.99


Jasmine

Undressed & Noosed
Time: 10 minutes 45 seconds


Jasmine is a loans officer at a bank, and this day she has turned down a client for a loan he desperately needed. Doing this every day, Jasmine thinks nothing of it, but the client thinks a great deal about it and decides he will punish Jasmine for ruining him. When she arrives home, she notices a rope hanging from a curtain rail and is puzzled by the noose shape. The client comes up behind her while she is examining the rope and holds her up. Jasmine raises her hands and suddenly seems willing to negotiate, but the client is no longer interested in hearing what she has to say. He orders her to strip down to her bra and panties before he zip ties her wrists and places her neck in the noose he has prepared for her. He then zip ties her ankles together and gags her to keep her quiet. He shortens the rope so that Jasmine is forced to stand on her toes, then he leaves him like this to consider what a thoughtless person she is. Jasmine has to balance to avoid tightening the noose any further, but how long can she keep this up before she loses her balance. (For those concerned about safety, there was always someone standing close to Jasmine to make sure she did not fall).

WMV: $6.99


WMV: $9.99


Jasmine

Chain Me Up
Time: 14 minutes 00 seconds


When asked how she likes handcuffs, Jasmine replied "chain me up!" Not wanting to disappoint her, we secured her with five pairs of handcuffs and one pair of thumb cuffs, pinning her to a chair so that escape was completely impossible. No bondage is complete without a gag, so the final act was to stick three strips of duct tape over her mouth. Did Jasmine realize when she invited the cuffs and chains that there would be no way out? Or does she just enjoy that feeling of being rendered helpless?

WMV: $7.99


WMV: $10.99

Jasmine

House For Rent
Time: 14 minutes 23 seconds


Jasmine has responded to an advertisement for a house for rent. She turns up a little early while another prospective tenant is being shown around. The owner tells her to have a look around at the back of the house while he finishes with the previous viewer, but Jasmine is a little impatient and starts complaining about the trash at the back of the house, and the presence of a cat. She little realizes that this quiet, well-manner man has a short fuse and he has just about had enough of snooty women like her. He appears to leave her alone, but in reality he goes to his vehicle to get a cloth which he soaks, then sneaks up behind her and presses it over her nose and mouth. Despite struggling, Jasmine is soon lying on the ground being bound hand and foot. She recovers slowly, disorientated, hardly aware that she is being put in a tight hogtie. She only really starts to object when the man gags her and then returns to the other potential tenant. Jasmine explores the ropes holding her but can't find any of the knots, so she wriggles over to her fallen purse and manages to pull her cellphone out with her mouth. She tries to summon help but the man hears and comes back to take the cellphone and purse away from her. Now Jasmine is trapped in the middle of nowhere without any chance of help.

WMV: $6.99


WMV: $10.99


Jasmine

Rescue Me
Time: 17 minutes 10 seconds


Jasmine is being held hostage for ransom. She has been left standing in the wood shed with her hands tied above her end, ankles roped together. The bad guy enters to check her ropes as he makes a call to Jasmine's parents to give them instructions. He pulls the gag from Jasmine's mouth and forces her to speak as proof of life. She asks them to rescue her before the bad guy removes the phone and tells her parents that he will call back in one hour after he has moved their daughter to a different location. He re-gags Jasmine, releases the rope securing her to the ceiling, then carries her out to his car, depositing her in the trunk. Jasmine's wrists are bound in front of her, enabling her to remove her gag and then use her teeth to undo the rope binding her wrists. When the car stops and the bad guy opens the trunk, she jumps out, knocks him over and makes a run for it. He quickly catches her as she staggers along in her high heels, grabbing her around the waist and carrying her kicking and screaming into the house. He re-ties Jasmine before calling her parents back with instructions on where to leave the money, warning them again police involvement or tracking devices. When Jasmine tries to shout information about him, he stuffs a cloth into her mouth and gags her with a bandana. He completes the call, then unties Jasmine's feet, walking her back to the car to drive her to the rendezvous point. Jasmine again tries to make a run for it but is caught and put into the back seat of the car where she is places in a tight hogtie to stop her escape attempts. The engine starts and the car reverses, and al Jasmine can do is lay helplessly on the back seat to await her fate.

WMV: $8.99


WMV: $12.99


Jasmine (with Hannah)

Avenging Angel
Time: 30 minutes 00 seconds

Formerly published in two parts. Hannah works for an insurance company and she has been cheating retired people out of a percentage of their pension for some time. Charges have been brought against her by the police but she is very good at covering her tracks and nothing could be proved. When the law fails, it is time for the Avenging Angel (in the angelic form of Jasmine in a catsuit) to step in and right the wrong. She overpowers Hannah just as the girl is trying to leave for work, securing her wrists and ankles with heavy duty zip ties, the kind used by law enforcement. Hannah is indignant and protests her innocence, but Jasmine does not believe a word of it. She decides to humiliate Hannah, in repayment for the way she has humiliated her clients, and she uses a pair of scissors to cut off all of Hannah's clothing, leaving her stark naked. To shut Hannah up, Jasmine stuffs a cloth into her mouth and then gags her with the pair of leggings she has just cut off the girl's legs. Jasmine says she is now going to search the house for the evidence the police need to finally bring her to justice. In her absence, Hannah struggles frantically but there seems to be no way out of those very tight zip ties. Hannah sees no obvious prospect of escape, but in a desperate attempt to free herself, she slides into the kitchen and starts checking drawers. She is unable to reach the cutlery drawer, but perhaps there is something else she can use? She searches and finally discovers a small, multi-purpose knife. With a lot of effort, she is finally able to cut through the zip ties holding her wrists and can then reach the drawer with the scissors to free her legs. She has no sooner liberated herself when she hears the sound of a door creak - Jasmine is returning. Hannah waits in hiding then jump out and karate chops Jasmine, knocking her to the floor. Hannah retrieves some rope from one of the kitchen cupboards and quickly ties up Jasmine. During this process, Jasmine recovers and begins to fight and shout. Hannah gags her with duct tape before going off the get dressed. Jasmine struggles on the floor until Hannah returns, now clothed, and tells Jasmine goodbye - she is off to make good her escape, leaving Jasmine helplessly bound and gagged.

WMV: $10.99


WMV: $13.99

Jasmine (with Amber)

Deception Point
Time: 29 minutes 01 seconds


Amber is a well known and wealthy actress who has one big problem in her life - a twin sister named Pixie who took to a life of crime early on. Pixie has made many demands on Amber over the years until Amber finally refused to bail her out of trouble any more. Pixie decides that she wants a taste of the good life and takes Amber prisoner while she, Pixie, impersonates her sister and sets about transferring money to an off-shore account owned by her accomplice, a Mr. James Jefferson (Pixie's criminal business partner). It seems both girls had the potential to act because Pixie has so far managed to fool everyone, except for a detective (Jasmine) because her department has been notified of suspicious account activity by Amber's bank. When Jasmine interviews who she believes is Amber about the suspicious bank transfers, she gradually realizes she is talking to Pixie instead. She has also discovered, by sneaking a look at Pixie's phone, that Jefferson is planning a visit to the house. Jasmine takes Pixie into one of the bedrooms, handcuffs her, zip ties her ankles and gags her so that she can't raise the alarm when her partner arrives. Jasmine searches the house and finds the real Pixie tied up in the wood shed. She asks the woman to impersonate Pixie now so that they can catch Jefferson unawares when he arrives. This plan goes horribly wrong when Pixie manages to pick the locks on her handcuffs and overpowers Jasmine before she can arrest Jefferson. The detective and the actress are both tied up, and while Pixie leaves to clear out Amber's bank account before they flee the country, Jefferson puts a jug of motor oil in the oven and turns the setting to a high temperature, knowing that the oil will ignite and start a fire when the oven reaches 450F. Before this happens, however, both Amber and Jasmine are rescued by Officer Cadence who was sent to investigate why Jasmine has not reported in.

WMV: $9.99


WMV: $13.99


Jasmine

Jasmine Enjoys Self-Bondage
Time: 12 minutes 27 seconds


Jasmine is supposed to be going out with a friend, but she calls and says she has changed her mind, without being specific about why. The truth is, Jasmine enjoys bondage and sometimes likes to restrain herself as if she is being held captive. She rigs up a pair of handcuffs with a zip tie to secure them to a curtain rail, then she gags herself with duct tape and closes the cuffs around her wrists. She plans to keep herself trapped there for a while before unlocking herself. Then disaster strikes. The key, which she had been so careful to keep in her hand, slips through her fingers and lands on the floor at her feet. Jasmine's eyes widen in alarm, aware that she has put herself in a serious predicament. She first tries to retrieve the key by balancing it on the front of her boot and raising her leg, but the key invariably slips off before she can lift it very far. Next, she uses her foot to knock her cell phone onto the floor where she tries using her heel to switch it on, hoping to get help, but she can't get the phone to activate. Finally, she drags the scissors she used to trim the zip tie from the table and tries balancing these on her boot, even flicking them into the air in the hope of catching them. Alas, nothing works. Jasmine struggles to reach the duct tape covering her mouth and manages at least to peel that off, but now what? She is well and truly stuck. Realizing the hopelessness of her situation, she begins to sob, knowing that no one will drop by and find her today since she told her friend not to check on her.

WMV: $6.99


WMV: $10.99


Jasmine

Fraud
Time: 16 minutes 29 seconds


Jasmine is in debt. Big debt. She has become addicted to gambling and she owes money to some heavy duty lenders. She can see only one way out. She owns a silver and diamond broach which is worth a lot of money, but it is also a family heirloom and she can't bear to part with it. She therefore comes up with an idea which could solve all of her problems. She asks a friend of the family whose past is, she suspects, a little murky to help her stage a robbery. She asks the guy to tie her up and trash the house so that she can claim that the broach was stolen and claim on the insurance. She will have her phone close by, and after he has gone she will call the police and set things in motion. While he is tying Jasmine to a chair, however, the guy asks how big his cut is going to be. Jasmine tells him she will give him $1,000, but he wants more - a lot more. In fact, he wants 50%. Jasmine grows anxious and then angry, demanding that he now untie her because she wants to call the whole thing off. Instead, the guy gags her and says he is taking the jewellery, and Jasmine's cellphone to stop he calling for help. As he leaves, he promises to let her know how much he gets for the broach. Jasmine struggles frantically, but she has been so well tied that she can't reach anything with her hands, and the ropes are tight.

WMV: $7.99


WMV: $11.99

Jasmine

I Don't Know What You Want
Time: 11 minutes 56 seconds


Jasmine is being held prisoner by a woman who insists that she has information the woman wants, but Jasmine claims that she has not idea what she is talking about. Jasmine is kept tied to a chair initially, but when the woman comes to interrogate her and she still insists that she is in the dark, the woman partially unties her and pushes her onto the floor. She now secures Jasmine in a tight hogtie, pulling on the rope connecting the girl's wrists and ankles and partly lifting her, making her moan in discomfort. The woman threatens to keep Jasmine tied up until she talks, no matter how long it takes. Jasmine is almost sobbing because she still claims to not understand what the woman wants from her.

WMV: $6.99


WMV: $10.99


Jasmine

The Archaeologist
Time: 27 minutes 51 seconds


Archaeologist Doctor Jasmine Croft receives a call from a collector of rare Egyptian artifacts who claims he has acquired a papyrus he would like her to translate for him. Jasmine agrees enthusiastically, happy to be getting out of her office for a while. When she sees the parchment, however, it is immediately apparent to her that it has been acquired by illegal means, taken from the very museum where she works. Jasmine attempts to raise the alarm but the collector interrupts her before she can finish the call - he sneaks up behind her and presses a cloth over her nose and mouth until she lies limp in his arms. When she recovers, Jasmine finds herself zip-tied to a chair. She calls for help and demands to be let go, but when she refuses to translate the hieroglyphs on the papyrus, the collector stuffs a cloth into her mouth and gags her with duct tape. Later, he attempts to bribe Jasmine with a piece from his collection, but while she is momentarily tempted, Jasmine redoubles her resolve and shakes her head. She is gagged again, this time with a bandana. Eventually, growing irritated by Jasmine's lack of cooperation, the collector is about to take more drastic action when Jasmine suddenly agrees to translate the document for him. This turns out to be a ruse because as soon as she is free, Jasmine makes a break for it and almost manages to escape from the house before the collector catches her and drags her back. He ties her wrists and ankles with rope and offers her one final chance to cooperate. When she refuses once more, the collector drags Jasmine into the kitchen where he has filled a sink with water. He forces Jasmine's head under the water and holds it there, letting her up for air only to ask her to help him. When she keeps refusing, Jasmine receives repeated immersions. Jasmine finally manages to escape her tormentor by implementing a clever ruse.

WMV: $9.99


WMV: $13.99


Jasmine (with Hannah)

Tie Them Both Up
Time: 31 minutes 03 seconds


Hannah and Jasmine are returning home from the cinema. As they walk into their kitchen, they are confronted by a man who holds them up. The girls raise their hands, looking frightened and trying to reason with the man. Instead of telling them anything, he throws rope to Hannah and orders her to tie up her friend. The girls protest but they have no choice but to do as they are told. Hannah ties Jasmines hands behind her back, then secures her ankles and knees before being made to gag Jasmine with duct tape. Hannah is now compelled to tie her own ankles together, and her knees before she is told to roll over and put her hands behind her back. The man binds her wrists and gags her with tape. Not yet satisfied, he ties Jasmine's elbows together before doing the same to Hannah. Finally, he joins their ankles and arms to stop them moving around. He departs, leaving the girls to struggle to untie each other. (All tying and untying is done on screen. By the way, the title on the movie is Tie Her Up instead of Tie Them Both Up, but we have used the former before and don't want to cause any confusion).

WMV: $9.99


WMV: $13.99

Jasmine (with Hannah)

Avenging Angel - Part 2
Time: 18 minutes 05 seconds


Still zip tied, naked and gagged after some time, and her her shoes taken away, Hannah sees no obvious prospect of escape. In a desperate attempt to free herself, she slides into the kitchen and starts checking drawers. She is unable to reach the cutlery drawer, but perhaps there is something else she can use? She searches and finally discovers a small, multi-purpose knife. With a lot of effort, she is finally able to cut through the zip ties holding her wrists and can then reach the drawer with the scissors to free her legs. She has no sooner liberated herself when she hears the sound of a door creak - Jasmine is returning. Hannah waits in hiding then jump out and karate chops Jasmine, knocking her to the floor. Hannah retrieves some rope from one of the kitchen cupboards and quickly ties up Jasmine. During this process, Jasmine recovers and begins to fight and shout. Hannah gags her with duct tape before going off the get dressed. Jasmine struggles on the floor until Hannah returns, now clothed, and tells Jasmine goodbye - she is off to make good her escape, leaving Jasmine helplessly bound and gagged.

WMV: $8.99


WMV: $12.99


Jasmine (with Hannah)

Avenging Angel - Part 1
Time: 12 minutes 35 seconds


Hannah works for an insurance company and she has been cheating retired people out of a percentage of their pension for some time. Charges have been brought against her by the police but she is very good at covering her tracks and nothing could be proved. When the law fails, it is time for the Avenging Angel (in the angelic form of Jasmine in a catsuit) to step in and right the wrong. She overpowers Hannah just as the girl is trying to leave for work, securing her wrists and ankles with heavy duty zip ties, the kind used by law enforcement. Hannah is indignant and protests her innocence, but Jasmine does not believe a word of it. She decides to humiliate Hannah, in repayment for the way she has humiliated her clients, and she uses a pair of scissors to cut off all of Hannah's clothing, leaving her stark naked. To shut Hannah up, Jasmine stuffs a cloth into her mouth and then gags her with the pair of leggings she has just cut off the girl's legs. Jasmine says she is now going to search the house for the evidence the police need to finally bring her to justice. In her absence, Hannah struggles frantically but there seems to be no way out of those very tight zip ties.

WMV: $7.99


WMV: $10.99


Jasmine (with Anna, Carissa & Autumn)

All in the Game
Time: 31 minutes 38 seconds


Anna in the process of getting ready to go riding with her friend Jasmine Carissa and Autumn come to the door. The visitors force their way into the house, demanding to know about the security arrangements at the stables where Anna rides, convinced that a valuable thoroughbred is hidden there. Anna claims to know nothing about this but the two criminals don't believe her. They tie her up and gag her and say they'll wait for her friend.
A car arrives and Jasmine steps out. She knocks on the door, and Autumn and Carissa answer it, dragging poor Jasmine into the house. Autumn puts Jasmine down and holds her in place while Carissa ties her up. They question Jasmine as she struggles and when she doesn't give up any information either, they gag her too. With the two riders secured, Carissa and Autumn decide to try accessing the stables anyway and leave the two equestriennes bound and gagged, saying they'll be back later. In their absence, Jasmine is able to get free and she releases Anna. The two are about to leave the house and drive away to get the authorities (the criminals have taken their cell phones) when they see Autumn returning. They realize they can't escape and have no choice but to try to overpower her.
As Autumn enters the house, Anna stands in the living room to distract her attention while Jasmine runs up behind her and hits her over the head. The two riders have little experience with tying, but they contrive to bind Autumn effectively. They gag her when she comes to and again think of leaving. Anna then notices that Carissa is coming back too, so the girls repeat their ploy, capturing the second criminal in the same way. When Carissa is firmly bound and gagged, the two girls leave to summon help. Autumn and Carissa struggle in their bonds, trying to free one another, but before they can succeed they hear an approaching siren. A minutes later, police burst into the house. The game is up!

WMV: $14.99


WMV: $18.99

Jasmine (with Anna, Carissa & Autumn)

No Honour Among Thieves
Time: 24 minutes 21 seconds


Carissa and Jasmine are cat burglars who work for crime boss Anna, who, they believe, has been cheating them out of some of their cut from the robberies they perform for her. When the arrive at Anna's house and challenge her, Anna becomes angry with them. Anna pulls a weapon on the two women and says she will no longer be requiring their services. She forces Carissa to secure Jasmine with zip ties (wrists and ankles) before she binds Carissa. Anna gags both women with duct tape then goes to her office to contact another of her employees to come and dispose of the pair of trouble makers. Carissa has a knife stashed in the top of her boot and Jasmine is able to retrieve it. The two release one another and sneak up on Anna, binding her with rope. They demand the be told the combination to the safe but Anna, feeling confident that help will arrive at any moment, refuses to give it to them. The cat burglars decide to remove Anna from the premises and work on breaking her will somewhere else, but as they march her to their vehicle, special forces police woman Autumn is watching them, and she is seriously armed. As they bundle Anna into the back of the Jeep and start tying her ankles, Autumn rushes in and takes the two burglars into custody. Inside the house, Autumn and Anna tie up Carissa and Jasmine before Autumn tells Anna that she wants out, and needs one final payoff. Anna says there is no out of this business, but Autumn points her rifle at Anna and forces her into the office where Anna is made to open the safe. She hands Autumn a wad of cash, asking if this is sufficient. While Autumn is inspecting the cash, Anna grabs a mace from the safe and sprays Autumn in the face. Taking Autumn's fallen weapon, Anna marches her back into the living room where she zip ties and gags the police woman before departing - she doesn't want to be around when her hit man arrives to dispose of them all.

WMV: $14.99


WMV: $18.99


Jasmine

Twins in Trouble
Time: 9 minutes 03 seconds


Jasmine has spent her afternoon at a riding stable and is now walking through the woods to her sister's house. Her sister, Julieta, has been in trouble with the police for burgling houses, and jasmine is afraid she may be up to her old tricks again. She calls Julieta to make sure she is at home rather than out on a job, and tells her she will be at her house in about 20 minutes. Julieta is annoyed that her sister keeps butting into her life. She hangs up the phone, picks up the bag of items she acquired the previous night and goes through to her bedroom to hide them from her sister's prying eyes. What she doesn't expect is a masked man who comes up behind Julieta and presses a cloth over her mouth. It seems she has queered someone's pitch and must now pay the price. When Julieta recovers, she is tied to a chair and gagged. She struggles to free herself without success. Meanwhile, her sister Jasmine is almost at the house. When Jasmine enters and finds her sister tied up, she runs forward to help her and is hit over the head from behind. She comes to and finds herself tied to a chair next to her bound sister. The intruder gags Jasmine and leaves the two girls to struggle side by side.

WMV: $6.99


WMV: $8.99


Compilation

Beauties in Bondage 13
Time: 63 minutes 33 seconds


A collection of excerpts from 13 Beauties in Bondage movies featuring 12 different models. Each sequence runs between 4 and 5 minutes. This collection has been assembled from the following titles:

Hannah: Realtor's Nightmare
Carissa, Autumn & Candle: The Hostage Takers
Anna: The Debt
Dixie: The Cable Guy
Carissa & Shauna: Wrong House to Rob
Jasmine: The Mole
Lily & Amber: Excess of Confidence
Star: Fool Me Twice
Carissa & Hannah: Not So Safe House
Madison: Uncooperative Secretary
Candle & Jasmine: Cost of Indiscretion
Dixie & Shauna: Bitter Taste of Justice
Carissa & Hannah: Stripped of Their Assets

WMV: $18.99


WMV: $24.99

Jasmine

Lost Senorita
Time: 15 minutes 59 seconds


Jasmine plays an Hispanic girl who has lost her way and stops to ask for directions. Unfortunately, she barely understands any English and the man she approaches does not understand Spanish. Jasmine is unaware when the man asks her if she wants to stick around, and also asks if he can tie her up. She says "Si", believing he is going to help her. When he grabs her and secures her wrists with a zip tie, then pushes her to the ground and closes another zip tie around her ankles, Jasmine realizes that she is in big trouble. As she protests in Spanish, the man takes her bandana from her hair and uses it to gag her. He then tells her that he is expecting a delivery, so he picks her up and carries her around the side of the house and out of sight. He leaves Jasmine for a minutes but soon returns carrying a lot of rope. He ties some around Jasmine's waist and arms, then around her thighs. Satisfied that his captive won't be running away in his absence, the man goes off to meet the delivery truck away from the house to make sure his unwilling guest is not discovered.

WMV: $7.99


WMV: $11.99


Jasmine

Bad Cop
Time: 13 minutes 07 seconds


Jasmine has been pulled over for speeding. When she can't produce her driving credentials for the cop, he makes her step out of the car and he places her under arrest, locking her in handcuffs. Jasmine objects that this is hardly a matter than would warrant her arrest, but the cop replies "Today it is." He marches her back to his patrol car and installs her on the back seat, seemingly to take her in to the police station. Instead, he takes her to his house and marches her into the basement where he removes the handcuffs. Realizing something is wrong, Jasmine attempts to make a run for it, but the cop grabs her and forces her down onto a chair where he handcuffs each wrist to an arm rest, then locks Jasmine's ankles in cuffs before adding a chain around her body. When she refuses to be quiet, he gags her with a piece of thick rope, then says he must get back to work, promising to return and attend to her when his shift is over.

WMV: $6.99


WMV: $10.99


Jasmine

The Exterminator
Time: 17 minutes 19 seconds


Jasmine works for a pest control company and she has been dispatched to an address where an ant infestation has been reported. The house owner shows Jasmine to the garage where the problem is worst and leaves her to it. Jasmine has barely started work when her cellphone rings - it is her boyfriend. Their relationship is not going well so Jasmine agrees to text him to try to sort things out. After twenty minutes, the home owner arrives to see how she is getting on, only to find her sitting on the garage phone texting on her phone. Angry, the home owner points out that she is paying for Jasmine's time. When Jasmine starts to argue with her she snatches the cell phone away. A fight ensues which ends in jasmine falling and hitting her head on the floor. The house owner drags her through the garage and into her living room where she proceeds to take off Jasmine's overalls and boots and tie her up. Jasmine wakes half way through this process and starts to scream and struggle, but the home owner has her in a hogtie and she is not going anywhere. When Jasmine continues raising objections, the home owner pushes a cloth into her mouth and duct tapes it in place. She says she might as well make Jasmine useful for something and positions her so she can serve as a footrest where the home owner can rest her feet as she sits and deals with matters on her iPad.

WMV: $7.99


WMV: $12.99

Jasmine

The Virus
Time: 23 minutes 30 seconds


Agent Jasmine St James has been charged with a mission - to break into the home of a known hacker and quietly neutralize a virus he is about to launch on a network of government servers without tipping him off, something a full scale raid might do. Once the threat has been neutralized, agents will move in en mass to effect an arrest. Jasmine succeeds in gaining entry and inserts her own CD with software which will attack and block the virus for long enough to keep everything safe until the entire hacker group is incarcerated. Jasmine is in the middle of her task when she hears a sound behind her. The hacker has discovered her presence. She jumps up to confront him but he is too strong for her and drags her to the floor. Jasmine recovers to find herself being tied to a chair. She fights frantically but she is already too well bound to put stand a chance. The hacker wants to know what she has been trying to install on his computer. When she won't tell him, he gags her and goes away to warn his colleagues of the danger. In his absence, Jasmine works hard on her bonds and after a long battle she manages to free one hand. She unties herself, reinserts her CD and finishes the job before running from the house, calling her boss as she heads for her car to tell him that she has accomplished her mission.

WMV: $8.99


WMV: $12.99


Jasmine (with Candle)

Cost of Indiscretion
Time: 28 minutes 16 seconds


Candle has been extorting money from her work colleague Jasmine for month to keep quiet about an indiscretion on Jasmine's part. Unwilling to take it any more, Jasmine arrives at Candle's home to inform her that she will not be paying her any more money and that she can go to hell. As Jasmine turns to leave, Candle hits her over the head, and when she recovers Jasmine finds herself attached to a chair with zip ties and duct tape. Candle explains that if Jasmine won't give her any more money then she will have to get it by other means. Candle gags Jasmine and goes to call someone whom she believes will pay her well for the girl. Later, Candle returns and partially frees Jasmine in order to march her outside where they will soon meet a buyer who has plans for Jasmine. In desperation, Jasmine rams into Candle and knocks her over. While Candle lies dazed Jasmine has just a few seconds to cut through the zip tie holding her wrists then hit Candle over the head> She succeeds, and when Candle recovers she finds herself naked and attached to a pole by a collar around her neck. Zip ties bind her wrists and ankles, preventing her from undoing the collar. Jasmine now relishes wrapping duct tape around Candle's naked body, pinning her to the pole from head to foot. Finally, she gags Candle with duct tape, explain that when the buyer arrives, she will tell him that her name is Candle and take the money he pays for the girl he will believe is called Jasmine.

WMV: $9.99


WMV: $13.99


Jasmine (with Candle)

Looks Can Be Deceptive
Time: 23 minutes 29 seconds


Jasmine, who believed she was attending a glamour shoot, finds herself tied and gagged by the woman who hired her. The scene opens with Jasmine being marched down the basement stairs where her legs are bound with rope. Jasmine, already cleave gagged and with a zip tie binding her wrists, squirms in fear and frustration. As luck would have it, the woman has place a knot just below Jasmine's knees and, with an effort, she can just reach it. She frees her legs and leaves the house via the basement door, running into the woods, looking for a road where she can summon help. She hears a car and runs up a bank onto the road to intercept the driver. He appears to help her and lets her into his car where she asks him to take her to the nearest police station, But looks can be deceptive and the man is not at all what he seems. Jasmine panics when he takes her back to the house from which she just escaped and the woman appears to collect her. When Jasmine resists, she is carried indoors where her ankles are secured with a zip tie and her cleave gag is replaced with duct tape. All this is no sooner accomplished before another girl (Candle) shows up outside. She comes to the door asking after Jasmine who gave this address for her modelling job, and didn't meet up with her as arranged. When she hears mmmphing sounds coming from inside the house, Candle forces her way in, only to be grabbed and tied up alongside her friend.

WMV: $9.99


WMV: $13.99

Jasmine

She Shouldn't Have Talked
Time: 11 minutes 23 seconds


Jasmine is a secretary who has ratted out her boss to the authorities. In revenge, the boss has hired a man to take Jasmine out of circulation and keep her prisoner in his garage. We see him march Jasmine from his vehicle to the garage, carrying her when she struggles too much. We see him tie her to a chair and leave her to sit and struggle. Jasmine struggles so hard that she eventually tips the chair over and then has to lay on the floor, still tied to it and unable to get up. (You do not actually see Jasmine topple over because she is on a concrete floor and we certainly would not want her to get hurt in any way).

WMV: $6.99


WMV: $9.99


Jasmine

Vanished on Vacation
Time: 16 minutes 21 seconds


Jasmine is on vacation and traveling to a resort, or trying to; she gets lost, and just when she thinks things can't get any worse her car breaks down. She tries to call for help but the area is so remote she is not getting a cellphone signal. She gets out and opens the hood of her car to see if there is anything obvious that she can fix, like a loose terminal. As she is standing there, a vehicle pulls up behind hers. A good samaritan gets out and comes to ask if she is having a problem. He pretends to look at the engine while Jasmine turns away, trying to get a signal on her cellphone. Suddenly, the man grabs her and drags her backwards towards his vehicle, his hand clamped over her mouth. He manages to wrestle her into the back of his vehicle then punches her to keep her quiet. The not-so-good samaritan drives Jasmine to his house and, leaving her in the back of his Jeep, zip ties her wrists and ankles, applying duct tape to gag her mouth. When Jasmine comes to, she panics and struggles to get free. Unable to release herself, she hops out of the Jeep and tries to get away. The man quickly catches her and carries her into his basement. Here, he sits her on a chair and ties rope around her waist, securing her to a chimney stack to make sure she doesn't try to hop away again. Jasmine wonders what her friends will think when she doesn't show up, and she wonders if she will eventually come to be known as the girl who vanished on vacation.

WMV: $7.99


WMV: $11.99


Jasmine

White Collar Crime
Time: 17 minutes 58 seconds


Detective Jasmine St James has come to interview a bank's financial officer about white collar crime she believes he has orchestrated, transferring funds illegally from bank accounts to an off-shore haven. The man is very friendly and offers her a coffee (he himself is already drinking one). She accepts and begins drinking the coffee but after a minute begins to feel drowsy. Too late, she realizes what has happened. Jasmine recovers in the man's home office, handcuffs on her wrists and a rope that secures her to an overhead beam via the handcuffs chain. He pulls on the rope, making Jasmine stand until her arms are extended above her head and she is poised on her toes. He ties rope around her ankles and then gags her as he explains that he has an important engagement at work but he will be back to deal with her later when he'll take her on a little journey in the trunk of his car.

WMV: $8.99


WMV: $12.99

Jasmine

Break In Gone Bad
Time: 17 minutes 58 seconds


Jasmine has been casing a house and has decided now is the time to break in and see what she can steal. She sneaks close to the property through the trees and goes around to the back, trying the door there. Finding it locked, she continues to circle the building until she finds the garage door open. As she steps inside, however, a woman appears behind her and she is both angry and armed. She demands to know what Jasmine is doing on her property. Jasmine tries to lie her way out of trouble but the woman is not having any of that. She marches Jasmine into the house, and after an argument during which Jasmine attempts to leave, the woman ties the girl up and gags her while she calls the police. (The video concludes with 90 seconds of outtakes).

WMV: $8.99


WMV: $12.99


Jasmine

The Mole
Time: 20 minutes 08 seconds


Jasmine has long suspected a presence of a mole in the agency, and recently she believes she knows who it is. Not sure who to trust, Jasmine finally decides to tell her partner. Her partner is skeptical and tries to deflect Jasmine, but she says she will get to the bottom of the situation. When Jasmine gets up to leave, her partner coshes her. When she recovers, Jasmine discovers that her wrists and ankles have been secured with zip ties. She realizes her partner is the mole, but the realization has come too late. The partner gags her by pushing a pair of Jasmine's own panties into her mouth and applying duct tape. She goes away to think how to handle the situation, leaving Jasmine to struggle. Jasmine works her way to the kitchen and tries to get to a pair of scissors on the counter to cut herself free, but her partner discovers her before she can find a way to reach them. Her partner frees Jasmine's ankles and marches her to the garage where she ties Jasmine to a chair, wraps duct tape around her head to keep her quiet, then pours gasoline over the floor. A timer has been plugged into a power supply, and when it reaches zero a spark will ignite the gasoline. The partner closes the garage and leaves Jasmine to her fate, not realizing the girl has a small knife in her boot. Jasmine manages to free one leg and reach the knife. She cuts herself free and runs from the garage just as the room explodes, throwing her forward onto the ground but otherwise safe and unharmed.

WMV: $8.99


WMV: $12.99


Jasmine

Lesson To Be Learned
Time: 18 minutes 49 seconds


WARNING: THIS MOVIE HAS NO SOUNDTRACK
Jasmine arrives home and is grabbed by a female assailant who clamps a gloved hand over the girl's mouth and orders her to be quiet. Jasmine is marched outside and around the side of the house. She doesn't stop asking questions so her assailant forces her to kneel while she applies a zip tie to Jasmine's wrists. Jasmine is then forced to stand again and walk on. When she insists on trying to reason with her captor, Jasmine is once more pushed to the ground and this time she is gagged - cloth stuffed into mouth and sealed there with several strips of very sticky duct tape. Jasmine is forced to march on until she arrives at a garage where she is seated on a chair and her ankles are also secured with a zip tie. Left alone for a minute, Jasmine immediately kicks off her shoes and starts to hop away, but her assailant quickly catches her. She is pushed to the ground and a third zip tie is applied to put Jasmine in a tight hogtie. The girl is left like this for a few minutes before having her legs freed and being marched back to the chair. This time her assailant makes her sit on it backwards, forcing her legs apart. Jasmine's ankles are then zipped to the chair legs, ensuring that she can't get up and hop away again. Her assailant feeds her a little water and repositions Jasmine's hands, but when the girl uses the opportunity to remove her gag, her wrists are zipped together behind her back again and a cleave gag is applied to keep her quiet. Now Jasmine is really stuck and going nowhere.

WMV: $4.99


WMV: $12.99

Jasmine

Enforcer Becomes the Captive
Time: 10 minutes 01 seconds


Officer Jasmine St. John has gone to arrest a man suspected of treason. She confronts him at his front door, handcuffs him and loads him into her car. However, she does not realize that he is highly adept at escaping from handcuffs, and she has no sooner started the engine when her prisoner reaches round her seat and grabs her, taking her weapon from its holster. He forces her to get out of the car and place her hands on the roof, then he handcuffs her and marches her indoors. Here, she is forced onto the floor, has her ankles tied together with rope and her mouth gagged with duct tape. The man then decides to put her back in her car and her away, but not before standing her up and frisking her. When he has finished having fun, he lifts her over his shoulder and carries her out to her car, depositing her on the back seat while he goes in search of her car keys. Jasmine struggles but she doesn't even have a spare key to let herself out of her own handcuffs. She is in such big trouble.

WMV: $5.99


WMV: $8.99


Jasmine

I Need to Be Tied Up
Time: 19 minutes 32 seconds


Jasmine leads such a busy life that she is constantly on her iPhone, answering calls from work, responding to text messages from friends and family, planning her social calendar, and so on. She never gets a minute to rest, to just relax and do nothing. Responding to an advertisement on-line, Jasmine hires a rigger whose business is to de-stress the stressed out by tying them up and making them do nothing for several hours at a time. His fees are high but Jasmine feels the cost will be worth it just to help her chill. The rigger ties her up on screen, and while he is doing so Jasmine's phone keeps ringing, alarms keep going off the remind her to do things, and all the time she is longing to answer it. The rigger silences every call and carries on tying her up. Even when her wrists and ankles are secured and rope has been coiled around her body, Jasmine still makes a desperate attempt to answer a call from her boss at work. The rigger sees nothing else for it; he places Jasmine on the floor and secures her in a tight hogtie. Now she is frustrated at how effective this treatment is, and suffering anxiety at being kept apart from her phone she starts to complain and tries to call the session off. The rigger is having none of it: He gags Jasmine to reduce the noise she is making, then tries to distract her from her concerns by tickling her exposed feet, just briefly. When Jasmine remains as tense as ever, the rigger decides to leave her alone while he goes off to have lunch. In his absence, Jasmine again struggles to get to her ringing phone but now that she is so tightly bound there is simply no way she can reach it.

WMV: $8.99


WMV: $12.99


Jasmine

Troublesome Neighbour
Time: 16 minutes 43 seconds


Jasmine has turned up at her neighbour's house to complain about where he parks his car, saying it's too close to her driveway and blocks her vehicle. She says that next time he parks in her way she'll have his car towed away. The neighbour invites her in hoping to reason with her but Jasmine just keeps ranting. When he walks out of the room, Jasmine shouts after him: "Don't you walk away from me when I'm talking to you." When he doesn't answer, she pulls out her phone. "Okay, if that's how you want to play it." Jasmine walks to the window and calls a tow truck company, unaware that he neighbour is sneaking up behind her. He presses a cloth over her nose and mouth and she sinks to the floor. When she recovers, Jasmine finds her wrists and ankles bound (tying was done on screen). She starts to rant again and immediately begins looking for her phone. She locates it and tries to reach it, determined to get the police, but her neighbour returns before she succeeds. He drags her to a chair and ties her to it (tying sequence included). Jasmine tries to keep up her bravado but now she is starting to look worried for the first time. Her voice shakes as she tries to reason with her neighbour, but all he does is stuff a cloth into her mouth and wrap duct tape around her head to keep her quiet. With Jasmine totally secured and barely able to movie, he tells her he is going out to move her car from "his" driveway, permanently.

WMV: $7.99


WMV: $12.99

Jasmine

Caught Again
Time: 10 minutes 21 seconds


Jasmine Bond returns to the scene of her last defeat and is moving around the house looking for a way in. The masked wrestler is waiting for her once more and drags her to the ground. She throws poor little Jasmine around until she is senseless, then drags her inert for through the grass. We next find Jasmine trussed up in the back of a Jeep, wrists, biceps, knees and ankles, and naturally she has been gagged. The masked wrestler leaves her to struggle inside the vehicle. Unable to free herself from the ropes, Jasmine searches for something she can use to cut them off her hand, but there is nothing useful to be found. In a last, desperate bid to escape her fate, Jasmine opens the door and clambers out, hopping away through the woods still bound and gagged.

WMV: $5.99


WMV: $9.99


Jasmine

Jasmine Bond
Time: 13 minutes 34 seconds
Play Outtakes (WMV)


Jasmine Bond is on the trail of an insane scientist known as Doctor Zeno. She arrives at the place where intelligence tells her he might be hiding. Instead, Jasmine encounters his bodyguard Odd Bod who attacks her like a sumo-wrestler. The two struggle extensively with Jasmine making several attempts to retrieve her fallen pistol but Odd Bod is too strong for her. Jasmine's wrists and ankles are forced into zip ties, and with nothing else available to gag the girl, Odd Bod uses a zip tie for that too. Jasmine is left struggling for a while before Odd Bod takes her inside the house and ties her to a chair. When Odd Bod offers Jasmine water, she spits it in the bodyguard's face, earning her a cold shower with the remaining contents of the bottle. Jasmine is again left alone and soaking wet to await Odd Bod's next act of torture.

WMV: $6.99


WMV: $10.99


Jasmine

Caught By Her Professor
Time: 23 minutes 05 seconds


Jasmine is a lazy student who has decided to only way to pass her exams is to cheat. She uses lock picks which she keeps in the top of her stocking to break into her English professor's house after he leaves for work, searches for and finds a copy of an upcoming examination paper. She also finds a pair of handcuffs in his underwear drawer and pulls a disgusted face, referring to him as an old pervert. Taking her cellphone from the top of her other stocking, she uses it to photograph the pages of the exam paper. She does not hear the professor return unexpectedly (he has forgotten his briefcase) and he catches her in the act! Jasmine attempts to bluster her way out of the situation, but the professor says she will be expelled for her conduct, unless� she is prepared to put on the handcuffs and accompany him to his basement where he will tie her up and keep her there while he considers how to handle the situation. Jasmine refuses and says she would rather be expelled, but when the professor calls her bluff she panics and reluctantly agrees. With Jasmine firmly tied to a stool, the professor retrieves his briefcase and tells her he must now go to work, with Jasmine saying indignantly through her gag that he can't leave her tied up all day. After he departs, Jasmine struggles to get free but the handcuffs are a major obstacle. Then she remembers her lock picks. If she can only reach them. She manages to pull one from its case lodged in her stocking top and starts work on one of the handcuff locks. She gasps in despair when she drops the pick on the floor. She reaches for the second pick, knowing that if she drops this one too then she is well and truly stuck. She works on the lock and after a minute she has one hand free. As she releases herself from captivity she mutters to herself about how she is going to report the professor to the college authorities, showing them the marks on her wrists. Maybe, she reasons, he will be the one to get expelled instead of her.

WMV: $9.99


WMV: $13.99

Jasmine

Deadly Date
Time: 22 minutes 53 seconds


Jasmine is meeting her new boyfriend Tim and she is dressed for the party they're going to. Tim's father greets Jasmine at the door and explains that Tim is out but will be back soon. In the meantime, he offers Jasmine a coffee. As Jasmine drinks and chats, she starts to feel woozy. She tries to get up to go to the bathroom but she can hardly stand. Realizing something is wrong, she crawls towards the front door but doesn't make it. Next thing she knows Tim's dad is tying her up and gagging her. Frightened, she asks what is going on, but he merely gags her, saying that he doesn't want his son associating with a girl like her. Realizing that his son will be home soon, the father loads Jasmine into his vehicle and drives her to a remote stop, now bound and gagged with duct tape. He carries the girl into a clearing in the woods where leaves her to the mercy of the bears and coyotes.

WMV: $9.99


WMV: $13.99


Compilation

Beauties in Bondage: Compilation 12
Time: 42 minutes

This style of this compilation differs from earlier versions insofar as most of the movies featured are edited-down versions of the original (that is, a mini-story) rather than merely an excerpt. Each sequence runs for approximately 6 minutes.

Kaitlin & Scarlett: The Best Laid Plans
Amber: Once a Hacker
Hannah: Hannah Has Been Snatched
Mai Ly & Jasmine: Assassin
Candle & Jasmine: Ransom or Slavery
Carissa: Completely Helpless
Madison: No More Riding Today

WMV: $14.99


WMV: $19.99


Jasmine

I'm Not For Sale
Time: 17 minutes 40 seconds


Jasmine has answered an advertisement for a Jeep, but upon seeing it she thinks it is just a piece of junk. She picks fault with it, and when the owner asks her if she is wasting his time, she retorts that he has wasted her time. He tells her to wait a minute while he goes into his garage. When he returns he is carrying a cloth which he presses over Jasmine's nose and mouth, lowering her inert form to the ground. When she wakes, Jasmine finds herself tied up inside the Jeep, her legs spread apart and her wrists secured together behind her back. The man gags her with duct tape. He leaves for a while but when he returns, he says he has had an idea; instead of selling his Jeep he will sell her instead. Later, Jasmine is seen stripped down to her bra and panties and secured to a pole with handcuffs and a collar buckled around her neck. The man has found her some heels to make her look even more sexy for the bidders viewing her on line and making their offers. When the bidding reached a quarter of a million, the man shakes the contents from a bottle onto another cloth and presses it against Jasmine's face to subdue her ready for packing in a crate and shipping to foreign climes.

WMV: $8.99


WMV: $12.99

Jasmine


GIRL IN LEATHER IN TROUBLE
Jasmine arrives home on a cold afternoon and goes to the fridge looking for a snack. As she is peering inside, a masked man grabs her from behind, pressing a cloth over her mouth and suppressing her struggles. Jasmine slides to the floor where the intruder uses a cable tie to secure her wrists together behind her back. Jasmine soon wakes and struggles, but she can do little when her ankles are zipped in a cable tie and duct tape is stuck over her mouth to keep her quiet. Jasmine tries to reach the phone to call for help but it's almost impossible to stand in her high heels. She is still trying to stand when the intruder returns and cuts the cable tie around her ankles. He attaches a rope around Jasmine's neck and uses it as a leash to drag her outside where he attached the rope to a tree, leaving Jasmine standing there in the freezing cold, bound and gagged. Later, he marches jasmine back into her house and starts tying her to a chair. When Jasmine breaks the chair and lands on the floor, he is forces to cut away the cable ties and place her on a second chair. With ankles zipped to the chair legs, rope above and below her breasts anchoring her to the chair, and a cleave gag in her mouth, Jasmine looks tired and frightened, no doubt wondering when her nightmare will end.

SOMEONE IS FOLLOWING ME
Jasmine is running through the winter woods, convinced that someone is following her, stalking her amongst the trees. She pauses to catch her breath, looking around to see if anyone is behind her. A man jumps out from behind a tree and grabs her, wrestling her into submission. He quickly binds her wrists together behind her back then lifts her over his shoulder. He carries her on through the woods to his house with Jasmine begging to be released. Once inside, he binds her boot-clad legs together then drags her across the living room to the kitchen. There, he gags her with duct tape and forces her into a hogtie using a cable tie to connect the ropes around her wrists and ankles. Jasmine struggles helplessly but there is no escape.

WMV: $16.99


Jasmine

Girl in Leather in Trouble
Time: 16 minutes 15 seconds


Jasmine arrives home on a cold afternoon and goes to the fridge looking for a snack. As she is peering inside, a masked man grabs her from behind, pressing a cloth over her mouth and suppressing her struggles. Jasmine slides to the floor where the intruder uses a cable tie to secure her wrists together behind her back. Jasmine soon wakes and struggles, but she can do little when her ankles are zipped in a cable tie and duct tape is stuck over her mouth to keep her quiet. Jasmine tries to reach the phone to call for help but it's almost impossible to stand in her high heels. She is still trying to stand when the intruder returns and cuts the cable tie around her ankles. He attaches a rope around Jasmine's neck and uses it as a leash to drag her outside where he attached the rope to a tree, leaving Jasmine standing there in the freezing cold, bound and gagged. Later, he marches jasmine back into her house and starts tying her to a chair. When Jasmine breaks the chair and lands on the floor, he is forces to cut away the cable ties and place her on a second chair. With ankles zipped to the chair legs, rope above and below her breasts anchoring her to the chair, and a cleave gag in her mouth, Jasmine looks tired and frightened, no doubt wondering when her nightmare will end.

WMV: $7.99


WMV: $11.99


Jasmine

Someone is Following Me
Time: 10 minutes 34 seconds


Jasmine is running through the winter woods, convinced that someone is following her, stalking her amongst the trees. She pauses to catch her breath, looking around to see if anyone is behind her. A man jumps out from behind a tree and grabs her, wrestling her into submission. He quickly binds her wrists together behind her back then lifts her over his shoulder. He carries her on through the woods to his house with Jasmine begging to be released. Once inside, Jasmine tries to make a run for it with her hands bound, but she is stopped before she can get the front door open. Her captor binds her boot-clad legs together then drags her across the living room to the kitchen. There, he gags her with duct tape and forces her into a hogtie using a cable tie to connect the ropes around her wrists and ankles. Jasmine struggles helplessly but there is no escape.

WMV: $5.99


WMV: $9.99

Jasmine

Jasmine Bound in White
Time: 19 minutes 49 seconds


In this clip, Jasmine submits to being tied to a chair. The setting is very informal and showcases Jasmine's playful nature, and why she is such fun to work with. The teaser clip for this one is longer than usual so that you really get to experience the atmosphere of a bondage shoot with BiB. I spend about 15 minutes tying Jasmine up until she can barely move. She finds it impossible to even start getting free since she just can't reach any knot or even shift her body. She is gagged with a pair of pantyhose which she wore earlier in the day, and this makes her drool a little. By the end of the clip, one can clearly see the defeat on her face. Did we let her go? Well, yes, eventually...

WMV: $8.99


WMV: $12.99


Jasmine (with Mai Ly)

Zipped & Taped Together
Time: 21 minutes 05 seconds


Mai Ly and Jasmine return home from a party to encounter an armed intruder. They raise their hands, looking frightened as they wonder what is going to happen to them. The intruder forces Jasmine to attach double-loop zip ties to Mai Ly's wrists and ankles, then wrap duct tape around her friend's head to gag her. The intruder then forces Jasmine to zip tie her own ankles and lay face down on the floor so that he can finish the job zipping her wrists together. He gags Jasmine with the duct tape, and then for good measure tapes the two girls together back to back before he leaves. The girls are determined not to be defeated by their seemingly inescapable bonds. Jasmine manages to wriggle out of the duct tape and ungag Mai Ly who immediately returns the favour. The girls then locate a pair of scissors, and with considerable effort they cut one another free of the heavy duty zip ties binding them. They run out to their car and climb in, making their escape in case the intruder returns.

WMV: $9.99


WMV: $13.99


Jasmine

Electrical Fault
Time: 16 minutes 04 seconds


Student Jasmine is working from home today, studying for an important exam. A knock comes on the door and she opens it to a man claiming to be from the electricity board. He says they have received reports of some unusual electrical surges in the area and he wants to enter the house to inspect the wiring. Jasmine admits him and tells him that he needs to look in the basement. She returns to her studies and is so engrossed in her work that she does not hear the electrician creeping up behind her. He presses a cloth over her nose and mouth and poor Jasmine sinks to the floor insensible. When she comes to she finds the man in the process of tying her up. She starts to protest so he stuffs a cloth into her mouth and then ties an over-the-mouth gag around her head. He leaves a ransom note for Jasmine's wealthy parents and carries the girl outside to his car. Later, we join the situation in the electrician's basement where he is busy tying Jasmine to a chair. He goes upstairs to fetch a bottle of water, then removes her gag to let her drink. When she has finished, he applies a cleave gag to his victim and goes back upstairs, leaving her to struggle and to hope that her parents will pay up to save her.

WMV: $7.99


WMV: $11.99

Jasmine (with Mai Ly)

Two For Dubai
Time: 23 minutes 50 seconds


Vietnamese girl Mai Ly is just starting the engine of her car to go out when a man appears behind her seat and presses presses a chloroform-soaked cloth over her mouth and nose. Once Mai Ly is insensible, the man lifts her out of her vehicle and carries her back to the house where he ties her up with rope, securing her in a hogtie to stop her moving around. Mai Ly comes to just before the tying is finished and starts to struggle and shout, but the man can't understand a word she is saying - she knows no English and speaks only Vietnamese. This is not a problem, he decides; in fact, it might even get him a higher price for her. To stop her making so much noise, her abductor stuffs a cloth into Mai Ly's mouth and wraps duct tape around her head, preventing her from spitting it out. He has no sooner finished securing his prisoner when his step daughter Jasmine pays him an unexpected visit. She is horrified at the site of a girl bound and gagged on the floor and her step father looming over her. She pushes her step father off his feet and tries to help the Vietnamese girl, but now she has gone too far. Her step father is no longer prepared to put up with this troublesome girl and grabs the cloth he used to subdue Mai Ly. It still has enough chemical on it to render Jasmine unconscious for a few minutes, long enough for her step father to put her in a hogtie too. When Jasmine recovers, she tries to help Mai Ly by undoing the girl's gag, but then discovers that they can't communicate. When her step father returns he gags them both and ties their knees together to stop them freeing one another. He then makes a call to his partner saying they now have two girls for the price of one, and asks for the truck with the container to be sent to Mai Ly's house to ship the girls off to the underground market in Dubai.

WMV: $8.99


WMV: $13.99


Jasmine (with Mai Ly)

Assassin
Time: 19 minutes 58 seconds


A judge is presiding over a case where the district attorney is prosecuting the head of a dangerous criminal gang. Rumour has it that the magistrate is leaning in favour of a conviction and is expected to lead the jury in that direction during his summing up. The only way to stop this happening is for the magistrate to just "disappear". The gang leader sends assassin Mai Ly to the judge's house where she lies in wait for his return, ready to carry out her assignment. When the judge's daughter Jasmine arrives home unexpectedly, Mai Ly has to improvise to deal with the situation. She overpowers the surprised Jasmine and ties her up to keep her out of the way. Jasmine is able to escape from her bonds and attacks Mai Ly with a broom handle. After a brief but intense fight, Jasmine lands a lucky blow and Mai Ly is rendered senseless. She wakes to find Jasmine tying her to a chair. That's when the judge walks in and all hope is lost for the assassin.

WMV: $8.99


WMV: $13.99


Jasmine

Watch Jasmine Being Tied Up
Time: 22 minutes 24 seconds


Jasmine submits to being tied to a chair while wearing leather boots, latex pants and a leather corset. The tying sequence lasts for 14 minutes. After Jasmine is gagged at around minute 15, there is no more interaction with the rigger. The remaining 7 minutes shows Jasmine struggling and trying to get free of the ropes holding her. She makes no progress whatsoever, so secure are the ties.

WMV: $8.99


WMV: $12.99

Jasmine (with Candle)

Ransom or Slavery
Time: 24 minutes 11 seconds


Jasmine has been taken on her way home from work and is being held in a basement, her wrists handcuffed behind a pole, a collar around her neck and a cable tie securing her ankles. Duct tape covers her mouth to keep her quiet. Even though escape is impossible, Jasmine cannot help but struggle, hoping against hope that there is a way out of this situation. She doesn't know yet why she has been snatched and held captive, and she is not sure that she wants to find out. Some hours later, she learns from the woman who grabbed her (Candle) that she is being held for ransom, and that her husband has been asked to give a million dollars in exchange for her life. Despite Jasmine being forced to talk to him on the phone, her husband refuses to cooperate. Her captor informs the girl that she will be sold to a slave trader instead, a perfectly lucrative alternative. The woman leaves the room, leaving poor Jasmine in a tight hogtie, a cleave gag between her teeth, and no hope of escape.

WMV: $8.99


WMV: $13.99


Compilation

Beauties in Bondage Collection 11
Time: 70 minutes 59 seconds


A collection of clips from 16 Beauties in Bondage movies featuring 20 different models. Each sequence is approximately 4 minutes in length. The excerpts in this collection derive from the following movies:

Taylor - Struggling to Call For Help
Sativa - Error of Judgment
Tia & Kelli - The Smuggling Stewardess
Jasmine, Paige, Becky, Constance, Scarlett, Candle, Dixie, Shauna & Kylee - Hijacked
Mai Ly & Kelli - Mai Ly's Missed Call
Anna - Little Girl Lost
Carissa - Last Resort (Part 2)
Madison - Prisoner in Leather
Autumn - From Burglary to Bondage
Candle & Shauna - Seriously Zipped, Mouth Stuffed & Tape Gagged
Star - She Lost His Money
Lily - Kept Away From Work
Tia & Chen - Betrayal
Jasmine - Criminal Intent
Anna - Anna's Ordeal
Beverly & Jasmine - Just Doing Her Job

WMV: $18.99


WMV: $24.99


Jasmine

So Many Cable Ties
Time: 20 minutes 51 seconds


Jasmine arrives home to find the front door unlocked. She enters the house cautiously, calling out to see if anyone is there. No one answers. She looks around and finds nothing wrong, but decides to call a friend anyway. While she is keying in the phone number, however, a man sneaks up behind her and grabs her, clamping a gloved hand over her mouth the keep her quiet. Intimidated, Jasmine is led to a chair and forced to sit. Her wrists are then zipped together behind her back with a cable tie, then her arms are similarly secured, and booted ankles are secured to the chair legs. Jasmine has a cloth stuffed into her mouth and a gag is secured over her mouth. The intruder adds a cable tie around Jasmine's waist, pinning her to the chair. As he adds rope to her legs just below her knees, Jasmine manages to push the gag off her mouth and spit out the cloth. The intruder replaces this gag with duct tape, silencing Jasmine for a second time. He finishes tying her up and then leaves her to struggle helplessly. He has left Jasmine's cell phone where she might be able to reach it, but first she must inch the chair across the floor, pulling against the tight cable ties every time she moves.

WMV: $8.99


WMV: $12.99

Jasmine (with Candle)

Getting the Upper Hand
Time: 23 minutes 36 seconds


As Jasmine arrives home from work, a car pulls up behind hers and a woman with a detective's badge (Candle) steps out. She says she just wants to have a word with Jasmine, but once she is inside the house, she places Jasmine in handcuffs, telling her she is under arrest. Jasmine is dumbfounded, having no idea what she has done wrong. Her shock turns to indignation when the detective begins frisking her in a highly personal way, groping her breasts and pulling up her skirt. After some minutes of being touched in this way, Jasmine demands to be taken down to the precinct to be interrogated by another policewoman. Before they leave, Jasmine tells the detective that she needs to pee, but when the handcuffs are removed, Jasmine elbows the woman in the head, knocking her to the floor, She grabs the handcuffs and locks the detectives in them, then returns the favour by frisking the detective, unbuttoning her blouse and taking off her pants. When she has had enough, Jasmine ties the detectives ankles together and links the rope around the handcuffs, placing the cop in a painful hogtie. When the detective continues to object, Jasmine stuffs a cloth in her mouth and secures it in place with an over-the-mouth gag. Having got this crazy detective under control, Jasmine goes to call the local police to find out what is going on, and to report the humiliating search to which she as subjected.

WMV: $8.99


WMV: $13.99


Jasmine

Black & White
Time: 13 minutes 24 seconds


Jasmine has been left tied up and gagged in the back of a Jeep. She struggles to get free but she just can't reach any of the knots binding her. She maneuvres around to look over onto the front seat, hoping for something - anything - which she might use to free herself. She can't see anything useful, but before she has a chance to explore further the man who took her comes out of his house, opens the door and pulls her out. He throws her over his shoulder and carries her indoors, laying her on the floor. Alone again, Jasmine begins to explore, ending up in the kitchen in search of something sharp, but she can't reach the upper drawers and the cupboards at her level offer nothing promising. She enters the living room and sees a small pair of scissors on the coffee table. They're not much to work with, but at least there is a chance... or there was, before the man entered through the back door and came to check on her, discovering the scissors she is trying to conceal in her bound hands.

WMV: $6.99


WMV: $10.99


Jasmine (with Candle)

House Arrest
Time: 20 minutes 57 seconds


A criminal is under house arrest because he is too sick to travel, so FBI Agent Jasmine St James has the job of guarding him. When a prison nurse (Candle) arrives to give the criminal a check up, Jasmine searches her bag and frisks her for weapons. She leads the nurse to the room where the criminal lies ill in bed, sets down her medical bag and seems about to administer to him when, quite suddenly, she turns on the FBI Agent and disarms her. The criminal climbs out of bed, no where near as sick as believed. The nurse handcuffs Jasmine with her own cuffs and marches her through the house to the living room where she sets about tying the hapless agent to a chair. Helped by her cohort, Candle says she feels she has earned a bigger cut of the money, the hiding place of which is known only to the man she is liberating. He doesn't like the sound of that, and when Candle's attention is focused on the FBI Agent, he creeps up behind her and presses a cloth over her mouth. When Nurse Candle wakes, she finds herself in the process of being bound! It seems the old man has only used her to from escape house arrest, and he now plans to leave her here with the FBI Agent while he gets clean away with the money.

WMV: $8.99


WMV: $13.99

Jasmine

Criminal Intent
Time: 25 minutes 20 seconds


Jasmine has set up a meeting with a man via an Internet dating service, a man who has a lucrative profession, her next mark. Jasmine and her colleague are scam artists. Jasmine moves in on the mark first to assess the value of his possessions, then later her partner will commit a robbery. While Jasmine's "date" is getting her a glass of wine, she calls her partner to explain that the guy is just some sad lonely man who will be a complete pushover. She does not realize that he overhears her call. He also sees that she has produced a weapon from her purse and has it ready in the table, waiting for his return. He creeps up behind her chair and makes a grab for her. At the same time, Jasmine makes a grab for the weapon, but sends it flying across the room instead. She scrabbles to get to it, but her date grabs her ankles just before she can get to it, pulling her away and then tying his wrists and ankles with cable ties. He duct tapes Jasmine's mouth after forcing her to tell her accomplice via her phone that she is fine but will be delayed. The delay turns out to be a long one. Jasmine is left secured by cable ties in the basement, her arms around a pole. Her date has placed her phone on the floor in front of her feet as a torment, and Jasmine does everything she can to try using it to call for help. She does not succeed before the guy returns and gags her before coiling yards and yards of clothes line around her body from head to foot. Jasmine's criminal intentions have backfired in a big way, and she is now in a lot of trouble.

WMV: $8.99


WMV: $13.99


Jasmine (with Candle & Dixie)

Internal Affairs
Time: 15 minutes 19 seconds


Candle and Dixie are traffic cops who are on the take. They stop drivers and then extort money by offering the choice to pay up or get a ticket. Most drivers agree to pay. These two corrupt cops are unaware that internal affairs are on to them, and that Jasmine, one of their agents, is searching Dixie's house for evidence. The two cops arrive home for an unofficial lunch break, so Jasmine hides until they start counting out the money they have made that morning, then she moves in to arrest them. She forces the two cops to handcuffs themselves, then she calls the office to arrange for someone to come and pick them up to take them in for processing and interrogation. Unfortunately, Jasmine has forgotten that the cops would carry handcuff keys, and while she is waiting to talk to someone in authority, Candle frees herself and gets the drop on Jasmine. The girl is forced to release Dixie from her cuffs, then the two cops secure her with zip ties. They gag her to keep her quiet then dump her on the living room floor. They have to go back to work so they leave Jasmine bound and gagged, saying they will deal with her later. In their absence, Jasmine hops through to the kitchen and retrieves a pair of scissors from the rack on the counter. She tries to cut herself free but the zip ties are too thick and she can't apply enough pressure. After a while, Jasmine sinks down defeated and dispirited. What are her chances of getting away before the corrupt cops return for her?

WMV: $8.99


WMV: $12.99


Jasmine (with Candle & Dixie)

Shop Girls Make a Terrible Mistake
Time: 27 minutes 43 seconds


Candle and Dixie work in the perfume section of a big department store and they rely on commission for much of their salary. When the commission rates fall really low one month, they blame a meek little girl named Jasmine who works in accounts and calculates their monthly earnings. Convinced that Jasmine is on the take, the girls grab her one lunch time, tie her up, gag her, and take her to Candle's house in the trunk of her car. We join them as they carry a bound Jasmine into the living room and place her on the floor, then proceed to torment her, accusing her of giving the boss handjobs to get ahead,and laughing when Jasmine starts to cry. The girls go away to have their lunch, unaware that Jasmine has wriggled free and is looking for something to use to defend herself. She finds a 357 Magnum. The shop girls get a nasty surprise when they return, discovering that meek little Jasmine has a ferocious temper. Covering them with the Magnum, Jasmine forces Candle and Dixie to strip naked, then makes Dixie put Candle in a tight hogtie and gag her. Jasmine sees how the tie is done and applies it to Dixie herself, first the ropes, then the gag. With the two girls trussed up and humiliated, Jasmine sets about tormenting them the way they did her, only far, far worse. (We see another side of Jasmine in this video as she acts out the indignant, almost crazed girl getting payback. Very scary!)

WMV: $10.99


WMV: $14.99

Jasmine

Damsel at the Castle Gates
Time: 10 minutes 40 seconds


Jasmine features in a somewhat romanticized damsel in distress situation, intended more as glamour bondage that a storyline-based situation. We simply get to watch a beautiful damsel tied up and gagged on the edge of the woods before a lake and castle, waiting for a knight in shining armour to come and rescue her from her plight. The clip culminates in Jasmine making her way to the sword standing in the bale of straw behind her where she attempts to use its blade to cut her hands free of the ropes binding her.

WMV: $5.99


WMV: $8.99


Jasmine (with Kelli)

Secretaries in a Bind
Time: 20 minutes 02 seconds


Kelli is busy instructing trainee Jasmine in the ways of the office. The two girls are intent on their task when the door suddenly opens and an armed man bursting into the room, startling them both. Refusing to give an explanation for his presence, the man throws some rope to Jasmine and orders her to tie Kelli to her chair. Jasmine obeys, tying Kelli's wrists behind the chair, the wrists secured apart because the chair back is too big to reach around. Jasmine ties Kelli's ankles and secure them to the support column of the office chair before the intruder orders her to sit in her own chair. He then proceeds to tie her up, wrists together, a chest tied above and below her breasts which pins her arms to her sides, and finally rope around her ankles which is anchored beneath the seat of the chair. Before leaving the room, the intruder gags both women with duct tape. Alone now, Kelli and Jasmine work together in an attempt to free themselves. They scoot over to Kelli's desk and pull out a drawer containing a pair of scissors, but neither of them can reach these. Kelli indicates that Jasmine should try to untie Kelli's wrists, but maneuvering the office chairs into position is harder than they expect. We leave the scene with Jasmine still trying to untie Kelli, while she herself is still firmly secured.

WMV: $8.99


WMV: $13.99


Jasmine (with Beverly)

Trouble After Tennis
Time: 9 minutes 45 seconds


Beverly and Jasmine have been playing tennis. Now back at home, Jasmine is in the bathroom just about to shower and Beverly is relaxing in the kitchen, waiting her turn. The door bursts open and an armed man enters the room, Beverly who instinctively puts up her hands. The man refuses to explain why he is there, other than to admit that he saw the two women playing at the tennis club. He forces Beverly to go to the bathroom door and call Jasmine out. After some resistance, Jasmine opens the door, her body wrapped in a towel, and is confronted by her friend being threatened by an intruder. Both women are forced back into the kitchen where Beverly is given two zip ties and ordered to secure them around Jasmine's wrists and ankles. With Jasmine secure, Beverly is compelled to zip her own ankles together then place the final zip tie around her wrists. The intruder tightens the zip ties before gagging the two women with duct tape. He exits, warning that he will be back for the soon. The moment he is out of sight, Beverly manages to get to her feet and search for a pair of scissors, with a helpless Jasmine looking on. When Beverly finds something to cut them free, Jasmine scoots over to join her friend and Beverly cuts through the girl's tight bonds. Both free, Beverly grabs her cell phone to call for help and both of them flee the house, Jasmine still wearing only a towel.

WMV: $5.99


WMV: $8.99

Jasmine (with Kelli)

Insider Trading
Time: 30 minutes 42 seconds


Jasmine is a very successful trader in New York, so much so that her colleague Kelli, who has been with the firm a lot longer but has not been promoted, wonders how Jasmine is doing it. One day, she enters Jasmine's office and tells her that the boss wants to see her. After Jasmine departs, Kelli looks through her desk and to her surprise, finds coils of rope and a roll of duct tape. She is mystified but does not waste time over it. Instead, she begins trawling through the contents of Jasmine's computer. She quickly finds some irregularities and realizes that Jasmine is involved in insider trading.
Jasmine suspects that Kelli is on to her and decides to take a pre-emptive step. She soaks a cloth in chloroform stored in her locker and, removing her shoes, creeps back into her office, taking Kelli by surprise. We see Jasmine drag Kelli onto the floor and tie her up. When Kelli wakes, Jasmine asks her for whom she is working. Kelli says no one and denies everything. Unsatisfied with the woman's answer, Jasmine gags her and leaves to find the boss who is privy the illegal trading activities, suggesting that she might stage Kelli's suicide by pushing her out of the window, explaining her actions as those of a disillusioned, passed-over employee.
The situation changes when Kelli escaped from her bondage just as Jasmine returns. The two women fight, but Kelli manages to grab the chloroform-soaked rag and press it over Jasmine's nose and mouth. Jasmine passes out and Kelli takes the opportunity to tie the girl to her chair (seen on screen with some edits). She is still securing her body when Jasmine comes to and tries to reason with Kelli, offering her part of the action, promising her riches. What Jasmine doesn't realize is that Kelli has already called the FBI who are on their way to arrest her.

WMV: $9.99


WMV: $14.99


Jasmine (with Beverly)

Office Wars
Time: 25 minutes 03 seconds


Jasmine and Beverly both work for the same company, and both have been working hard for promotion. When Jasmine is promoted over Beverly, who has been with the company for over ten years, Beverly is furious and decides to take matters into her own hands. She knows Jasmine is sleeping her way to the top, and she is determined to make the girl confess to it. She has taken her hostage, tied her up and gagged her. We join the situation as Beverly is driving Jasmine to her house in the country where she plans to keep the girl a prisoner until she admits to the entire company that she is nothing but a cheap whore. Beverly pulls Jasmine out of her vehicle, throws her own her shoulder and carries Jasmine into the basement of the house where she ties the girl to a stool. When Beverly leaves the room, Jasmine begins working on her bonds. They are tight and it takes a long time, but she manages to free herself. She finds something to use as a weapon, gathers up some of the rope that had, until she recently, been binding her, and creeps upstairs. She finds Beverly in the kitchen talking on the phone to someone at work, slagging off Jasmine. Jasmine sneaks up behind Beverly and hits her over the head. Beverly goes down hard, and while she is out Jasmine starts tying her up. Beverly comes to after her wrists are bound together behind her back and starts to make a fuss, struggling to get free. Jasmine quickly gags her then drags the woman to her feet, leading her outside to her own vehicle where Jasmine pushes her into the back and places Beverly in a hogtie. Jasmine intends to take Beverly to the office and make her admit to kidnapping her so that she will be fired.

WMV: $8.99


WMV: $13.99


Jasmine (with Beverly)

Just Doing Her Job
Time: 13 minutes 11 seconds


Officer Jasmine St. John pulls over an erratic driver, only to discover that the woman (Beverly) has apparently been drinking. She makes Beverly step out of the car and walk in a straight line. When Beverly shows that she can't, Jasmine arrests her by placing her in handcuffs and reading Beverly her rights. She then leads her prisoner to her car and inserts her on the back seat, belting her in for safety. En-route to the police station, Jasmine has to make a stop to deal with another matter and leaves Beverly alone. Unbeknownst to Jasmine, Beverly has a paperclip in her jeans pocket and she uses it to pick the locks on the handcuffs. She looks around the car and finds that the cop is carrying more hardware than the standard issue, so she decides to wait for her return and have some fun with her. Jasmine gets back into the car oblivious to the fact that her prisoner is free. Before she can even start the engine, Beverly reaches around the seat and grabs Jasmine around the neck, taking her pistol from its holster and forcing the cop to lock herself in her own handcuffs. Beverly makes Jasmine step out of the car where she applies thumb cuffs to her thumbs, closing them tight above the thumb knuckles. She completes the job by putting the cop in leg irons, looping the chain through the handcuffs to completely immobilise her prisoner. Beverly, evidently not intoxicated at all, tells the cop that there is more going on here than she realizes, and then departs, leaving Jasmine chained up on the ground in one-hundred-degree heat, helpless and roasting in her black uniform, hoping that backup will find her soon.

WMV: $6.99


WMV: $10.99

Jasmine

Jasmine Tied & Retied
Time: 14 minutes 42 seconds


Jasmine is arriving home from an afternoon out. Her boyfriend's car is in the driveway and everything seems fine. When she steps out of her car, relaxed and unworried, she does not notice a masked man approaching behind her, cloth in hand. He grabs her and presses the cloth over her mouth and nose, lowering her to the ground as she slips away. He then picks up the comatose Jasmine and throws her over his shoulder, carrying her into the garden where he proceeds to tie her to a chair. Jasmine starts to come round part way through this exercise, so the masked man quickly grabs a strip of cloth and cleave gags Jasmine before she can raise the alarm. He resumes tying her to the chair, securing her ankles and thighs with rope.

Left alone, Jasmine squirms frantically, gradually loosening the ropes around her arms until she is able to slide them free. She removes the gag and sets about untying the rest of her body. Just before she can get to her feet, the masked man returns. Jasmine stands, tries to run and falls to the ground where the man re-gags her, ties her hands behind her back and finishes off by securing her in a hogtie. Now the ropes are tight and Jasmine cannot escape again.

WMV: $6.99


WMV: $10.99


Jasmine

He Made Her Undress Before Chaining Her Up
Time: 9 minutes 41 seconds


Jasmine is dressed up ready to go out and is just going through the house to collect her purse when she encounters a stranger in her living room armed with a gun. He holds her up and forces her to take off her dress and shoes. Now wearing only her white bra and panties, Jasmine is forced down onto the floor where the stranger handcuffs her before making her to lay down completely on her stomach. He adds leg irons to Jasmine's ankles, looping the chain around the handcuffs so that she is essentially in a hogtie position. He concludes her bondage torture by sticking white duct tape over her mouth to keep her quiet. Before going away to ransack the house, the stranger briefly tickles one of Jasmine's exposed feet. Finding her to be ticklish, he says he will be back to have some more fun with her later. Poor Jasmine struggles with the cuffs locked around her wrists and ankles, but she has no hope of escaping from them. All she can do is lay there, chained up and gagged, waiting for the stranger to return.

WMV: $6.99


WMV: $8.99


Jasmine (with Candle)

The Heiress & The Hiker
Time: 22 minutes 14 seconds


Candle, an heiress from a wealthy family, has been kidnapped and is being held for ransom. In the opening scenes, we see her bouncing around in the trunk of a car as she is being driven deep into a woods along a rough track, her wrists bound with a zip tie and a knotted cleave gag in her mouth. Not too far away, Jasmine is out in the wilderness on an orienteering exercise, her objective to find her way back to base camp unaided. She has not the slightest intimation that her plans are about to drastically change.
Candle is pulled from the trunk of the car and marched into the woods where she is secured to a tree. Jasmine, hearing a commotion nearby, goes to investigate. Seeing a masked man with a woman bound and gagged, she ducks under cover and watches until the masked man leaves. Jasmine then hurries to rescue Candle who explains that she has been kidnapped. Jasmine uses a knife from her back pack to cut through the zip ties holding Candle. Once she is free, Jasmine leads the way that will take them out of the woods to safety. Candle, abducted in city clothes (including high heels) cannot move quickly, and is horrified by the prospect of actually taking off her shoes and walking on the woodland floor in her stockinged feet.
Because they are moving so slowly, the kidnapper, having discovered that Candle has escaped, soon catches up to them. He seizes Candle and forces Jasmine to kneel down on the ground. He makes Candle tie Jasmine's wrists before he ties her wrists in turn. Gagged, and connected by rope around their necks, the two women are led deeper into the woods. At last, the kidnapper, angry at Candle for trying to escape, and at Jasmine for almost ruining his plans, ties each of them to a tree in a very uncomfortable kneeling position. He leaves them both like this, vowing to return only when the ransom for Candle has been paid. And if it isn't paid, the two women will be left tied up and gagged in the woods for the bears and coyotes to find.

WMV: $9.99


WMV: $13.99

Jasmine

Capture & Recapture
Time: 26 minutes 34 seconds


Jasmine arrives home after a nice day out with her boyfriend to be attacked from behind by a masked intruder. He clamps a hand over her mouth to stop her screaming and presses a weapon into her side. He marches her to one of the kitchen chairs, sits her down and spends some minutes firmly tying her up - wrists, ankles, knees and chest, pulling the rope tight above and below her breasts. He then shows Jasmine a pair of panties and says that he found them in her laundry basket. When she calls him a pervert, he stuffs them into her mouth and duct tapes her lips and cheeks to prevent her spitting them out. The intruder leaves the room, and jasmine immediately starts trying to get free.
It takes a lot of effort and discomfort, making her gasp through her gag several times, but finally Jasmine manages to free her wrists. She removes her gag and unties herself, then runs from the house, kicking off her shoes and fleeing into the woods behind where she lives. When she thinks she has gone far enough, she hides. It is not long before the intruder comes looking for her. She watches him drawing near, armed and carrying more rope. He checks the foliage and will soon discover her hiding place, so Jasmine makes a run for it. She doesn't get far before she trips and falls, and the intruder has her once more. He ties her up for a second time and she lies defeated on the woodland floor, gagging her before lifting her up and throwing her over his shoulder. As they draw near to the house, he says he has people coming to help him and he leaves Jasmine bound and gagged in the woods.

WMV: $9.99


WMV: $13.99


Candle, Paige, Jasmine, Shauna, Dixie, Scarlett, Becky, Constance & Kylee

Hijacked
Time: 19 minutes 02 seconds


Flight Attendants Candle and Paige are just leaving their house to go to work when they are intercepted by three terrorists (Becky, Shauna and Kylee) intent on hijacking and then sabotaging the aircraft they are scheduled to fly on that day. The force Candle and Paige back into the house and tie them up, needing only to prevent them going to work while their plan is being executed. Things appear to be going according to plan when an angry neighbour (Dixie) turns up, furious that her driveway has been blocked by all the cars parked along the shared driveway. Dixie is shouting at Becky who has answered the door, demanding to speak to either Candle or Paige. When she won't shut up, Becky forces Dixie inside and she too is tied up.
While rope is being applied to Dixie's wrists and ankles, she announces that she has already called the cops about the obstruction outside. The terrorists believe she is bluffing... until they see a police cruiser arrive and two uniformed officers get out. Kylee and Becky do their best to keep the flight attendants quiet while Shauna answers the door and pretends to be the rightful occupant of the house. Unfortunately for her, there is a cry for help from inside and the police officers immediately push their way onto the premises. They are so focused on the sight of three women tied up in the living room that they fail to spot Becky coming up behind them. Becky jumps Officer Constance, and in the momentary confusion, Shauna disarmed Officer Jasmine. In no time at all, the two officers are locked in their own handcuffs.
Things take a turn for the worse when Kylee receives a call to say that something has gone wrong, and that she must put Plan B into effect. This involves Shauna and Becky actually posing as the two Flight Attendants. They quickly untie Candle and Paige and take their clothes, re-tying the two women in only their tights and panties. The terrorists are about to depart when they hear a knock on the front door. Of all things, there is a mail delivery which has to be signed for. They have no choice but to drag the mail woman (Scarlett) into the house to tie her up and gag her with duct tape. At last, the terrorists depart, leaving the six bound women to get free on their own.

WMV: $13.99


WMV: $16.99


Candle, Paige, Jasmine, Shauna, Dixie, Scarlett, Becky

Six Hostages
Time: 17 minutes 34 seconds


The entire secretarial staff of the company Braithwaite, Jones and Patterson have all been taken hostage by a gang which is currently using their company offices for an undisclosed purpose, but clearly to perpetrate a fraud of some kind. The staff are all being held at a remote location to keep them out of the way, four of them tied to chairs and two in hogties on the floor, all watched over by Becky, one of the gang left behind to ensure that none of the girls escape and disrupt their plans. The girls all insist that Becky releases them, giving excuses about missed meetings and the need to pick up their offspring from day care. Becky merely grins as she listens to their ruses, and is still smiling as she moves from one to the next, gagging each one with duct tape. The girls keep trying to wriggle free from their bonds, and several even try to untie one another right under Becky's nose. This makes Becky angry and she goes wild the the duct tape, wrapping it around wrists and ankles, even going so far as taping Paige to her chair around her waist and one ankle, a very uncomfortable position. As the girls continue complaining and whimpering through their gags, Becky tells them not to worry, that they will all find out what is going to happen to them very soon.

WMV: $13.99


WMV: $16.99

Jasmine (with Scarlett)

Moonshiners
Time: 24 minutes 13 seconds


Jasmine is a Federal Agent posing as a potential purchaser of moonshine. She is trying to entrap Scarlett and her partner who are manufacturing fake vintage wine and spirits using a still. Scarlett takes Jasmine out to the barn where the manufacturing is in progress. Once Jasmine has seen, and indeed tasted the contraband, she announces herself and secures Scarlett with zip ties, forcing her to call her partner and tell him to come back to the house quickly because they have a new, potentially big client. What Jasmine doesn't know is that the couple have a pre-arranged signal to warn of trouble - Scarlett calls her partner David instead of Dave. Jasmine leaves Scarlett gagged with duct tape wrapped right around the girl's head to keep her from alerting her partner when he arrives. Jasmine then goes back to the house to watch for Dave's arrival.
Jasmine is unaware that Dave has found Scarlett. He makes a loud noise to lure Jasmine out, then presses a cloth over the girl's nose and mouth to take her out. He then frees Scarlett who promptly tied up Jasmine, wrists and ankles, then sits the agent up on a box of before attached rope pinning her arms to her body, and then returning the favour of a duct tape gag. The pair now have to vacate the premises before someone comes looking for Jasmine, who insists that backup will be coming, so they load up their vehicles with all they can transport, then Scarlett frees Jasmine feet so that she can walk to the car. Jasmine is bundled onto the back seat and her legs re-tied, and her mouth re-gagged. Before Scarlett can drive away, however, sirens blare in the distance, coming rapidly closer. Seeing that the cops have arrived, Scarlett makes a run for it into the woods, and the first cop on the scene rescues Jasmine.

WMV: $8.99


WMV: $13.99


Jasmine (with Scarlett)

Take Off Your Clothes
Time: 16 minutes 46 seconds


Federal Agent Jasmine Peters forces her way into the home of one Scarlett Blake. It seems that Scarlett has been involved in industrial espionage, selling sensitive information to undesirable elements. Jasmine forces Scarlett to remove all of her clothes, partly to make sure she is not carrying a concealed weapon, but also to make sure the girl cannot run away. She also enjoys humiliating traitors. Jasmine secures Scarlett's wrists and ankles with zip ties, and when Scarlett gives her mouth, she wraps plenty of duct tape around the girl's head, sealing her mouth.
Jasmine goes to summon backup to take Scarlett in, but in her absence Scarlett hops into the kitchen and is able to cut herself free with a pair of scissors she retrieves from the cutlery drawer. Scarlett peels off the duct tape then hurries back into the living room to gather up her clothes and dress. When Jasmine returns to find the room empty, Scarlett dashes up behind her and takes the agent's pistol. Now it is Scarlett's turn to dole out the humiliation. She makes Jasmine undress down to her bra and panties, then forces her onto the floor where she uses zip ties to bind the agent's ankles and wrists, finishing the job by attaching another zip tie linking those securing Jasmine's arms and legs, placing her in a tight and painful hogtie. As Jasmine tries to reason with Scarlett, the latter decides to complete the agent's bondage ensemble by coiling duct tape around her head. Knowing that backup must be on the way, Scarlett departs from the house and goes on the run, leaving Jasmine bound and gagged on the floor to await the arrival of her fellow agents. How thoroughly humiliating.

WMV: $7.99


WMV: $12.99


Jasmine

Why Did He Take Her?
Time: 15 minutes 13 seconds


Jasmine has been taken out of circulation by a man who has plans for her. We join her as Jasmine is lifted from the trunk of a car and carried into a house. There, her captor sits her on a stool and secures her to it, then departs the room for a while. Jasmine struggles hard in an attempt to get free, but the ropes binding her wrists, chest, thighs and ankles are snug and she cannot move them. Later, the man returns, frees her from the stool and lays her down on the floor, placing her now in a tight hogtie, immobilizing poor Jasmine even more. Alone again, Jasmine does her best to reach the knots holding the rope tight around her feet, but she simply cannot reach. It seems she is going to stay a prisoner, and still without knowing why she was taken.

WMV: $7.99


WMV: $11.99

Jasmine

The Librarian
Time: 12 minutes 00 seconds


Jasmine is a Librarian at the Library of Congress. She is at home today doing a little research. When she runs into a problem, she goes to get her purse and her note cards, checking her notebook as she walks. She is unaware that someone is in her house, and does not expect an attack from behind as she is returning to her office. The intruder hand gags her. Later, Jasmine is tied to a chair and struggles desperately to get free, without success. She calls for help, but this soon brings the intruder with a black scarf which he uses to cleave gag the girl, thereby keeping her quiet. Jasmine continues to struggle against her bonds, and after a while manages to loosen the rope holding her to the stool on which she sits. She drops forward onto the floor, and still bound hand and foot, she makes her way back to the kitchen towards her purse and the cellphone it contains. Retrieving the phone, Jasmine presses the keys 911 to summon help.

WMV: $5.99


WMV: $10.99


Jasmine

Only Minutes to Escape
Time: 6 minutes 22 seconds


A real damsel in distress story: Jasmine is tied up, gagged and blindfolded. She has been held prisoner by a crazy man who believed she was the girl for him, but when she refused to have anything to do with him he decided to get rid of the house and Jasmine along with it. He tells the helpless girl that he is about to burn the house down. In fact, he has set a time bomb. After he departs, Jasmine gets herself from the chair onto the floor, still unable to see. She lays down and works off her blindfold against the carpet, restoring her sight just as a loud beeping beings, telling her that the bomb is counting down and time is running out. Jasmine frantically wriggles along the floor, heading towards the front door. She descends the steps, gets the front door open and gets herself outside. She then hops away as fast as she can, trying to put as much distance as possible between herself and the house. She does not get far before the bomb explodes and a fireball erupts behind her. The shock wave knocks the poor girl off her feet, leaving her stunned on the ground, still tied up and in need of someone to rescue her.

WMV: $3.99


WMV: $6.99


Jasmine (with Kelli)

You Tie Her, I'll Tie You
Time: 16 minutes 07 seconds


Jasmine and Kelli arrive home to be confronted by an intruder. He forces Kelli to tie Jasmine to a chair, and then ties up Kelli in the same way. He gags the two girls and leaves, safe in the knowledge that they have not seen his face and he has plenty of time to get away. The girls move their chairs back to back and attempt to untie one another, but the design of the chairs makes it difficult for them to reach, especially with the rope from their wrists reaching down to their ankles and restricting their movements. The clip ends with both women still tied and gagged. There are several outtakes at the end of the movie.

WMV: $7.99


WMV: $11.99

Jasmine

She Came Back Early
Time: 11 minutes 07 seconds


Jasmine arrives back in the office early from her lunch break to find a man riffling through her desk. When she challenges him, he immediately holds her up and makes her sit down on a chair. Next, Jasmine is tightly tied up with ropes around wrists, ankles, arms and chest, and the intruder is about to gag her with duct tape. With her secure, he goes off to search an adjacent office. Jasmine takes the opportunity to reach the phone on her desk. She presses 911 and then calls for help in muffled tones. The intruder hears her and comes back, replacing the handset of the phone. He tells her that since she can't stay put, he will have to put her in the trunk of his car out of the way. He picks up Jasmine and carries her from her office. Cut to where the intruder has arrived home. He pops the trunk and climbs out of his car, and we see Jasmine struggling inside the trunk. Her captor lifts her out, throws her over his shoulder and carries her into the house, laying her on the bed in his bedroom. He goes to find more rope, and when he returns he places Jasmine in a tight hogtie. Jasmine struggles to get free without luck, and finally exhausted she drifts off into near-sleep. Her captor returns, picks her up and puts her back over his shoulder, still in the hogtie... it seems he has new plans for poor Jasmine.

WMV: $6.99


WMV: $10.99


Jasmine (with Kelli)

Above Her Station
Time: 17 minutes 22 seconds


Jasmine has come to the boss to tell him that his wife is trying to squeeze him out of the business; that she has seen the books and that something is going on. The wife (Kelli) attacks Jasmine from behind, then tries to explain herself away, suggesting that the girl is acting way above her station. but while she is doing so, Jasmine stirs and knocks Kelli to the floor. The boss, now half-convinced that there is something in his security girl's story, tells her to tie up Kelli before they go to investigate the accounts. Kelli, left alone, manages to free herself, and when Jasmine returns to deal with Kelli properly, Kelli again gets the drop on her, and this time places jasmine is a tight hogtie. She taunts the girl before gagging her and then departing the room to deal with her husband. The clip concludes with some minutes of watching a hogtied Jasmine desperately trying to get free.

WMV: $8.99


WMV: $12.99


Jasmine (with Kelli)

Jasmine in Jeopardy
Time: 7 minutes 41 seconds


Jasmine's house has been broken into and the thief has left her tied to a chair and gagged. Jasmine struggles frantically with her bonds but she just can't reach the knots to untie herself. She whimpers intermittently, her breaths coming fast and urgent as she sits in fear that the thief might return. Then, her luck changes. Friend Kelli drops by to see her, and hears her muffled cries for help. She rushes to Jasmine's side and starts untying the girl, asking her questions even before she has removed Jasmine's gag. Once Jasmine has been freed, Kelli says she is taking her to the police to file a report, and leads the distressed girl from the room.

WMV: $5.99


WMV: $7.99

Jasmine (with Kelli)

Bondage Contest 2
Time: 20 minutes 05 seconds


This time, Kelli and Jasmine go head to head to see who can escape from her bondage first. As with the first contest, escape came rather quickly. However, all was not lost, since the free model then began mercilessly tickling the girl still trapped in her bonds. Unfortunately for her, she is a very ticklish girl. This whole clip is somewhat informal with minimal editing, and contains plenty of repartee.

WMV: $7.99


WMV: $12.99


Jasmine (with Kelli)

She Got Cold Feet
Time: 29 minutes 45 seconds


Kelli is busy tormenting hostage Jasmine while her partner is out collecting the ransom money. The fun ends when the partner returns and says that they must now dispose of the girl before leaving for the airport and a new life. Kelli can't believe what she is hearing and tries to object, but her partner is adamant, telling her that she needs to get the job done. While he is out of the room, Kelli gets cold feed about the whole situation and quickly releases a confused Jasmine. The girls try to make a run for it, but Kelli's partner is outside the door, armed. He forces the two women back inside the house and makes Kelli tie up Jasmine again, gagging her to silence her crying. He then orders Kelli to tie her own ankles together. Stunned, so obeys. He finishes securing Kelli and gagging her, laving both of the women in a hogtie. After he leaves with the money, Kelli and Jasmine work together to get free. They are tightly bound, however, and freedom is a long time in coming. (The bonds were indeed efficient; in reality, neither Kelli nor Jasmine could get out of the ropes holding them, so to end the movie some knots were untied for them enabling them to escape).

WMV: $9.99


WMV: $12.99


Jasmine (with Kelli)

I Need Your Clothes 7
Time: 10 minutes 43 seconds


Kelli is an escaped convict who has managed to find civvy clothes for herself, but she escaped with another inmate of smaller build, and while her friend stays in hiding, Kelli goes in search of clothes for her. Armed, she knocks on the door of a house, and when the occupant (Jasmine) answers, Kelli forces her way in and makes the girl strip down to her bra and panties at gunpoint. She then forces Jasmine to lay face down on the floor so that Kelli can bind her wrists together behind her back. This accomplished, she forces her victim to stand by tugging at her long hair, sitting her on a chair when she ties the girl's ankles to the chair legs. When Jasmine won't stop protesting, Kelli gags her with a cloth, then leaves the girl tied up as she departs with her clothes. Jasmine struggles desperately to free herself. Her attempts so strenuous that she tips the chair over (the fall is seen on camera), leaving her stuck laying awkwardly on the floor and waiting for someone to find her and rescue her.

WMV: $6.99


WMV: $9.99



>