font-family: Arial, Helvetica, sans-serif;
Movies by Model: Amanda
Amanda (with Audrey)

Bondage Contest 3
Time: 12 minutes 34 seconds


Amanda and Audrey were both tied in exactly the same way and each was given the challenge of trying to be the first to get free. To make things a little harder, they were both blindfolded at the start of the contest. As with our previous two challenges of this kind, one model gets free fairly quickly, in this case Audrey. Amanda did her best but she simply could not reach the knots in the rope holding her wrists, and after freeing herself Audrey had to help her. With bondage, one always wants to tie a girl tightly enough so that she can't get free in a hurry but not really hurt her. In this instance, Amanda could not move her wrists without the ropes hurting. Being slimmer than Audrey, her wrists are smaller and her knuckles stick out further, preventing rope sliding and wrist twisting. In short, Amanda was genuinely trapped and in pain towards the end of this contest, which is why she stopped moving around. In addition, the blindfolds had to come off half way through because Audrey became claustrophobic and began to panic. Bondage contests are hard to stage owing to the need to tie the models tightly without distressing them, but one does get to see serious, inescapable bondage.

WMV: $5.99


WMV: $10.99


Amanda (with Audrey)

Family Ties
Time: 17 minutes 56 seconds


Relationships in families are often unhappy. In this case, Audrey is divorced from her gangster husband and trying to raise a difficult daughter on her own. When the daughter, Amanda, decides she is going out dressed in a mini-skirt and boots, Audrey forbids her to leave the house until she has changed her clothes. An argument ensues, culminating in a fight where Amanda gets the drop on her mother. She decides the best way to teach her mother a lesson is to tie her up and gag her, and leave her that way all evening while she is out. Everything seems to be going well until Amanda leaves the house and is on her way to her car, when she encounters her father. He too is not happy about the way she is dressed. He also has a bone to pick with his ex-wife, and insists that Amanda accompanies him into the house. When he discovers Audrey bound and gagged, he demands to know what his daughter thinks she is doing. When Amanda challenges him, he knocks her to the ground. When she recovers, Amanda finds herself tied up on a stool. As she starts to object, Audrey enters with a cloth which she folds up into a gag and ties it around Amanda's head. Amanda's parents say they have things to discuss and leave the room, but Amanda is not one to accept her situation without a fight.

The final 3 minutes of this clip is a gag-reel where Amanda and Audrey both laugh at the antics of the Godfather-like man in black.

WMV: $8.99


WMV: $12.99


Amanda (with Audrey)

Duplicitous
Time: 32 minutes 03 seconds


Duplicitous: deceitfulness in speech or conduct. That about sums up the characters in this movie. Audrey is a wealthy woman, her wealth acquired through means that are often less than legal. She is worried enough about her possessions and herself to have a body guard, in the form of Amanda. As the story opens, Amanda has just set the alarms in the house and is reporting to Audrey. Amanda hears a sound which Audrey apparently does not, and goes to investigate. Her search reveals nothing, but when she returns to Audrey she discovers that a masked intruder is holding her boss hostage. He orders Amanda to join her boss on the floor where he puts her in a hogtie. The intruder escapes with a box of jewellery. The women eventually get free, and Audrey accuses Amanda of being part of the crime. She calls the police and Amanda is subsequently dismissed by the security company she works for. Several weeks later, Amanda breaks into her ex-boss's house and discovers that the jewellery box is back, complete with contents, confirming Amanda's suspicion that she was set up and that Audrey and her partner have executed an insurance scam. Amanda lies in wait, and when Audrey returns home she performs a citizen's arrest. While she is marching Audrey to her car, however, Amanda is attacked from behind, subdued and carried back into the house. Here she is tied up and gagged in the basement, left there while Audrey and her partner make good their escape. After a while, however, a cop shows up to release Amanda. The house has been bugged, it seems. The cops have apprehended the criminals and Amanda's reputation is restored.

WMV: $8.99


WMV: $13.99

Amanda (with Audrey)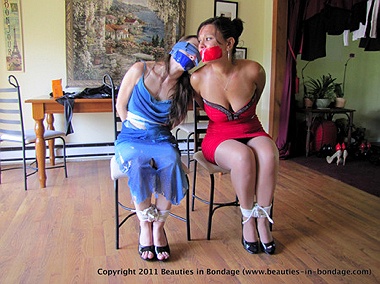 From Ropes To Zip Ties
Time: 17 minutes 06 seconds



Audrey and Amanda are being kept prisoner. They are bound hand and foot and gagged with duct tape. Without supervision, the women slide off their chairs onto the floor and work on untying one another. Eventually, they succeed and run outside, planning to get away from the house. They discover a twenty-foot drop from the back deck offering no means of escape, so they re-enter the house. Their captor is waiting, armed with both a weapon and a pack of zip ties. He forces Amanda to secure Audrey's wrists and ankles with zip ties, and then instructs Amanda to zip tie her own ankles. He finishes the job by securing her wrists and then he re-gags the two women, leaving them to struggle again, only this time their struggles will be futile.
WMV: $5.99

WMV: $13.99

Amanda (with Audrey)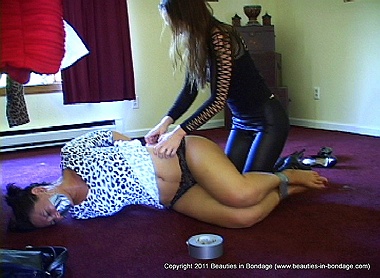 Behind With the Rent
Time: 29 minutes 44 seconds



Amanda is several months behind in her rent to Audrey. It just so happens that Audrey is on her way out when Amanda arrives home, so Audrey demands money from her before she will let her into the house. Audrey is keeping Amanda's belongings hostage until she makes at least a partial payment. Amanda seems to take this news calmly at first, but then she suddenly grabs Audrey and the two women fight. Audrey is choked with the strap of her own bag, then Amanda drags her into the house and ties her up with duct tape. When Audrey wakes, Amanda begins tickling the woman's exposed feet, making her squeal in helpless frustration. After a while, Audrey gives in and says she was only joking about the rent, and that Amanda can stay in the house for free. Amanda relents and unties Audrey, but it proves to be a huge mistake. Audrey now attacks her tenant and ties her up and gags her with duct tape, taking off the girl's shoes and tickling her feet in return. After a while, Audrey announces that she really must go out and invites Amanda to make herself comfortable, leaving her tenant taped up and helpless on the floor. (The movie concludes with approximately 2 minutes of behind the scenes material).
WMV: $8.99

WMV: $12.99

Amanda (with Audrey)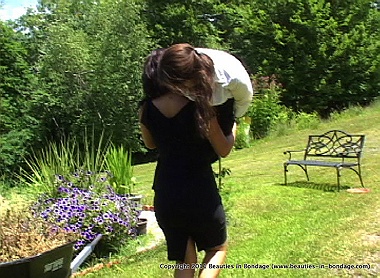 Confronting the Boss
Time: 29 minutes 12 seconds



Amanda has discovered that her boss Audrey is embezzling from the company they both work for, and she goes to Audrey's house to confront her about it, intending to ask for a cut. However, when Audrey adopts a superior attitude and tries to belittle Amanda, the latter decides that she will simply go public with the information about her boss's misdeeds. Without warning, Audrey grabs Amanda in a choke hold and drags her to the floor, holding onto her until she passes out. She has no idea what to do with the girl, but as a first step, Audrey decides to tie her up. When Amanda recovers and starts mouthing off at her boss, Audrey applies some duct tape to the girl's mouth to keep her quiet.

Audrey decides she will have to get rid of Amanda who clearly has the power to destroy her life. She lifts the girl over her shoulder and carries her out to her own private car, dropping Amanda in the trunk. Audrey returns to the house to attend to a couple of important tasks before driving her prisoner somewhere very remote where she will have to deal with her once and for all. While Audrey is gone, Amanda manages to get her hands free. She unties her legs and, tyre pump in hand, prepares to deal with Audrey when she returns.

Audrey returns and pops the trunk to have a final look at Amanda, making sure the girl is secure. As soon as Audrey lifts the top, however, Amanda springs out and attacks her, knocking her to the ground and rendering her unconscious. She then drags Audrey back to the car, lifting her onto the back seat where she binds the woman's wrists and ankles. Amanda then returns to the house for more rope and the roll of duct tape, then she places Audrey in a hogtie and gags her. Enjoying having the upper hand, Amanda tickles Audrey's feet, discovering that her boss is enormously ticklish. Now it is Amanda's turn to drive Audrey to somewhere very remote to get rid of her. The movie closes with Amanda driving away with her boss struggling futilely against her bonds on the back seat.

(The story is 22 minutes long; the remaining 7 minutes is comprised of bloopers and behind the scenes material).
WMV: $8.99

WMV: $13.99